Sevilla win Copa del Rey
Early and late goals help Sevilla reclaim trophy
Last Updated: 19/05/10 11:07pm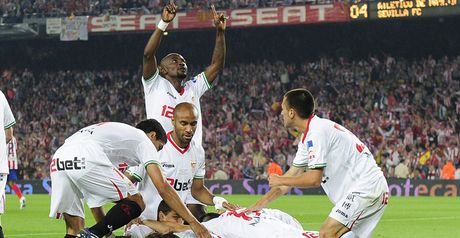 Sevilla celebrate trophy success
Sevilla have reclaimed the Copa del Rey trophy following a 2-0 success over Atletico Madrid in Camp Nou.
Diego Capel's fifth minute goal meant that Sevilla led for much of the contest before Jesus Navas settled the affair.
Navas struck in the fifth minute of injury time to secure Sevilla the trophy for the fifth time and first since 2007.
On a balmy evening in the Catalan capital, the match kicked off after enthusiastic singing along to the wordless Spanish national anthem, in contrast to last year's final between Barcelona and Athletic Bilbao when the anthem was roundly booed.
Many Sevilla fans were sporting sombreros in homage to club president Jose Maria del Nido and vast swathes of the giant arena were decorated in the red and white of Atletico.
Bad-tempered
When the game got underway, winger Capel pounced on a loose ball on the edge of the penalty to smash home past David De Gea with five minutes played.
The match then boiled over with around 20 minutes left when a crunching tackle by Luis Perea on Capel prompted pushing and shoving between players and staff next to the technical areas.
Atletico coach Quique Sanchez Flores and his Sevilla counterpart Antonio Alvarez had a heated exchange before the match officials restored calm.
Atletico pressed forward desperately as the clock ticked down, leaving holes at the back that Navas was able to exploit to kill the game off.
The defeat meant Atletico, who have won the cup nine times, were denied a second trophy of the campaign after last week's 2-1 victory over Fulham in the Europa League final.
Related
Also See
Related Profiles