Stalemate in Sofia
Bulgaria and Switzerland draw a blank
Last Updated: March 26, 2011 7:38pm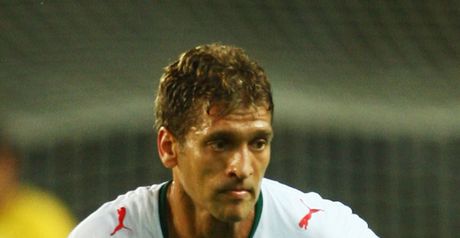 Petrov: Earned his 100th cap
A goalless draw did Bulgaria and Switzerland few favours in their Euro 2012 qualification campaign.
The Group G rivals played out a stalemate in Sofia on Saturday, taking them both onto four points from as many games.
A disappointing return from their fixtures so far means they are six points adrift of Montenegro and England, who are currently joint-leaders.
A forgettable weekend encounter was most notable for Stiliyan Petrov becoming only the second player in Bulgarian history to reach 100 caps for his country.
He was, however, unable to inspire his side to a first home victory of the campaign against the Swiss.
Blasted
The hosts began brightly enough, with Ivelin Popov shooting just wide inside the opening 60 seconds and Dimitar Makriev going close with a header.
Skipper Petrov could have marked his century with a goal but blasted well over the crossbar following a fine run and cross from Popov.
Switzerland also had their chances, with captain Alexander Frei's bullet header bringing a smart save from Nikolay Mihaylov on the half-hour.
Bulgaria took control again after the interval and Stanislav Manolev glanced a header inches past the post before Spas Delev tested Marco Woelfli with a stinging drive.
There was to be no breakthrough, though, and both nations must accept that their hopes of reaching next summer's European Championships are starting to fade.
LIVE and exclusive on Sky Sports
European Championship Qualifying

Sat 26th Mar - Group G

Wales

0 - 2

England

Bulgaria

0 - 0

Switzerland

Sat 26th Mar - Group B

Armenia

0 - 0

Russia

Andorra

0 - 1

Slovakia

Rep Ireland

2 - 1

Macedonia

Sat 26th Mar - Group F

Georgia

1 - 0

Croatia

Israel

2 - 1

Latvia

Malta

0 - 1

Greece

Sat 26th Mar - Group H

Cyprus

0 - 0

Iceland

Norway

1 - 1

Denmark

Sat 26th Mar - Group D

Bosnia

2 - 1

Romania

Albania

1 - 0

Belarus

Sat 26th Mar - Group A
Tables
European Championship Qualifying Group A
European Championship Qualifying

| Pos | Team | P | Pts |
| --- | --- | --- | --- |
| 1 | Germany | 10 | 30 |
| 2 | Turkey | 10 | 17 |
| 3 | Belgium | 10 | 15 |
| 4 | Austria | 10 | 12 |
| 5 | Azerbaijan | 10 | 7 |
| 6 | Kazakhstan | 10 | 4 |
European Championship Qualifying Group B
European Championship Qualifying Group C
European Championship Qualifying Group D
European Championship Qualifying

| Pos | Team | P | Pts |
| --- | --- | --- | --- |
| 1 | France | 10 | 21 |
| 2 | Bosnia | 10 | 20 |
| 3 | Romania | 10 | 14 |
| 4 | Belarus | 10 | 13 |
| 5 | Albania | 10 | 9 |
| 6 | Luxembourg | 10 | 4 |
European Championship Qualifying Group E
European Championship Qualifying

| Pos | Team | P | Pts |
| --- | --- | --- | --- |
| 1 | Netherlands | 10 | 27 |
| 2 | Sweden | 10 | 24 |
| 3 | Hungary | 10 | 19 |
| 4 | Finland | 10 | 10 |
| 5 | Moldova | 10 | 9 |
| 6 | San Marino | 10 | 0 |
European Championship Qualifying Group F
European Championship Qualifying

| Pos | Team | P | Pts |
| --- | --- | --- | --- |
| 1 | Greece | 10 | 24 |
| 2 | Croatia | 10 | 22 |
| 3 | Israel | 10 | 16 |
| 4 | Latvia | 10 | 11 |
| 5 | Georgia | 10 | 10 |
| 6 | Malta | 10 | 1 |
European Championship Qualifying Group G
European Championship Qualifying Group H
European Championship Qualifying

| Pos | Team | P | Pts |
| --- | --- | --- | --- |
| 1 | Denmark | 8 | 19 |
| 2 | Portugal | 8 | 16 |
| 3 | Norway | 8 | 16 |
| 4 | Iceland | 8 | 4 |
| 5 | Cyprus | 8 | 2 |
European Championship Qualifying Group I
European Championship Qualifying

| Pos | Team | P | Pts |
| --- | --- | --- | --- |
| 1 | Spain | 8 | 24 |
| 2 | Czech Republic | 8 | 13 |
| 3 | Scotland | 8 | 11 |
| 4 | Lithuania | 8 | 5 |
| 5 | Liechtenstein | 8 | 4 |
Related