San Marino U21 v NI U21 preview
Beaglehole to give Under 19s a chance
By Mike Barton. Last Updated: 02/03/10 11:54am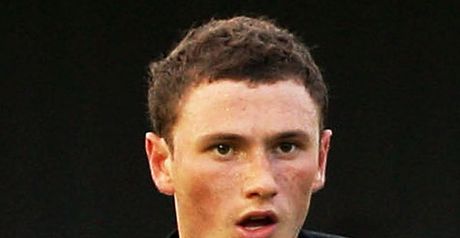 Evans: Called up to seniors
Northern Ireland Under 21s will look to win their first game of their European Championship qualifying campaign against San Marino on Tuesday.
Steve Beaglehole's team have picked up just one point from their opening five matches so far, with their previous game, a 2-1 defeat at the hands of the Czech Republic, leaving them no chance of qualifying for next year's tournament.
Captain Corry Evans has stayed with the squad but may not be risked if he is given an opportunity to win his first cap for the senior side after being called up to replace his brother Jonny.
Young Cliftonville striker Liam Boyce, who has attracted the interest of some English clubs, is likely to be given a start to enhance his growing reputation.
Beaglehole is looking to the game as an opportunity to experiment by fielding some of the players from his Under 19 side, who he also coaches, due to the circumstances of their group position.
"It makes sense as we cannot qualify for the finals of the Under-21 Championship," he said.
"Of course we want the points but this is a chance for some players to gain good experience before going to Russia."
Tables
European Under-21 Championship Qualifying Group One
European Under-21 Championship Qualifying

| Pos | Team | P | Pts |
| --- | --- | --- | --- |
| 1 | England U21 | 10 | 28 |
| 2 | Finland U21 | 10 | 16 |
| 3 | Moldova U21 | 10 | 16 |
| 4 | Wales U21 | 10 | 12 |
| 5 | Lithuania U21 | 10 | 8 |
| 6 | San Marino U21 | 10 | 4 |
European Under-21 Championship Qualifying Group Two
European Under-21 Championship Qualifying

| Pos | Team | P | Pts |
| --- | --- | --- | --- |
| 1 | Denmark U21 | 10 | 26 |
| 2 | Russia U21 | 10 | 22 |
| 3 | Slovenia U21 | 10 | 17 |
| 4 | Bulgaria U21 | 10 | 9 |
| 5 | Estonia U21 | 10 | 9 |
| 6 | Andorra U21 | 10 | 1 |
European Under-21 Championship Qualifying Group Three
European Under-21 Championship Qualifying

| Pos | Team | P | Pts |
| --- | --- | --- | --- |
| 1 | Slovakia U21 | 8 | 17 |
| 2 | Holland U21 | 8 | 16 |
| 3 | Georgia U21 | 8 | 11 |
| 4 | Scotland U21 | 8 | 11 |
| 5 | Luxembourg U21 | 8 | 1 |
European Under-21 Championship Qualifying Group Four
European Under-21 Championship Qualifying

| Pos | Team | P | Pts |
| --- | --- | --- | --- |
| 1 | Spain U21 | 6 | 18 |
| 2 | Austria U21 | 6 | 12 |
| 3 | Hungary U21 | 6 | 6 |
| 4 | Bosnia U21 | 6 | 6 |
| 5 | Albania U21 | 8 | 6 |
European Under-21 Championship Qualifying Group Five
European Under-21 Championship Qualifying

| Pos | Team | P | Pts |
| --- | --- | --- | --- |
| 1 | Croatia U21 | 8 | 19 |
| 2 | Ukraine U21 | 8 | 19 |
| 3 | Switzerland U21 | 8 | 15 |
| 4 | Latvia U21 | 8 | 6 |
| 5 | Liechtenstein U21 | 8 | 0 |
European Under-21 Championship Qualifying Group Six
European Under-21 Championship Qualifying

| Pos | Team | P | Pts |
| --- | --- | --- | --- |
| 1 | Germany U21 | 8 | 20 |
| 2 | Romania U21 | 8 | 12 |
| 3 | Montenegro U21 | 8 | 11 |
| 4 | Rep of Ireland U21 | 8 | 8 |
| 5 | Faroe Islands U21 | 8 | 4 |
European Under-21 Championship Qualifying Group Seven
European Under-21 Championship Qualifying

| Pos | Team | P | Pts |
| --- | --- | --- | --- |
| 1 | Sweden U21 | 8 | 16 |
| 2 | Greece U21 | 8 | 15 |
| 3 | Poland U21 | 8 | 15 |
| 4 | Turkey U21 | 8 | 13 |
| 5 | Malta U21 | 8 | 0 |
European Under-21 Championship Qualifying Group Eight
European Under-21 Championship Qualifying

| Pos | Team | P | Pts |
| --- | --- | --- | --- |
| 1 | Portugal U21 | 8 | 24 |
| 2 | Israel U21 | 8 | 15 |
| 3 | Norway U21 | 8 | 9 |
| 4 | Azerbaijan U21 | 8 | 7 |
| 5 | Macedonia U21 | 8 | 4 |
European Under-21 Championship Qualifying Group Nine
European Under-21 Championship Qualifying

| Pos | Team | P | Pts |
| --- | --- | --- | --- |
| 1 | Italy U21 | 8 | 18 |
| 2 | Serbia U21 | 8 | 16 |
| 3 | Belgium U21 | 8 | 16 |
| 4 | Cyprus U21 | 8 | 6 |
| 5 | N Ireland U21 | 8 | 3 |
European Under-21 Championship Qualifying Group Ten
European Under-21 Championship Qualifying

| Pos | Team | P | Pts |
| --- | --- | --- | --- |
| 1 | France U21 | 8 | 22 |
| 2 | Iceland U21 | 8 | 16 |
| 3 | Kazakhstan U21 | 8 | 9 |
| 4 | Armenia U21 | 8 | 9 |
| 5 | Belarus U21 | 8 | 3 |
European Under-21 Championship Qualifying Group Eleven
European Under-21 Championship Qualifying

| Pos | Team | P | Pts |
| --- | --- | --- | --- |
| 1 | Sweden U21 | 2 | 6 |
| 2 | Denmark U21 | 2 | 3 |
| 3 | Macedonia U21 | 2 | 0 |
European Under-21 Championship Qualifying Group Twelve
European Under-21 Championship Qualifying

| Pos | Team | P | Pts |
| --- | --- | --- | --- |
| 1 | Bulgaria U21 | 2 | 6 |
| 2 | Ukraine U21 | 2 | 3 |
| 3 | Croatia U21 | 2 | 0 |
European Under-21 Championship Qualifying Group Thirteen
European Under-21 Championship Qualifying

| Pos | Team | P | Pts |
| --- | --- | --- | --- |
| 1 | Israel U21 | 2 | 4 |
| 2 | Turkey U21 | 2 | 2 |
| 3 | Wales U21 | 2 | 1 |
European Under-21 Championship Qualifying Group Fourteen
European Under-21 Championship Qualifying

| Pos | Team | P | Pts |
| --- | --- | --- | --- |
| 1 | France U21 | 2 | 6 |
| 2 | Slovenia U21 | 2 | 3 |
| 3 | Scotland U21 | 2 | 0 |
Related