Johansson spares Finns' blushes
Strike duo help hosts come from behind to beat minnows
Last Updated: 06/06/09 10:11pm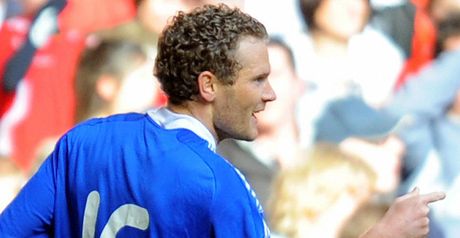 Johansson: Grabbed winner
Finland are still in the hunt to claim second spot in Group 4 after a gritty 2-1 home win over Liechtenstein.
The group minnows briefly threatened to cause an upset after taking an early lead, but goals from Mikael Forssell and Jonathan Johansson saw the Finns home.
Liechtenstein, who are bottom of the group and without a win, took the lead on 13 minutes with their first goal of the campaign after Mario Frick collected a Beni Fischer pass to score beyond Jussi Jaaskelainen.
The hosts toiled in search of an equaliser and were eventually rewarded on 33 minutes when former Birmingham striker Forssell, who had earlier missed two good chances, tapped home Aleksei Eremenko's cross.
Veteran forward Johansson spared Finland's blushes with the winner on 71 minutes when he slotted home after being played in by Roman Eremenko.
The result leaves Finland third in the table on 10 points, one point beind Russia, with both teams having played five matches, while leaders Germany have 16 points from six fixtures.
FIFA World Cup European Qualifying

Sat 6th Jun - Group D

Azerbaijan

0 - 1

Wales

Finland

2 - 1

Liechtenstein

Sat 6th Jun - Group F

Kazakhstan

0 - 4

England

Belarus

5 - 1

Andorra

Croatia

2 - 2

Ukraine

Sat 6th Jun - Group C

Sat 6th Jun - Group I

Macedonia

0 - 0

Norway

Iceland

1 - 2

Holland

Sat 6th Jun - Group H

Cyprus

2 - 2

Montenegro

Bulgaria

1 - 1

Rep Ire

Sat 6th Jun - Group A

Sweden

0 - 1

Denmark

Albania

1 - 2

Portugal

Sat 6th Jun - Group G

Lithuania

0 - 1

Romania

Serbia

1 - 0

Austria
Tables
FIFA World Cup European Qualifying Group A
FIFA World Cup European Qualifying Group B
FIFA World Cup European Qualifying

| Pos | Team | P | Pts |
| --- | --- | --- | --- |
| 1 | Italy | 10 | 22 |
| 2 | Denmark | 10 | 16 |
| 3 | Czech Republic | 10 | 15 |
| 4 | Bulgaria | 10 | 13 |
| 5 | Armenia | 10 | 13 |
| 6 | Malta | 10 | 3 |
FIFA World Cup European Qualifying Group C
FIFA World Cup European Qualifying

| Pos | Team | P | Pts |
| --- | --- | --- | --- |
| 1 | Germany | 10 | 28 |
| 2 | Sweden | 10 | 20 |
| 3 | Austria | 10 | 17 |
| 4 | Republic of Ireland | 10 | 14 |
| 5 | Kazakhstan | 10 | 5 |
| 6 | Faroe Islands | 10 | 1 |
FIFA World Cup European Qualifying Group D
FIFA World Cup European Qualifying Group E
FIFA World Cup European Qualifying

| Pos | Team | P | Pts |
| --- | --- | --- | --- |
| 1 | Switzerland | 10 | 24 |
| 2 | Iceland | 10 | 17 |
| 3 | Slovenia | 10 | 15 |
| 4 | Norway | 10 | 12 |
| 5 | Albania | 10 | 11 |
| 6 | Cyprus | 10 | 5 |
FIFA World Cup European Qualifying Group F
FIFA World Cup European Qualifying

| Pos | Team | P | Pts |
| --- | --- | --- | --- |
| 1 | Russia | 10 | 22 |
| 2 | Portugal | 10 | 21 |
| 3 | Israel | 10 | 14 |
| 4 | Azerbaijan | 10 | 9 |
| 5 | Northern Ireland | 10 | 7 |
| 6 | Luxembourg | 10 | 6 |
FIFA World Cup European Qualifying Group G
FIFA World Cup European Qualifying Group H
FIFA World Cup European Qualifying Group I
FIFA World Cup European Qualifying

| Pos | Team | P | Pts |
| --- | --- | --- | --- |
| 1 | Spain | 8 | 20 |
| 2 | France | 8 | 17 |
| 3 | Finland | 8 | 9 |
| 4 | Georgia | 8 | 5 |
| 5 | Belarus | 8 | 4 |
Related