Slovakia leapfrog N Ireland
Cech and Stoch on target in convincing home win
Last Updated: 06/06/09 6:56pm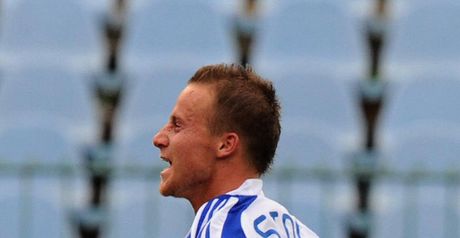 Stoch: Celebrates Slovakia's fourth goal
Slovakia moved above Northern Ireland to the top of Group 3 after a crushing 7-0 victory over hapless San Marino.
West Brom full-back Marek Cech was on target twice in the convincing home win, while Chelsea youngster Miroslav Stoch also scored.
Cech made the breakthrough for Slovakia after just three minutes and Peter Pekarik quickly doubled the hosts' advantage.
The unsettled Cech grabbed his second of the game on 32 minutes and Stoch got in on the act three minutes later.
Jan Kozak made it 5-0 before half-time, with Martin Jakubko and Lubos Hanzel then scoring in the space of five second-half minutes to complete the rout.
The result lifts Slovakia two points clear of Nigel Worthington's Northern Ireland side, who have also played a game more than their chief rivals for qualification to the 2010 World Cup in South Africa.
Northern Ireland welcome Slovakia to Belfast in September, while Poland, Czech Republic and Slovenia are still in the mix to finish in the top two positions.
FIFA World Cup European Qualifying

Sat 6th Jun - Group D

Azerbaijan

0 - 1

Wales

Finland

2 - 1

Liechtenstein

Sat 6th Jun - Group F

Kazakhstan

0 - 4

England

Belarus

5 - 1

Andorra

Croatia

2 - 2

Ukraine

Sat 6th Jun - Group C

Slovakia

7 - 0

San Marino

Sat 6th Jun - Group I

Macedonia

0 - 0

Norway

Iceland

1 - 2

Holland

Sat 6th Jun - Group H

Cyprus

2 - 2

Montenegro

Bulgaria

1 - 1

Rep Ireland

Sat 6th Jun - Group A

Sweden

0 - 1

Denmark

Albania

1 - 2

Portugal

Sat 6th Jun - Group G

Lithuania

0 - 1

Romania

Serbia

1 - 0

Austria
Tables
FIFA World Cup European Qualifying Group A
FIFA World Cup European Qualifying Group B
FIFA World Cup European Qualifying

| Pos | Team | P | Pts |
| --- | --- | --- | --- |
| 1 | Italy | 10 | 22 |
| 2 | Denmark | 10 | 16 |
| 3 | Czech Republic | 10 | 15 |
| 4 | Bulgaria | 10 | 13 |
| 5 | Armenia | 10 | 13 |
| 6 | Malta | 10 | 3 |
FIFA World Cup European Qualifying Group C
FIFA World Cup European Qualifying

| Pos | Team | P | Pts |
| --- | --- | --- | --- |
| 1 | Germany | 10 | 28 |
| 2 | Sweden | 10 | 20 |
| 3 | Austria | 10 | 17 |
| 4 | Republic of Ireland | 10 | 14 |
| 5 | Kazakhstan | 10 | 5 |
| 6 | Faroe Islands | 10 | 1 |
FIFA World Cup European Qualifying Group D
FIFA World Cup European Qualifying Group E
FIFA World Cup European Qualifying

| Pos | Team | P | Pts |
| --- | --- | --- | --- |
| 1 | Switzerland | 10 | 24 |
| 2 | Iceland | 10 | 17 |
| 3 | Slovenia | 10 | 15 |
| 4 | Norway | 10 | 12 |
| 5 | Albania | 10 | 11 |
| 6 | Cyprus | 10 | 5 |
FIFA World Cup European Qualifying Group F
FIFA World Cup European Qualifying

| Pos | Team | P | Pts |
| --- | --- | --- | --- |
| 1 | Russia | 10 | 22 |
| 2 | Portugal | 10 | 21 |
| 3 | Israel | 10 | 14 |
| 4 | Azerbaijan | 10 | 9 |
| 5 | Northern Ireland | 10 | 7 |
| 6 | Luxembourg | 10 | 6 |
FIFA World Cup European Qualifying Group G
FIFA World Cup European Qualifying Group H
FIFA World Cup European Qualifying Group I
FIFA World Cup European Qualifying

| Pos | Team | P | Pts |
| --- | --- | --- | --- |
| 1 | Spain | 8 | 20 |
| 2 | France | 8 | 17 |
| 3 | Finland | 8 | 9 |
| 4 | Georgia | 8 | 5 |
| 5 | Belarus | 8 | 4 |
Related