Deadly Dutch maintain record
Dutch make it perfect five in Group Nine
Last Updated: 01/04/09 10:57pm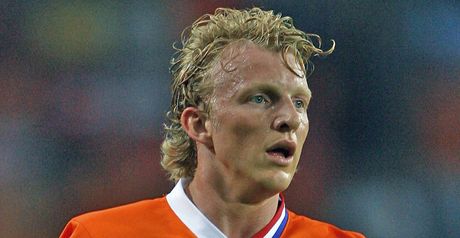 Kuyt: At the double
Holland maintained their perfect record in Group Nine with a 4-0 win over Macedonia.
Liverpool striker Dirk Kuyt helped himself to two goals with further strikes from Klaas Jan Huntelaar and Rafael van der Vaart rounding off a good week for the Dutch.
Kuyt opened the scoring on 16 minutes by converting a cross from Arjen Robben.
Huntelaar added a second nine minutes later to put the hosts in firm control.
Kuyt grabbed his second of the night four minutes before the break from a superb pass by Wesley Sneijder.
Van der Vaart put the seal on a good night's work for Bert van Marwijk's men with a fourth three minutes from time.
The win all but secures Holland's place in South Africa next summer with the Dutch leading nearest challengers in the group Scotland by eight points.
FIFA World Cup European Qualifying

Wed 1st Apr - Group F

Kazakhstan

1 - 5

Belarus

Andorra

0 - 2

Croatia

England

2 - 1

Ukraine

Wed 1st Apr - Group H

Bulgaria

2 - 0

Cyprus

Georgia

0 - 0

Montenegro

Italy

1 - 1

Rep Ire

Wed 1st Apr - Group E

Estonia

1 - 0

Armenia

Turkey

1 - 2

Spain

Bos&Herz

2 - 1

Belgium

Wed 1st Apr - Group B

Latvia

2 - 0

Luxembourg

Switzerlnd

2 - 0

Moldova

Greece

2 - 1

Israel

Wed 1st Apr - Group A

Hungary

3 - 0

Malta

Denmark

3 - 0

Albania

Wed 1st Apr - Group D

Liechtenstein

0 - 1

Russia

Wales

0 - 2

Germany

Wed 1st Apr - Group C

Czech Rep

1 - 2

Slovakia

Poland

10 - 0

S Marino

N Ireland

1 - 0

Slovenia

Wed 1st Apr - Group G

Austria

2 - 1

Romania

France

1 - 0

Lithuania

Wed 1st Apr - Group I

Holland

4 - 0

Macedonia

Scotland

2 - 1

Iceland
Tables
FIFA World Cup European Qualifying Group A
FIFA World Cup European Qualifying Group B
FIFA World Cup European Qualifying

| Pos | Team | P | Pts |
| --- | --- | --- | --- |
| 1 | Italy | 10 | 22 |
| 2 | Denmark | 10 | 16 |
| 3 | Czech Republic | 10 | 15 |
| 4 | Bulgaria | 10 | 13 |
| 5 | Armenia | 10 | 13 |
| 6 | Malta | 10 | 3 |
FIFA World Cup European Qualifying Group C
FIFA World Cup European Qualifying

| Pos | Team | P | Pts |
| --- | --- | --- | --- |
| 1 | Germany | 10 | 28 |
| 2 | Sweden | 10 | 20 |
| 3 | Austria | 10 | 17 |
| 4 | Republic of Ireland | 10 | 14 |
| 5 | Kazakhstan | 10 | 5 |
| 6 | Faroe Islands | 10 | 1 |
FIFA World Cup European Qualifying Group D
FIFA World Cup European Qualifying Group E
FIFA World Cup European Qualifying

| Pos | Team | P | Pts |
| --- | --- | --- | --- |
| 1 | Switzerland | 10 | 24 |
| 2 | Iceland | 10 | 17 |
| 3 | Slovenia | 10 | 15 |
| 4 | Norway | 10 | 12 |
| 5 | Albania | 10 | 11 |
| 6 | Cyprus | 10 | 5 |
FIFA World Cup European Qualifying Group F
FIFA World Cup European Qualifying

| Pos | Team | P | Pts |
| --- | --- | --- | --- |
| 1 | Russia | 10 | 22 |
| 2 | Portugal | 10 | 21 |
| 3 | Israel | 10 | 14 |
| 4 | Azerbaijan | 10 | 9 |
| 5 | Northern Ireland | 10 | 7 |
| 6 | Luxembourg | 10 | 6 |
FIFA World Cup European Qualifying Group G
FIFA World Cup European Qualifying Group H
FIFA World Cup European Qualifying Group I
FIFA World Cup European Qualifying

| Pos | Team | P | Pts |
| --- | --- | --- | --- |
| 1 | Spain | 8 | 20 |
| 2 | France | 8 | 17 |
| 3 | Finland | 8 | 9 |
| 4 | Georgia | 8 | 5 |
| 5 | Belarus | 8 | 4 |
Related
Related Profiles