Young Wales see off Italy
Wales go ten points clear of Italy
Last Updated: 04/09/09 11:06pm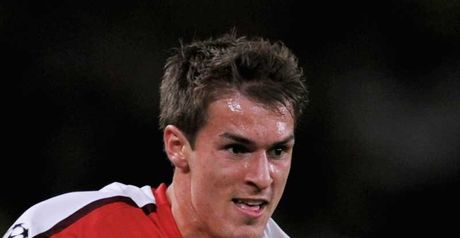 Ramsey: Scored winner
Brian Flynn's Wales Under 21 team saw off their Italian counterparts 2-1 at Swansea's Liberty Stadium in their European qualifier.
Wales took the lead on nine minutes when Bristol City defender Christian Ribeiro opened the scoring, only for Italy to level the scores before half-time thanks to a goal from Parma forward Alberto Paloschi.
Arsenal midfielder Aaron Ramsey secured the win against Pierluigi Casiraghi's side, with the decisive goal on 68 minutes.
It was a stunning piece of brilliance from Ramsey as he received the ball from Ched Evans and produced a feint, a clever juggling act and a fierce drive past Vincenzo Fiorillo.
Brian Flynn's team have racked up ten points from their opening four games, and condemn Italy to defeat in their opening qualifier
European Under-21 Championship Qualifying

Fri 4th Sep - Group Two

Armenia U21

1 - 3

Switzerland U21

Fri 4th Sep - Group Nine

Macedonia U21

1 - 2

England U21

Portugal U21

4 - 1

Lithuania U21

Fri 4th Sep - Group Three

Bosnia U21

0 - 1

Lux'bourg U21

Wales U21

2 - 1

Italy U21

Fri 4th Sep - Group Six

Bulgaria U21

3 - 0

Kaz'stan U21

Montenegro U21

0 - 2

Sweden U21

Fri 4th Sep - Group Eight

Malta U21

0 - 1

Belgium U21

Fri 4th Sep - Group Five

Germany U21

6 - 0

San Marino U21

Czech R U21

2 - 0

N Ireland U21

Fri 4th Sep - Group Four

Spain U21

2 - 0

Poland U21

Holland U21

2 - 0

Finland U21
Tables
European Under-21 Championship Qualifying Group One
European Under-21 Championship Qualifying

| Pos | Team | P | Pts |
| --- | --- | --- | --- |
| 1 | England U21 | 10 | 28 |
| 2 | Finland U21 | 10 | 16 |
| 3 | Moldova U21 | 10 | 16 |
| 4 | Wales U21 | 10 | 12 |
| 5 | Lithuania U21 | 10 | 8 |
| 6 | San Marino U21 | 10 | 4 |
European Under-21 Championship Qualifying Group Two
European Under-21 Championship Qualifying

| Pos | Team | P | Pts |
| --- | --- | --- | --- |
| 1 | Denmark U21 | 10 | 26 |
| 2 | Russia U21 | 10 | 22 |
| 3 | Slovenia U21 | 10 | 17 |
| 4 | Bulgaria U21 | 10 | 9 |
| 5 | Estonia U21 | 10 | 9 |
| 6 | Andorra U21 | 10 | 1 |
European Under-21 Championship Qualifying Group Three
European Under-21 Championship Qualifying

| Pos | Team | P | Pts |
| --- | --- | --- | --- |
| 1 | Slovakia U21 | 8 | 17 |
| 2 | Holland U21 | 8 | 16 |
| 3 | Georgia U21 | 8 | 11 |
| 4 | Scotland U21 | 8 | 11 |
| 5 | Luxembourg U21 | 8 | 1 |
European Under-21 Championship Qualifying Group Four
European Under-21 Championship Qualifying

| Pos | Team | P | Pts |
| --- | --- | --- | --- |
| 1 | Spain U21 | 6 | 18 |
| 2 | Austria U21 | 6 | 12 |
| 3 | Hungary U21 | 6 | 6 |
| 4 | Bosnia U21 | 6 | 6 |
| 5 | Albania U21 | 8 | 6 |
European Under-21 Championship Qualifying Group Five
European Under-21 Championship Qualifying

| Pos | Team | P | Pts |
| --- | --- | --- | --- |
| 1 | Croatia U21 | 8 | 19 |
| 2 | Ukraine U21 | 8 | 19 |
| 3 | Switzerland U21 | 8 | 15 |
| 4 | Latvia U21 | 8 | 6 |
| 5 | Liechtenstein U21 | 8 | 0 |
European Under-21 Championship Qualifying Group Six
European Under-21 Championship Qualifying

| Pos | Team | P | Pts |
| --- | --- | --- | --- |
| 1 | Germany U21 | 8 | 20 |
| 2 | Romania U21 | 8 | 12 |
| 3 | Montenegro U21 | 8 | 11 |
| 4 | Rep of Ireland U21 | 8 | 8 |
| 5 | Faroe Islands U21 | 8 | 4 |
European Under-21 Championship Qualifying Group Seven
European Under-21 Championship Qualifying

| Pos | Team | P | Pts |
| --- | --- | --- | --- |
| 1 | Sweden U21 | 8 | 16 |
| 2 | Greece U21 | 8 | 15 |
| 3 | Poland U21 | 8 | 15 |
| 4 | Turkey U21 | 8 | 13 |
| 5 | Malta U21 | 8 | 0 |
European Under-21 Championship Qualifying Group Eight
European Under-21 Championship Qualifying

| Pos | Team | P | Pts |
| --- | --- | --- | --- |
| 1 | Portugal U21 | 8 | 24 |
| 2 | Israel U21 | 8 | 15 |
| 3 | Norway U21 | 8 | 9 |
| 4 | Azerbaijan U21 | 8 | 7 |
| 5 | Macedonia U21 | 8 | 4 |
European Under-21 Championship Qualifying Group Nine
European Under-21 Championship Qualifying

| Pos | Team | P | Pts |
| --- | --- | --- | --- |
| 1 | Italy U21 | 8 | 18 |
| 2 | Serbia U21 | 8 | 16 |
| 3 | Belgium U21 | 8 | 16 |
| 4 | Cyprus U21 | 8 | 6 |
| 5 | N Ireland U21 | 8 | 3 |
European Under-21 Championship Qualifying Group Ten
European Under-21 Championship Qualifying

| Pos | Team | P | Pts |
| --- | --- | --- | --- |
| 1 | France U21 | 8 | 22 |
| 2 | Iceland U21 | 8 | 16 |
| 3 | Kazakhstan U21 | 8 | 9 |
| 4 | Armenia U21 | 8 | 9 |
| 5 | Belarus U21 | 8 | 3 |
European Under-21 Championship Qualifying Group Eleven
European Under-21 Championship Qualifying

| Pos | Team | P | Pts |
| --- | --- | --- | --- |
| 1 | Sweden U21 | 2 | 6 |
| 2 | Denmark U21 | 2 | 3 |
| 3 | Macedonia U21 | 2 | 0 |
European Under-21 Championship Qualifying Group Twelve
European Under-21 Championship Qualifying

| Pos | Team | P | Pts |
| --- | --- | --- | --- |
| 1 | Bulgaria U21 | 2 | 6 |
| 2 | Ukraine U21 | 2 | 3 |
| 3 | Croatia U21 | 2 | 0 |
European Under-21 Championship Qualifying Group Thirteen
European Under-21 Championship Qualifying

| Pos | Team | P | Pts |
| --- | --- | --- | --- |
| 1 | Israel U21 | 2 | 4 |
| 2 | Turkey U21 | 2 | 2 |
| 3 | Wales U21 | 2 | 1 |
European Under-21 Championship Qualifying Group Fourteen
European Under-21 Championship Qualifying

| Pos | Team | P | Pts |
| --- | --- | --- | --- |
| 1 | France U21 | 2 | 6 |
| 2 | Slovenia U21 | 2 | 3 |
| 3 | Scotland U21 | 2 | 0 |
Related