Croatia close on England
Olic brace keeps the pressure on Three Lions
Last Updated: 12/08/09 10:57pm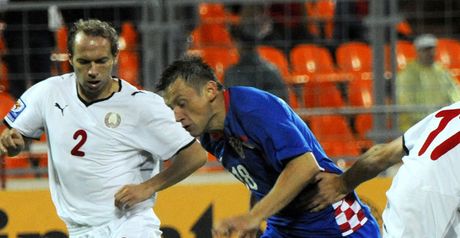 Olic: Brace for Croatia
Croatia have closed to within seven points of England in European World Cup qualifying Group 6 after winning 3-1 in Belarus.
The visitors took control of the game in the 27th minute through Ivica Olic, a lead they never surrendered en route to a crucial three-point haul.
Arsenal striker Eduardo doubled Croatia's lead before Belarus attempted to set up a grandstand finish by pulling one back through Dimitry Verkhovtsov.
However, those hopes were dashed within minutes as Olic bagged his second of the game as Croatia moved three points clear of third-placed Ukraine.
Started brightly
The visitors started brightly and could have taken the lead in the 10th minute but when Luka Modric was presented with a decent opportunity the Tottenham midfielder opted to pass instead of shoot and his ball to Olic was woeful.
Belarus almost took the lead against the run of play in the 18th minute as a mistake by Josip Simunic let in Vitaly Kutuzov but Croatia escaped unscathed.
That seemed to give them the boost they needed and Olic headed Niko Kranjcar's corner home four minutes later.
The Bayern Munich new boy could have doubled their lead five minutes later but smashed his effort off the crossbar.
Quick out of the blocks
Croatia came out of the blocks quickly after the break but could not find the back of the net.
They eventually doubled their tally in the 69th minute when Darijo Srna crossed from the right and Eduardo coolly slotted the ball home.
Belarus looked to have set up a nervy finale when Verkhovtsov latched onto Srna's mistake and pulled one back for the hosts.
However, two minutes later Eduardo picked out Ivan Rakitic on the right flank who crossed in for Olic to seal the three points.
FIFA World Cup European Qualifying
Tables
FIFA World Cup European Qualifying Group A
FIFA World Cup European Qualifying Group B
FIFA World Cup European Qualifying

| Pos | Team | P | Pts |
| --- | --- | --- | --- |
| 1 | Italy | 10 | 22 |
| 2 | Denmark | 10 | 16 |
| 3 | Czech Republic | 10 | 15 |
| 4 | Bulgaria | 10 | 13 |
| 5 | Armenia | 10 | 13 |
| 6 | Malta | 10 | 3 |
FIFA World Cup European Qualifying Group C
FIFA World Cup European Qualifying

| Pos | Team | P | Pts |
| --- | --- | --- | --- |
| 1 | Germany | 10 | 28 |
| 2 | Sweden | 10 | 20 |
| 3 | Austria | 10 | 17 |
| 4 | Republic of Ireland | 10 | 14 |
| 5 | Kazakhstan | 10 | 5 |
| 6 | Faroe Islands | 10 | 1 |
FIFA World Cup European Qualifying Group D
FIFA World Cup European Qualifying Group E
FIFA World Cup European Qualifying

| Pos | Team | P | Pts |
| --- | --- | --- | --- |
| 1 | Switzerland | 10 | 24 |
| 2 | Iceland | 10 | 17 |
| 3 | Slovenia | 10 | 15 |
| 4 | Norway | 10 | 12 |
| 5 | Albania | 10 | 11 |
| 6 | Cyprus | 10 | 5 |
FIFA World Cup European Qualifying Group F
FIFA World Cup European Qualifying

| Pos | Team | P | Pts |
| --- | --- | --- | --- |
| 1 | Russia | 10 | 22 |
| 2 | Portugal | 10 | 21 |
| 3 | Israel | 10 | 14 |
| 4 | Azerbaijan | 10 | 9 |
| 5 | Northern Ireland | 10 | 7 |
| 6 | Luxembourg | 10 | 6 |
FIFA World Cup European Qualifying Group G
FIFA World Cup European Qualifying Group H
FIFA World Cup European Qualifying Group I
FIFA World Cup European Qualifying

| Pos | Team | P | Pts |
| --- | --- | --- | --- |
| 1 | Spain | 8 | 20 |
| 2 | France | 8 | 17 |
| 3 | Finland | 8 | 9 |
| 4 | Georgia | 8 | 5 |
| 5 | Belarus | 8 | 4 |
Related
Related Profiles