Toffees show Lescott love
Manchester City target cheered by fans
Last Updated: 07/08/09 10:55pm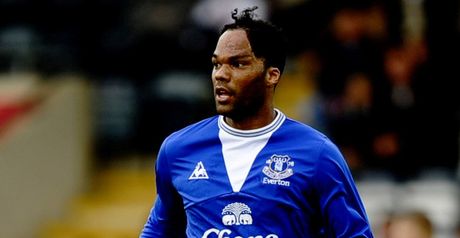 Lescott: Wanted by City
Everton defeated Malaga 2-1 at Goodison Park on Friday as home supporters cheered Joleon Lescott's every touch.
The defender is a target for Manchester City and has told Toffees boss David Moyes that he wants to leave Merseyside.
But Lescott received a hero's reception from home fans as he started the match, in which Louis Saha and Leon Osman's goals were enough to overcome a Jose Juan Luque free-kick.
Everton were ahead after 14 minutes when Saha slammed the ball home from eight yards after goalkeeper Gustavo Munua flapped at a Leighton Baines cross under pressure from Tim Cahill.
Four minutes later, Leon Osman guided the ball wide of Munua from Steven Pienaar's pass for the second.
Everton were comfortable until the break but conceded from a stunning 30-yard free-kick goal from Luque three minutes into the second period.
Lescott played the full 90 minutes and was left in no doubt about the crowds' feelings when the Gwladys Street fans sung his name at the end.