Getafe vs R. Zaragoza preview
Getafe manager Luis Garcia knows his side will be up for the clash with Real Zaragoza.
Last Updated: 12/05/12 10:01pm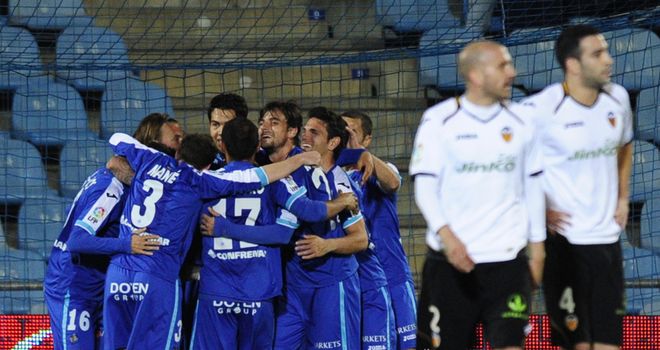 Getafe manager Luis Garcia believes suggestions his players have to be professional when they face Real Zaragoza are disrespectful.
The visitors are one of five teams fighting to avoid relegation on the final day of the campaign, but Garcia insists there should be no questions over his players' desire to win the game.
He told the club's website: "I don't understand why they say we have to be professional. We have been professional for 37 games and we have won and lost games.
"To be professional means to compete and this is what the team is going to do.
"Getafe isn't the judge of anyone, it is the judge of three points in more than 100. We have done our job and are safe, they are three points more and we are going to try and win."
Suspension
The hosts will be without the suspended Cata Diaz and Juan Rodriguez, but Juan Valera and Rafa return from their bans, whilst Pablo Sarabia and Pedro Leon may get another late season run-out.
Zaragoza boss Manolo Jimenez meanwhile is just delighted to reach the final day with a chance of survival thanks to seven wins in their last 10 matches.
He told the club's website, "The most obvious reason to believe in survival is that we have arrived at the final day still alive when in December we were gone.
"After the victory against Racing and the other results went our way the first few days were euphoric, but then the days pass and the tension begins to take hold. "We have to show our best version to be able to win because if we don't then we will have problems."
Maurizio Lanzaro is suspended and Carlos Aranda remains on the sidelines with a muscular problem, but otherwise Jimenez has a fully-fit squad to choose from.