Municipal Stadium
Mario Balotelli scored the first international goal at this venue in Wroclaw, which will host all of the Czech Republic's group games
Last Updated: 25/05/12 3:02pm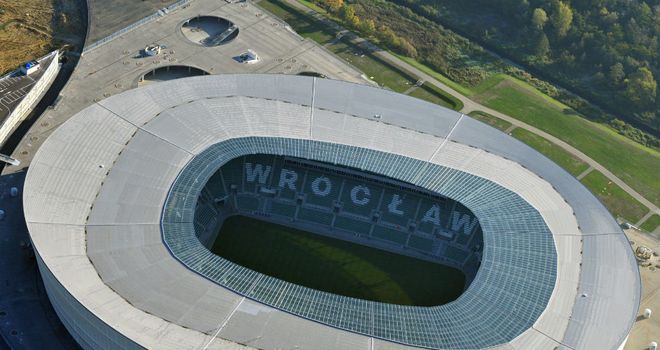 The Stadium
This arena in Wroclaw has been designed to resemble a Chinese lantern and continued Poland's trend for British opening ceremonies courtesy of a concert from George Michael in September 2011. The Municipal Stadium's hi-tech design includes an exterior glass-fibre mesh. Manchester City striker Mario Balotelli scored the first international goal at the venue, when he netted in Italy's 2-0 win over Poland in November 2011. Vitaliy Klitschko and Tomasz Adamek also fought at the stadium in its opening week. The ground, which is the home of club side Slask Wroclaw, is part of a complex that includes a casino and museum. The stadium is connected to the city by a new tram line.
Matches
8th June - Russia v Czech Rep
12th June - Greece v Czech Rep
16th June - Czech Rep v Poland

The Fan Zone
The Market Square will be able to hold up to 30,000 supporters and three separate large screens will show matches. Fans will be able to stay in the park until midnight on the days of games. Entry is free and entertainment and catering is provided. Market Square is located in the heart of Wroclaw.
The City
The United Kingdom, Germany, France, Italy and Scandinavia are all connected to Wroclaw by the Copernicus Airport, while Warsaw is accessible by train in five hours. Wroclaw was initially built on an island on the Oder River and has since spread to several more, which are remarkably connected by 112 bridges. Wroclaw was severely damaged by World War II and a devastating flood in 1997, which submerged more than a quarter of the city, and has since led to mass reconstruction. Wroclaw is known for its impressive architecture, especially the Cathedral of St John the Baptist, and Pablo Picasso once described the post-war rebuilding of the city as an inspiration.