National Stadium
Sitting on the banks of the Vistula River, this newly-built stadium will provide the venue for the opening match of Euro 2012
Last Updated: 22/05/12 4:11pm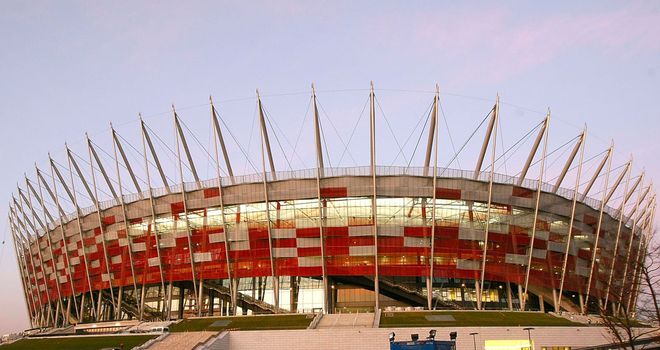 The stadium
Holding more than a passing resemblance to London's Olympic Stadium, Warsaw's brand-new venue will be the place where Euro 2012 comes to life. The opening game between Poland and Greece will be hosted at the ground as well as a quarter-final and a semi-final. The National Stadium has been designed with a retractable roof. It has yet to be confirmed which club will use the stadium after Euro 2012. The red and white exterior of the arena, which is built on the site of the Tenth Anniversary Stadium, is designed to resemble a waving Polish flag. Madonna and Coldplay will perform at the National Stadium after Euro 2012.
Matches
8th June - Poland v Greece
12th June - Poland v Russia
16th June - Greece v Russia
21st June - Quarter-final One
28th June - Semi-final Two

The Fan Zone
A staggering 100,000 people are able to fill Warsaw's Parade Square, which is located next to the city's train station. A venue of 120,000 square-metres will include six giant screens for watching all of the live matches at Euro 2012. Free entry means fans will be able to soak up the entire atmosphere when they wish between 10am and 1am on match-days.
The City
Excellent road and rail links mean Warsaw is easily reachable. The Warsaw-Fryderyk Chopin airport is also just eight kilometres to the south of the city centre. Warsaw is Poland's capital and has endured a tough history. It was pummelled in World War II, but some of its historical buildings have been rebuilt. Many monuments can be found in the Old Town, which has World Heritage status. The Royal Castle is the main destination for tourists and the former home of dukes, tsars and Polish presidents has been reconstructed after being blown up in the war.