PGE Arena
Defending champions Spain will play all of their group games in the city of Gdansk on Poland's north coast, while it will also play host to one of the quarter-finals
Last Updated: 22/05/12 5:56pm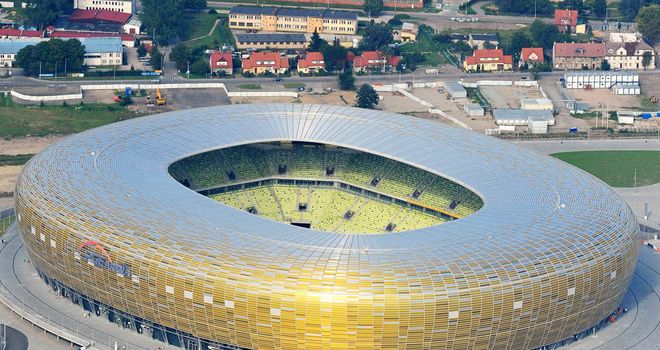 The stadium
Covered in 18,000 polycarbonate plates, the PGE Arena has been specifically designed to resemble amber. Gdansk sits on the Baltic coast and has long been a rich source of extraction of the mineral, which is known as Baltic Gold. The stadium is located in the city's Letnica neighbourhood and is situated in the middle of a triangle formed by the Old Town, the famous shipyards and the airport. Since its opening in July 2011, after 30 months of construction, the venue has also contained a hotel and a roller-skate circuit. Lechia Gdansk have called the stadium home at club level since moving in at the beginning of the 2011/12 season.
Matches
10th June - Spain v Italy
14th June - Spain v Rep of Ireland
18th June - Croatia v Spain
22nd June - Quarter-final Two

The Fan Zone
The People's Meeting Square will be open for 13 hours from midday on match days and will be free to enter for fans. All 31 matches will be broadcast live on giant 100m-square screen. The Fan Zone can hold up to 30,000 people and can be found close to Gdansk's bus and train stations. It will also include five-a-side pitches, live music concerts and full catering facilities.
The City
Regular flights go into Gdansk's Lech Walesa airport from London among a host of other European cities. Gdansk is also accessible by ferry from Scandinavia. The city waterfront is worth visiting and has an interesting history, having been invaded at the start of World War II. The shipyards were also in the past named after Vladimir Lenin. Most tourist attractions are in the Main Town along or near Ulica D'uga (Long Street) and D'ugi Targ (Long Market). The numerous churches include the 15th Century St Mary's (Bazylika Mariacka), the largest brick church in the world.