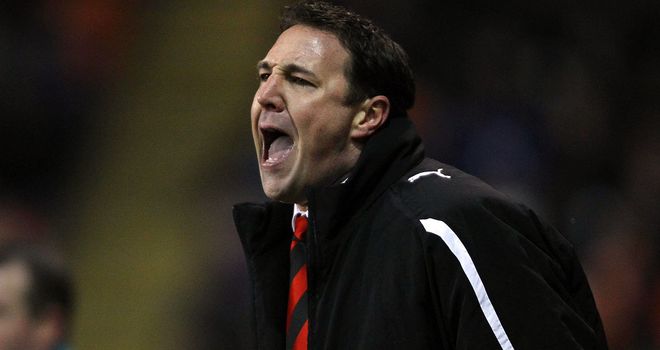 Malky Mackay: Made a tough decision to leave out Henrik Larsson
Cardiff manager Malky Mackay enjoyed a stellar playing career - but who are the best he's played with?
GOALKEEPER - Ben Foster: I'm going for a basic 4-4-2 and I'm going to start with goalkeeper Ben Foster, who came to Watford from Manchester United for a year. I worked with Rob Green as well. It's close because he was immaculate at Norwich. You could see he was going to go on and become an England goalkeeper and it was the same with Ben. He's comfortable in the Premier League now and has played international football.
RIGHT-BACK - Tom Boyd: I played with him at Celtic. He was there for 10 years. He went to the same school as me - many years before because he's much older than me! He had such a calm demeanour on the pitch and was very comfortable on the ball. He taught me a lot and I enjoyed that period of success.
LEFT-BACK - Tosh McKinlay: He's one of the best left foots I've ever seen in my life but more importantly one of the funniest guys I've ever been involved with in football. A top guy to be around on a night out. I always made sure I sat close to him at the table because he was so funny and a good man.
CENTRE-BACK - Alan Stubbs: He was at Bolton and then transferred up to Celtic . We used to go into Glasgow for a bit of lunch after shopping - he loved his clothes but they never hung properly on him! He was a beautiful footballer on the ball and a great passer over long range.
CENTRE-BACK - Craig Fleming: He was the centre-back alongside me during a reasonably successful time at Norwich. He was another guy who probably didn't get the plaudits he deserved. The year we got to the play-off final, he was an integral part of the team.
RIGHT WING - Ashley Young: He was a youngster when I arrived at Watford and broken onto the scene. You could see even then he had an immense talent underneath the surface waiting to come out. The funny thing was that the club released him at 18 and kept him on as a non-contract player and then a few years later he goes to Aston Villa for £9m!
CENTRE MIDFIELD - Paul McStay: I thought he was great. A Celtic midfield general. When you're in the same training session as him, he's on a different level. As comfortable a footballer on the ball as I've ever seen.
ATTACKING MIDFIELD - Di Canio: He came to Celtic and was there during a reasonably good time. He was good completely bonkers, was the lad. The only English he had was swear words. We put him in a room with Peter Grant, whose main vocabulary was swear words. Di Canio was possibly the vainest man I've ever met but had immense talent. A privilege to work with every day and the Celtic fans really embraced him.
LEFT WING - Darren Huckerby: Pace, power, flair and a really exciting player for fans to watch. He scored goals and had a huge impact on Norwich when we got promoted. He goes alongside Ashley and Di Canio in a midfield that's not short on flair.
STRIKER - Pierre Van Hooijdonk: A real good friend of mine and a fantastic goal scorer. A beautiful footballer with the ball at his feet, considering he was 6ft 5! The Celtic faithful really took to him and he to them.
STRIKER - Craig Bellamy: He begged me to put him in. He knew we were doing this today and he begged me to throw him in. I said to him 'No it's Henrik Larsson all day long' and he said 'Please please put me in to give me a lift.' So, it's Craig Bellamy. I played with him at Norwich and he was a huge talent. One day, Iwan Roberts and I decided we'd had enough and when he went to the toilet, we locked him in and threw all the bags down there. He was in there for four hours talking to the mirror! A fantastic football and still has the same hunger and desire at training. Top footballer.