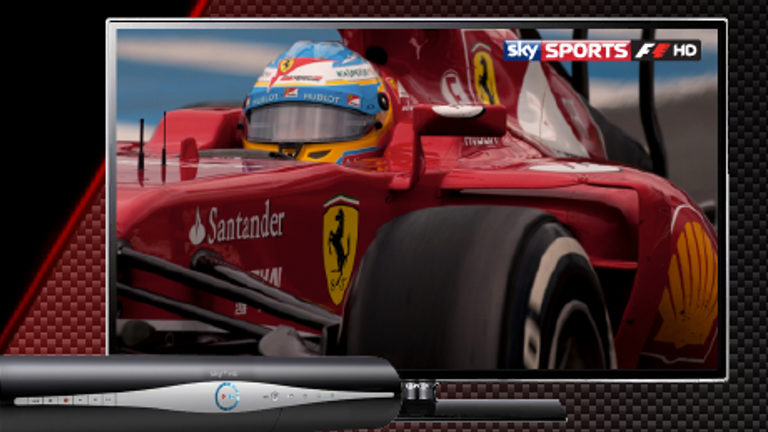 Ways to Watch Sky Sports F1®
As the award-winning home of Formula 1®, Sky Sports F1® is constantly pushing the boundaries of technology and innovation to enhance your viewing experience.

Click on the pods below to discover some of the unique services available when you subscribe to Sky Sports F1.
NOW TV
Big race? No Sky F1? No problem. The Sky Sports Day Pass lets you watch all six Sky Sports channels for 24 hours for a limited time offer price of just £6.99. There's no contract. Just sport.
More Info
Hide Info
NOW TV
All you need is a broadband or 3G connection (with a minimum speed of 2.5MB per second)
Limited time offer price: Get a Sky Sports Day Pass for just £6.99 or get a Sky Sports Week Pass and watch the full grand prix weekend for £10.99
Sky Go
You don't need to be at home to enjoy the F1® season. Sky F1 is also available on Sky Go, allowing you to watch every race live on laptop, mobile and selected tablet devices wherever you are.
More Info
Hide Info
Sky Go
• Watch every grand prix live, wherever you are
• Free at no extra cost for all Sky TV customers
• Available on PC, laptop, mobile and selected tablet devices
• UK/Ireland only
• Requires 3G/wi-fi
Red Button
Pressing the red button on Sky F1 during a race opens up a unique interactive service which allows you to ride on-board with drivers, see the latest highlights, and more.
More Info
Hide Info
Red Button
• Access by pushing the red button
• Ride on-board with your favourite drivers
• Switch between different views of the race
• Keep up to date with race standings and statistics
• Catch up with all the latest race highlights
Sky Sports for iPad app
With the Sky Sports for iPad app, you can completely customise your race experience. Enjoy two camera feeds with split screen functionality, the latest race stats, and more.
More Info
Hide Info
iPad App
• Available to iPad users
• Free to download from the app store
• View two different camera feeds simultaneously
• Contains up-to-the-minute race data and statistics
• Packed with live race highlights
• Access social media sites
• Provides a comprehensive guide to the 2015 season
Race hub
Enhance your enjoyment and understanding of the race weekend by following live and interactive blow-by-blow updates from every Friday Practice, Qualifying and Race during the season.
More Info
Hide Info
Race hub
• Up-to-the-minute updates on all the latest action from trackside and news from around the paddock
• Available online, on mobile and the Sky Sports iPad app
• Tweets, breaking news, analysis and high-quality pictures to keep you right up to speed
On Demand
Catch up with F1® action from a race weekend or shows and features you've missed - or simply want to watch again - through the touch of a button via your Sky+HD box.
More Info
Hide Info
On Demand
• Highlights from every race including best bits
• Catch up with The F1 Show, Midweek Report, Ted's Notebook and more
• Sky F1's features and interviews from a race weekend
High Definition
Watch every practice, every qualifying and every race of the 2015 season - all in stunning high definition.
More Info
Hide Info
Get more from your TV...
• From just £10.25 a month when you join or upgrade to Sky TV with HD
• A huge range of entertainment, documentaries and dramas in HD
• Unlock a world of HD entertainment on demand when you connect a compatible Sky+HD box to any broadband router