Simon Lazenby
Presenter
Biography
A recruit to Sky Sports in 1998, Simon has defied his relative youth to pack in a lifetime of experience in presenting live sport ever since.
Already known to viewers for his work on cricket, rugby and Sky Sports News, Simon's relentless but envious task in 2014 will be to present every session from every grand prix.
Simon Lazenby Links
A recruit to Sky Sports in 1998, Simon has defied his relative youth to pack in a lifetime of experience presenting live sports ever since. It's a schooling which should continue to stand him in good stead for his relentless but envious remit as the lead presenter of Sky Sports F1 - hosting every major session at every grand prix weekend throughout the 2014 season.
It's a role which Simon performed with unflappable assurance during Sky Sports F1's award-winning debut season of 2012 and then again in 2013 when, although his face may have at first been unfamiliar to F1 fans new to Sky Sports, his suitability for the role quickly became apparent.
"Despite his youthful exuberance, he's a veteran of working in some of the greatest sporting cauldrons and proved himself incredibly cool under pressure. He's able to instantly commute masses of information - the skill that all great presenters have to have," said Martin Turner, the man who appointed Simon to the role of lead presenter on Sky Sports F1.
Simon originally arrived at Sky on a three-month work experience scheme but his natural talent and composure in front of the camera were soon apparent and, after passing a screen test, he was soon showcasing his unflappable presenting style behind the desk at Sky Sports News.
From there, Simon moved on to anchor Sky's live Rugby Union coverage as well as presenting the popular Rugby Club magazine show.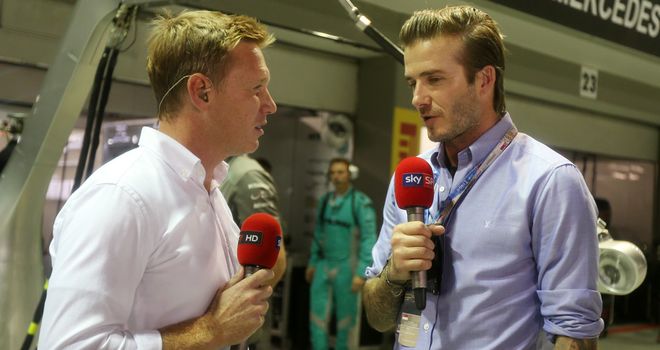 Away from work, Simon doesn't tend to stray far away from sport. Something of a sporting all-rounder, he boasts a respectable golf handicap and captained his college XV Rugby Union team whilst studying at Durham University.
Anchoring live F1 coverage as the sport traverses the globe for eight months of the year was an entirely new challenge for Simon, but he is no stranger to international travel. Born in Calgary, his father's work meant that Canada, Australia, America and Scotland could all be called home at various points during his formative years.
With a total of 19 countries to visit over the course of the 2014 season, let's hope he keeps his passport safe and sound.