F1 Legends - Eddie Irvine
Sky Sports F1's Steve Rider met with Eddie Irvine to discuss his F1 career with Jordan, Ferrari and Jaguar.
Last Updated: 25/09/13 11:46am
Formula 1 Betting

Formula 1 Betting

Bet with Sky Bet
In an era when the tentacles of what is now the sport's all-encompassing PR machine were beginning to make their presence felt in the 1990s, Eddie Irvine was already something of a unique character on the Formula 1 grid.
The driver from Northern Ireland possessed a cheeky smile and laid-back demeanour but it was his famously straight-talking nature and tabloid reputation as a playboy that more often than not defined impressions - and lasting memories - of him. In some regards this has inevitably meant that his results on the track have been overshadowed in the intervening years, but it's easy to forget that but for a handful of points it would have been Irvine, and not Michael Schumacher, who would have ended Ferrari's two-decade Drivers' Championship drought at the turn of the century.
Career stats
Race starts - 147
Pole positions - 0
Victories - 4
Best Championship finish - Runner-up, 1999
Teams - Jordan, Ferrari, Jaguar
That 1999 title near-miss certainly owed plenty to fortune - good for Irvine and bad for Schumacher as the German's broke his leg at Silverstone mid-season - but sporting success or otherwise is often built on such turns of fate and it was to Irvine's credit that he very nearly grasped full opportunity of it.
Certainly few would have anticipated such a scenario ever arising when Irvine arrived in F1 at what by today's standards was a relatively late 27 years of age at the penultimate round of the 1993 campaign in Japan. Having begun his life behind the wheel driving his father's Edmund Sr's historic single-seaters while growing up in  Newtownards, County Down, his first competitive racing experiences came in Formula Ford, first in Ireland and then in England.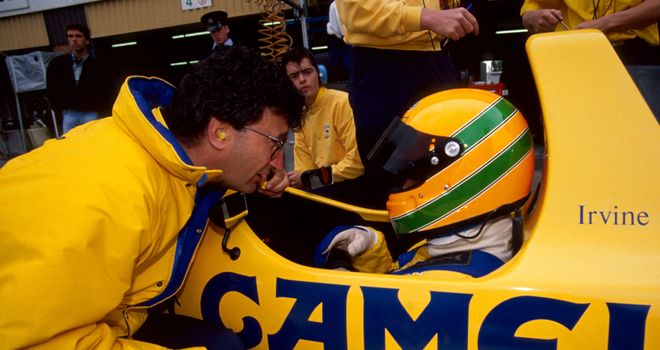 Eddie Irvine on the F3000 grid with team boss Eddie Jordan
He won the latter series in 1987 before climbing onto the Formula 3 ladder, first in the British category and then onto Formula 3000 initially with Pacific and then Eddie Jordan's operation, with whom he finished third in the series in 1990.
Three years in Japanese F3000 followed but rather than proving an effective graveyard for a nascent motorsport career, Irvine proved his worth - finishing as runner-up in 1993 after four wins - and reunited with Jordan this time in F1 at Suzuka, fittingly at the end of that year. The unheralded Briton made quite the early impression too: he qualified eighth in the Hart-powered 193 and finished sixth in the race before being punched in the face by an incensed Ayrton Senna afterwards having had the audacity to unlap himself from F1's then pre-eminent driver. It was quite the arrival...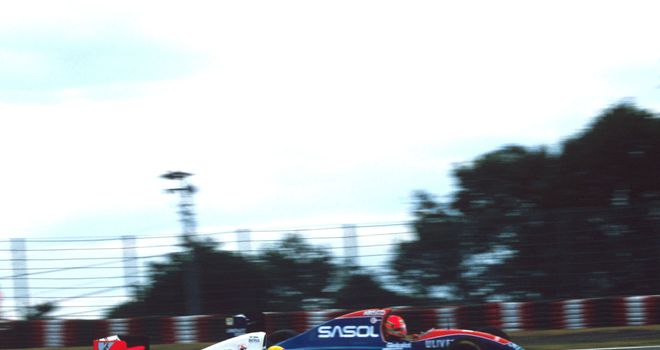 Eddie Irvine unlapped himself by passing Ayrton Senna on his debut
That early controversy followed him into 1994 when at the opening round in Brazil he was adjudged to have been at fault for a frightening four-car collision in which Jos Verstappen's Benetton somersaulted over the top of Martin Brundle's McLaren. Irvine was initially banned for the Pacific GP, but this was then extended to cover both the ultimately fateful weekend at Imola and Monaco after the FIA took a dim view of Jordan's appeal.
On his return to the cockpit in Spain, where Irvine delivered a strong sixth-place finish, his already dramatic F1 career settled down and over the next 18 months he continued to vie for intra-team supremacy with Barrichello, even claiming his maiden F1 podium with third place in the 1995 Canadian GP.
Then came the call that would define his F1 career. Despite having already been named as a Jordan driver once more for 1996, Ferrari paid compensation to bring Irvine, linked to incoming team sponsors Marlboro, to Italy to serve as number two to new superstar signing Michael Schumacher. "Michael has proved he's the best driver in the world and he will no doubt be a tough nut to crack, but I'm looking forward to the challenge," was Irvine's optimistic outlook as he prepared to join the big time.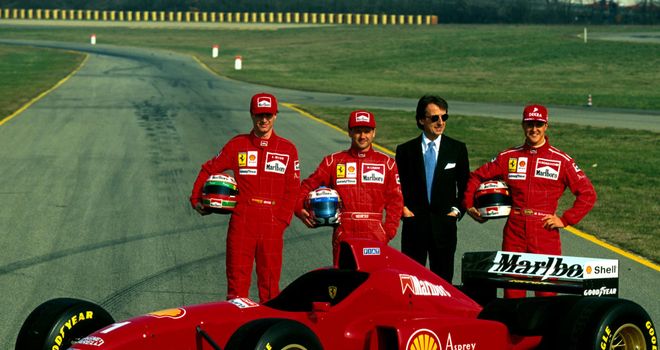 Eddie Irvine joined Ferrari in 1996
The reigning back-to-back World Champion certainly did prove a 'tough nut to crack', as did Ferrari's recalcitrant F310 in general. Although Irvine's first race weekend in scarlet appeared to bode surprisingly well as he outqualified Schumacher at the first attempt and then finished third behind the dominant Williams pair, he would only actually only see the chequered flag four more times over the remainder of the year. A depressing mid-season sequence of nine straight retirements - seven of which were for mechanical reasons - ultimately meant he finished the year just a single point better off in the standings than 12 months before with Jordan.
In later years, Irvine admitted he had been in awe of how Schumacher had been able to haul that '96 car to three victories and certainly the qualifying gap between the two in that first season - an average of 0.9s and four places in the German's favour - underlined the calibre of driver he was up against. But as Ferrari improved over the next few years, Irvine did likewise and having become an increasingly useful wing-man for Schumacher, he was ready to win on the days the German was out of the running.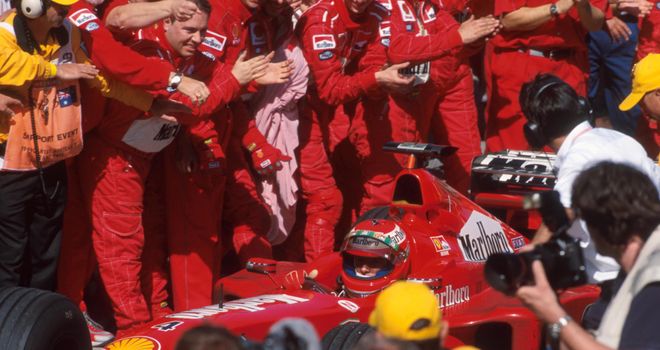 Eddie Irvine is congratulated on his maiden win
That proved to be the case on the very opening weekend of the 1999 season when Irvine claimed his maiden F1 win at the 81st attempt after Schumacher dropped to the back of the grid when his car stalled just before the lights and the dominant McLarens then both packed up. But if his luck was in at Melbourne, then the fruit machine of fate paid out substantially when Schumacher broke his leg on the opening lap of the British GP, ironically when his Ferrari's rear brake circuit failed while passing Irvine. It meant that all of a sudden, despite having pumped millions into the team for three years in a bid to end their 20-year drivers' title drought with Schumacher, the number two was suddenly their number one.
Having finished second on home soil at Silverstone to close to within eight points of leader Mika Hakkinen, two races later Irvine was suddenly in the lead thanks to back-to-back wins in Austria and Germany, the latter one of which was handed on a plate to him by Schumacher's stand-in Mika Salo. From there the title race produced numerous twists, turns and astonishing errors from all sides - Hakkinen's spin and subsequent tears at Monza and Ferrari's mechanics' failure to ready all four tyres for an Irvine pitstop at the Nurburgring the two most memorable moments - but Irvine kept on putting points on the board - indeed he finished all but one of the year's 16 races, an engine failure at Imola producing his sole DNF.
By the penultimate round in Malaysia and with Irvine within two points of Hakkinen, Ferrari pulled their ultimate ace card by recalling Schumacher, now fully fit again, to help the team try and win the Constructors' Championship and, almost unfathomably, Irvine the Drivers'. After announcing his return in sensational fashion by qualifying on pole by a full second, Schumacher stayed true to his word that he would help his team-mate's challenge by letting Irvine through to the lead of the race - twice - despite spending most of the race successfully slowing up Hakkinen. It led Irvine to quip afterwards: "Not only is Michael the best number one driver - he is also the best number two."
After Ferrari survived a furore over their bargeboards, successfully appealing an initial disqualification, Irvine knew he would become World Champion in the final round at Suzuka if he finished ahead of Hakkinen. Alas, it wasn't to be as the McLaren driver, after an inconsistent title defence, regained his serenity to seal back-to-back crowns with a win as Irvine trailed in behind Schumacher in third.
Irvine already knew that Japan 1999 would be his 65th and final race for the Prancing Horse having several weeks earlier been announced as the lead driver for the new Jaguar team, the famous sportscar brand's then owner Ford having bought Jackie Stewart's improving outfit. Their new star signing agreed a three-year deal and was believed to be particularly well remunerated, but Jaguar's F1 project would prove both underwhelming and turbulent.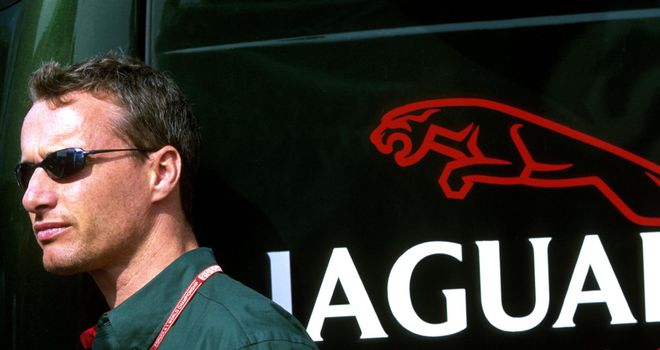 Eddie Irvine moved to Jaguar in 2000
During the course of his three years at the Milton Keynes-best outfit Irvine did enjoy some highlights - podiums in Monaco and Monza in 2001 and 2002 respectively - but a total of seven points finishes in 49 starts told the wider story and the two parties split at the end of his contract.
At 36 years old, Irvine quit F1 and successfully turned his hand to property investment and to this day remains the go-to-man for a memorable straight-talking soundbite.