Introducing Red Bull's new driver & Sebastian Vettel's next team-mate: Daniel Ricciardo
Profiling the young Australian who will join F1's elite next year
By Sky Sports Online. Last Updated: 03/09/13 3:48pm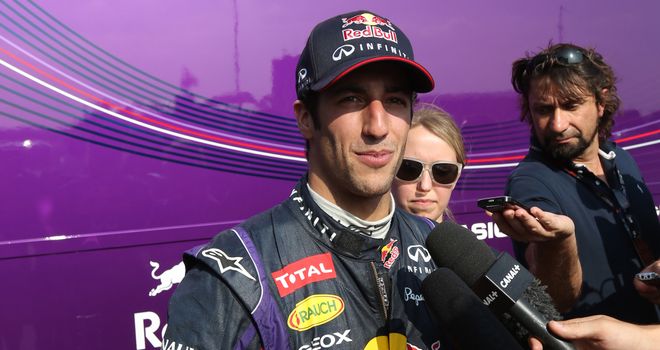 Daniel Ricciardo: Will be wearing Red Bull colours full-time in 2014
Daniel Ricciardo is stepping up to the senior Red Bull team in 2014, but what do we know about the Toro Rosso driver?
Born in Perth, Western Australia, on 1 July 1989, Ricciardo started karting aged nine before getting his first taste of a single-seater with three races in the Western Australia Formula Ford in 2006. He quickly moved onto the Formula BMW Asia Championship after winning a scholarship and went finished third in the standings that season.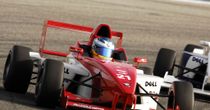 Daniel Ricciardo contests the 2006 Formula BMW World Final
In November 2006, Ricciardo made his debut in European racing when he took part in the Formula BMW World Final in Valencia, where he finished fifth and was presented with an Outstanding Achievement Award.
The Australian stayed in Europe the following season and contested the Italian Formula Renault Championship where he was sixth in the standings. The series was dominated that year by the Red Bull junior team which included Jamie Alguersauri as they finished first, second and third in the championship, but Ricciardo's performances had been enough to catch the eye of the firm's talent scouts and he was signed up for 2008.
Staying in two-litre Formula Renault for a second season, Ricciardo contested both the Western European Championship and the Eurocup. Winning over half the WEC rounds, the Australia comfortably clinched the title, but he missed out on the European crown by three points to future Williams driver Valtteri Bottas.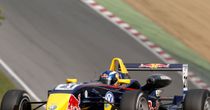 Daniel Ricciardo: On his way to the British F3 title with Carlin in 2009
In 2009 Ricciardo moved to the British F3 Championship with Carlin, where his team-mates included Max Chilton. The Australia dominated the series with six wins and a further six podium finishes to take the title by 87 points. His performance earned him a drive in the RB5 at the Young Driver Test at Jerez that winter and, after finishing with the quickest time, he was named as Red Bull and Toro Rosso's reserve driver for 2010.
Alongside his F1 commitments, Ricciardo contested the Formula Renault 3.5 Championship with Tech 1 Racing where he missed out on the title by just two points in his rookie season after eight poles and four victories - including the Monaco GP support race.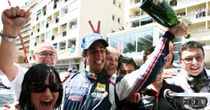 Daniel Ricciardo celebrates Monaco victory in FR3.5
Ricciardo remained as Red Bull and Toro Rosso's reserve driver in 2011, taking part in Practice One sessions for the junior team, meaning he missed the opening round of the FR3.5 series. He returned to the championship with ISR at the second round and would once again take victory on the streets of Monte Carlo as well as registering five second-place finishes.
In July that year Red Bull placed Ricciardo with perennial backmarkers HRT to gain F1 experience, contesting 11 grands prix with a best finish of 18th in Hungary and India. Despite the promotion, the Australian also continued in FR3.5, contesting rounds that did not clash with F1.
Ricciardo facts
Age - 24
GP starts - 42
Points - 22
Teams - HRT, Toro Rosso
First Race - 2011 British GP
Best Result - 7th (China 2013)
Major titles - 2008 FR2.0 WEC, 2009 British F3.
Ricciardo was then promoted to a full-time race seat with Toro Rosso in 2012 and he has driven for the team for the past season and a half. His best result to date is seventh in this year's Chinese Grand Prix.
However, the Australian is renowned for his qualifying ability and making Q3 on a regular basis is arguably what gave him the edge over current team-mate Jean-Eric Vergne, who has only made the final part of qualifying twice in his career.
This season Ricciardo has qualified an average of over three places ahead of his team-mate, with a career best fifth place start at Silverstone, and boosts a 7-4 head-to-head record, having finished 2012 with a commanding 16-4 Saturday record.
With race drivers allowed to test tyres at this year's Young Driver Test in July, the sport - and Red Bull - were afforded the opportunity to see Sebastian Vettel and Ricciardo in the same machinery and in similar conditions for the first time.
The Australian's fastest time in the RB9 on the Silverstone grand prix circuit was 0.293 seconds slower than what Vettel managed the following day, prompting speculation that, with more time in the Red Bull car, Ricciardo has the pace to challenge Vettel.
In 2014, we will find out whether that suspicion is well founded or not...