Kimi Raikkonen refuses to clarify when he expects his F1 career to end at Ferrari
Jules Bianchi in the frame were the Finn to leave the Scuderia
By Pete Gill. Last Updated: 18/07/14 12:17pm
Kimi Raikkonen says he will finish his career when his contract ends at Ferrari but did not give a time frame.
Formula 1 Betting

Formula 1 Betting

Bet with Sky Bet
Kimi Raikkonen has cast fresh doubt on his future by refusing to clarify when he believes his second – and final – stint at Ferrari will end.
The Finn rejoined the Scuderia for the start of this season after signing what was thought to be a two-year deal. "The Finn will join Fernando Alonso in the driver line-up for the next two racing seasons," the team announced as they welcomed Raikkonen back to Maranello.
How long ago the wave of excitement Raikkonen's return generated now seems. The anticipated fireworks between Raikkonen and Alonso - Ferrari's first all-champion line-up since the 1950s - has instead turned out to be a walkover, the Spaniard comprehensively out-performing his struggling team-mate whose precise driving style has been utterly at odds with the misbehaving F14 T.
The 2007 World Champion's future has become a hot topic of debate in the paddock in recent weeks, with Raikkonen himself pouring fuel on the fire of speculation at Silverstone two weeks ago when he told reporters he will retire when his Ferrari deal expires. However, the Finn's failure to specify the length of his deal was immediately leapt upon by rumour-mongers in the paddock and, intriguingly, repeated when he spoke to Sky Sports F1 at Hockenheim.
"I'm not worried," Raikkonen told Sky F1's Ted Kravitz. "At Silverstone I said that I will stop when my contract finishes – I never said any year. I'll finish my career in a Ferrari; when it is, I don't know."
Between the German and British races, Marussia's Jules Bianchi, a graduate of Ferrari's Driver Academy, filled in for Raikkonen at the two-day Silverstone test while the 34-year-old recovered from injuries sustained in his crash at the start of the British GP. The young Frenchman certainly can't be accused of failing to impress – not only did Bianchi top the timesheets on the second and final day of the test but he also set a time faster than Raikkonen had achieved during any of the three practice sessions at Silverstone the previous week.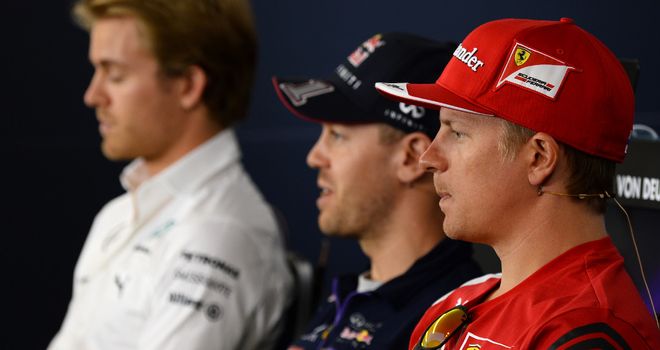 Asked on Thursday what 'positives' he had experienced during the first-half of the 2014 season, a non-plussed Raikkonen replied: "We've been in every race at least."
However, the Finn was adamant that his position was not under threat. "I have a contract so I'm not worried about that for the future," he told reporters.
Were Ferrari to jettison Raikkonen at the end of the year in order to bring in new blood – along with Bianchi, the highly-rated Nico Hulkenberg and World Champion Sebastian Vettel have been repeatedly linked with the team – they could be liable to pay Raikkonen compensation for the second time in five years after the Finn received a reputed £10m in severance to make way for Alonso.
Although the 2015 campaign is still eight months away, Mercedes signalled that the driver market is now open for business with confirmation earlier this week that Nico Rosberg had signed a new multi-year deal. There has, meanwhile, been no sign of resolution for Jenson Button, whose current deal with McLaren expires at the end of this season, with McLaren still evaluating their options for a year which will see them reunite with Honda.
Related Articles:
Who's signed up for when in Formula 1