Top-ten moments of 2014 season - so far!
From on-track battles to off-track funnies, the stand-out moments from the first half of the 2014 F1 campaign for you to watch again
By Sky Sports Online. Last Updated: 04/08/14 2:07pm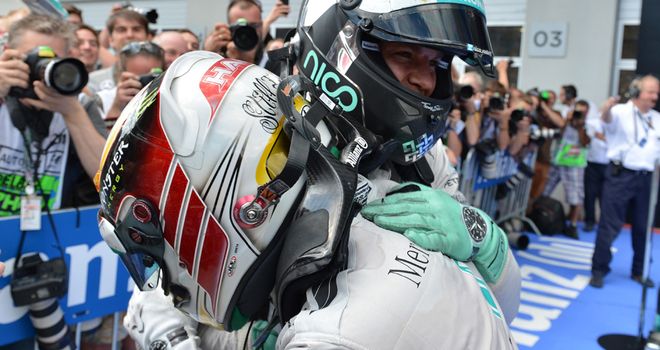 Formula 1 Betting

Formula 1 Betting

Bet with Sky Bet
Formula 1 2014 has reached its summer break and the season has not been short of memorable incidents, both on and off the track.
So here's ten of the best to enjoy in video form again...
Hamilton stopped by guard
March 14 – Australian GP
'Who do you think you are, Lewis Hamilton?' Whether an F1 novice or simply overofficious, the security guard who asked to see Lewis's pass when the Mercedes driver, still fully kitted out in race suit and crash helmet, tried to return to the paddock after breaking down in Practice One in Melbourne certainly raised a laugh on the opening day of the 2014 season.
Hamilton & Rosberg's battle of Bahrain
April 6 – Bahrain GP
The showpiece battle in the grand prix later dubbed 'Race of the Century' which saw Mercedes' title-duelling drivers go wheel-to-wheel for the first time this season. It was Hamilton, having beaten his pole-sitting team-mate to the first corner at the start of the race, who ultimately won out but only after the most spellbinding of fights which saw Rosberg denied again and again.
Maldonado flips Gutierrez
April 6 – Bahrain GP
If Hamilton v Rosberg provided the night-time Sakhir race's standout story, then Pastor Maldonado's collision with Esteban Gutierrez proved by far its most spectacular – and frightening – moment. Exiting the pitlane into the path of the oncoming Sauber, Maldonado ran into the side of Gutierrez to pitch the young Mexican's car into a 360-degree roll. Fortunately, Gutierrez emerged unscathed, while Maldonado was hit with a triple sanction consisting of time penalty, grid drop and penalty points by the unimpressed stewards.
Vettel's 'tough luck'
April 20 – Chinese GP
F1's dominant driver of the previous four years has had to face a new reality at Red Bull following the arrival of the rapid Daniel Ricciardo. Following a team order at the previous race in Bahrain to let the Australian through, Vettel took an immediate dislike to a similar instruction over the radio in China, particularly once he learned Ricciardo was on the same strategy as him. Although the German initially held position, he eventually heeded the order - or did he? - and let the faster Red Bull go by running wide at Turn One.
Raikkonen speechless
May 11 – Spanish GP
His Ferrari return may not be going to plan so far, but Kimi still remains Kimi as his classic response to a question after the Spanish GP aptly demonstrated. The Finn had looked on course to beat team-mate Fernando Alonso for the first time but was eventually overhauled by the sister F14 T's two-stop strategy. 
Close call for Kimi
May 23 - Monaco GP
Red Bull Garage Technician Nigel Hope saved the day when he pulled Ferrari star Raikkonen out of the path of Sebastian Vettel's car as it left the Red Bull pit box in the Monaco pitlane during second practice. Quite where Kimi had been wandering is anyone's guess.
Rosberg's qualy controversy
May 24 - Monaco GP
The controversy of the season so far. At the start of the final runs in qualifying, provisional polesitter Rosberg locked up and ran off the road at Mirabeau, bringing out the yellow flags which ruined the laps of the drivers behind – most notably title rival Hamilton. Consiracy theories that Nico had done it deliberately soon followed, and although his team-mate failed to absolve him of blame, Rosberg protested his innocence and the stewards ultimately agreed with him.
Hamilton: We're not friends
May 25 - Monaco GP
The interview that told you all you needed to know about how tensions had boiled over between Mercedes' drivers at Monaco. Having been beaten to victory at F1's most prestigious event by Rosberg following his team-mate's controversial winning of pole position, Hamilton barely acknowledged his one-time karting buddy afterwards.
Vettel v Alonso
July 6 - British GP
It doesn't get much better than the grid's two most successful active drivers going wheel-to-wheel for lap after lap does it? Sebastian Vettel and Fernando Alonso haven't often fought for so long over one position - and fifth place at that! - but fans were treated to such a thrilling showdown at Silverstone. Alonso initially held the position after a brilliant around-the-outside pass of the Red Bull at Copse before Vettel ultimately won out via a similarly bold move on the brakes at the same corner.
Hamilton holds firm
July 27 - Hungarian GP
In a barnstorming final race before the summer break at the Hungaroring, Mercedes' title-duelling drivers met on track but on different tyre strategies. The team's pitwall asked Lewis Hamilton, the lead car, to twice let Nico Rosberg through but the Briton decided to instead hold station, claiming his team-mate was not close enough to justify a change of position.