Martin Brundle Scrapbook
The Sky Sports F1 commentator talks about his new book, which documents a 40-year career in motorsport. "I go through it and realise how lucky I've been - for any number of reasons"...
By Mike Wise. Last Updated: 18/07/13 1:09pm
Keeping a scrapbook seems anachronistic in this digital age but surely the appeal of Instagram and its ilk only goes so far. Isn't it nice to get away from what people are doing in the right-here-and-now? To take some time out with an actual book, sit down and flick through its pages, roll back the years and appreciate a person's life story?
It helps, of course, when the person has a good life story to tell and 'Martin Brundle's Scrapbook' certainly does that. A scrapbook is, of course, more than a photo album: Martin's contains 500 photos but there's also assorted memorabilia and insight into a motorsport career that now spans 40-plus years.
"We had well over 1,200 images to choose from," Brundle says over coffee in the Nurburgring paddock. "We had to filter that down but kept adding pages and eventually had to discard some. There's loads of stuff I would have liked to put in it."
What makes the final cut forms part of a narrative that spans Brundle's childhood, racing and television careers. "There's a picture of me when I was a kid when I had my first crash on the bumper cars at Butlins. I've got a big scar on my eye after hitting the steering wheel. So that was my first shunt, when I was about four.
"Then there's my banger racing and hot-rod days - me looking bedraggled with long, long scruffy hair - and then through the formative years."
The last of those prior to Brundle's F1's debut was 1983, the year he fought Ayrton Senna for the British F3 title. Occasionally, the pair got too close for comfort. "There's a shot where Senna's car is parked on my shoulder, basically, at Oulton Park after a big crash we had together.
"I cover that season a lot, and it was really interesting for me to go back, think about it and reflect 30 years later."
Both made the jump straight to the big time, although for Brundle at least, F1 wasn't paying the mortgage just yet. As such, he still had to work at his family's car dealership. "I'd go home from a grand prix and go back into the garage selling cars because I wasn't on anything like enough money - I wasn't on any money basically. I think my Tyrrell salary just about covered my costs and insurance, so I was still running the garages in the week.
"It's laughable now, isn't it?"
Such moonlighting soon proved incompatible with a jet-set lifestyle but the decision was vindicated. Saddled with an underpowered (and, as it transpired, underweight) Tyrrell, Brundle finished second in just his eighth race in Detroit. But reality bit hard at the very next race in Dallas, where, on a poorly conceived street track - the surface of which kept breaking up - a practice crash resulted in two broken ankles.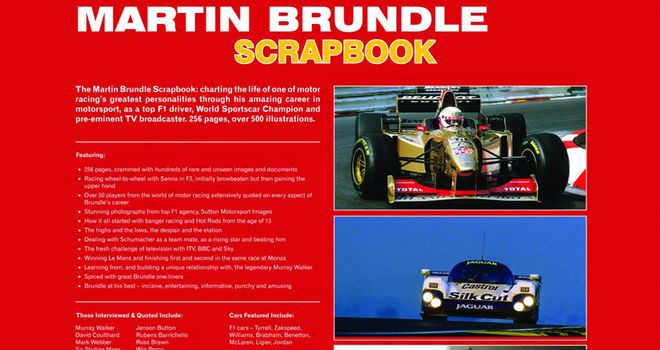 "I had a fantastic run, really," Martin says of his honeymoon period. "We didn't have turbos but our car was good. Tyrrell were pushing their luck on the car's weight though, which we got thrown out for later on. I had a shunt at Monaco, then I finished second in Detroit and then I smashed myself up in Dallas with a puncture on a ridiculous racetrack."
It would be several years before he found himself in such a competitive F1 car again, but a switch to sportscars with Jaguar proved instantly successful. Brundle took the world title at his first attempt and also won Le Mans. The partnership also gave him the chance to drive the XJR-14 in 1991 - the car he calls his favourite.
The following year saw him back at the sharp end in F1 - albeit with a caveat. Hired by Benetton, Brundle was teamed with Michael Schumacher. They say that every picture tells a story but how best to sum up Martin's relationship with the then 23-year-old? "There's a picture of me and Michael looking at the camera and he's making bunny ears behind my head. I think that sums up pretty much everything about us."
Schumacher might have played to the cameras but he was swiftly making Benetton his team and no-one was going to stand in his way. In terms of ruthless intent, though, it sounds like Dale Earnhardt was in a whole different league. Brundle has first-hand knowledge of the NASCAR legend, known as 'The Intimidator', when they contested the 1990 IROC series, which pitched road racers against their stock-car counterparts.
He takes up the story: "I'm on pole for the last race, I'm leading the Championship and there's no way a European boy is going home with the money - $175,000. Earnhardt walks past the window of my car with a thousand-yard stare, says (adopts Carolina drawl) 'Don't forget your kids'...and just carries on walking."
The book's 265 pages contain plenty such anecdotes, as well as contributions from those who have known Brundle throughout his life. Yet he says he's been careful to draw the line. "I don't want to do a biography; I don't like the ego of that. I think to do a biography, you've got to tell stories about people who don't want them being told. This is a celebration. There's some juicy stuff in there but the main reason I did it was to get all my old archives out.
"I go through it and realise how lucky I've been - for any number of reasons."
The story is, of course, brought up to date with Brundle's TV career. It's hard to believe that his time behind the mic - 16 years and counting - almost spans the same period he spent racing single seaters. Time flies when you're having fun; if you saw Martin and Mark Webber putting Red Bull RB7s through their paces on British GP weekend, it's obvious he's still having it.
Martin Brundle Scrapbook is out now. Visit www.porterpress.co.uk for more details.