Sky Sports exclusive: Christian Horner Q&A
After Sebastian Vettel made it a hat-trick of Canadian poles, the Red Bull team boss assessed his team's chances of finally ending their Montreal victory hoodoo
Last Updated: June 8, 2013 10:13pm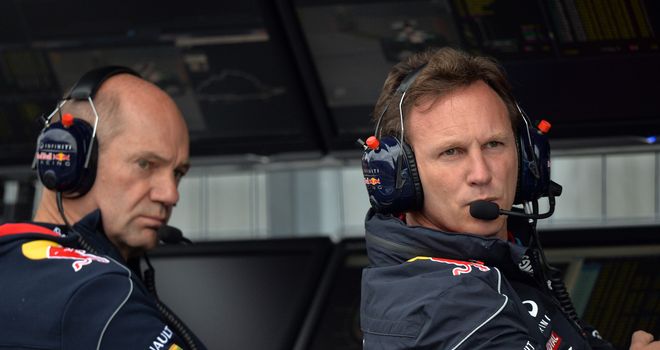 Christian Horner: Admitted qualifying had been a 'nightmare' to manage
In a wide-ranging interview with Sky Sports News' Craig Slater, Horner also talked Mercedes, Bottas and those 2014 Raikkonen rumours...
Craig Slater: Difficult qualifying to call from the wall?
Christian Horner: "It is a nightmare because it was changing lap to lap, corner to corner, so it was a question of just trying to get through the sessions and be on the track at the right time.
Vettel out to break duck
"You had to deliver a lap when you had a chance to do so and make every one count. Sebastian did that on his first run on a scrubbed set of tyres in Q3, then the rain increased and he wasn't going to improve from that point onwards. It was a very controlled performance from him and it was great to have Mark up there as well."
CS: Can you convert pole this time?
CH: "We are going to give it our best shot. It is a tough race here and if it is a dry race, without any real rubber having gone down on the circuit, it is going to make the strategies a bit of an unknown quantity heading into the race. We are starting from the best possible position and our objective is to get as many points as we can out of the race."
CS: Who carries the biggest threat?
CH: "Lewis has a great track record here. He won his first race here and he has won a couple of times here since so for sure he is going to be a threat here.
"The Mercedes is very quick around this circuit, Fernando you cannot discount and it is anybody's race. We are starting in the best position, it is not like Monaco where you cannot overtake, it is one of the easiest circuits to pass at and it is important we get our head down and try to get away at the front."
CS: Is it a big day? With the way the grid is Sebastian could open up a big gap in the Championship...
CH: "No, we are just focussing on the race at hand. We came from a long way back last year, 40 points behind we were after the summer break, so things change very, very quickly.
"Our focus is on one race at a time trying to extract the most at each individual grand prix."
CS: Will there be a big push in Asia again at the end of the season?
CH: "One thing for sure is that against teams like Ferrari, Mercedes and McLaren is that you have to keep developing the car right to the end of the season.
"That is what we are going to do, which has added complications as we are trying to get our heads around the big change in regulations for the 2014 car."
Ted's Notebook - Canada Qualifying
Were you impressed by Bottas?
CH: "Yes absolutely and congratulations to him and the Williams team for having a car in the top three. He drove really well throughout the qualifying today and he obviously likes the track and likes the conditions. But for a rookie to do that it was very impressive.
CS: Raikkonen to Red Bull? It doesn't go away that question, does it?
CH: "Kimi is well known to Red Bull. He has had a relationship with the company for several years, but our focus is on our own two drivers. We are happy with the pairing we have and we will only start to think about next year's line-up towards the end of the summer."