Measuring the 2013 team-mates
How the field's shaping up versus the one man they must beat
By Sky Sports Online. Last Updated: 10/07/13 2:01pm
As Formula 1 nears the mid-point of the season, we examine how the drivers have fared in their intra-team battles during the opening seven races of the 2013 campaign.
Please note: For the purposes of this exercise, average qualifying and race positions have been rounded up or down to the nearest whole number and include any penalties issued to the drivers. DNQs, DNFs and retirements were not included when calculating the average finishing position.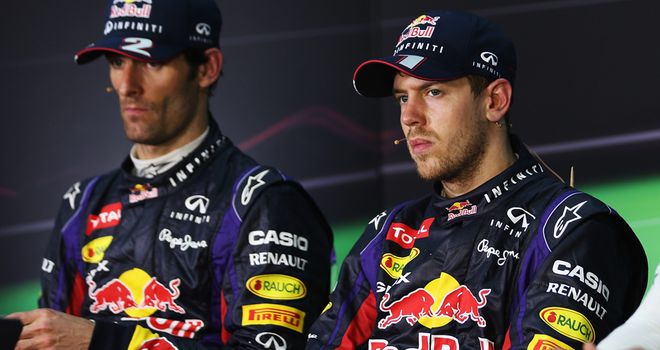 Red Bull
Sebastian Vettel: Average Qualifying: 3; Average Finish: 2.
Mark Webber: Average Qualifying: 7; Average Finish: 5.
After a strong start to the season, Mark Webber has continued to struggle since enduring a nightmare weekend in China. The Aussie is yet to out-qualify Vettel this term and his average starting position is four places behind his team-mate. Moreover, whereas Webber hasn't started on the frontrow since Australia, Vettel has done so five times and only once qualified lower than third.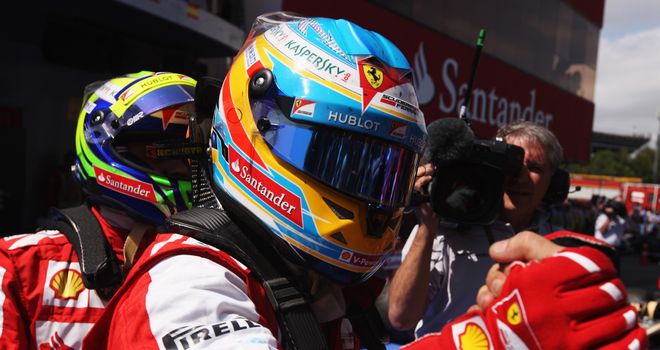 Ferrari
Fernando Alonso: Average Qualifying: 5; Average Finish: 4.
Felipe Massa: Average Qualifying: 7; Average Finish: 7.
Having dropped significantly off the pace of Fernando Alonso between Spain and Britain, Felipe Massa actually out-qualified his team-mate at the German GP for the first time since Malaysia. In race trim, Alonso leads Massa 8-1, but the numbers don't make for entirely comfortable reading for the Spaniard - after a respectable start to the season, his last four starting positions have been 6th, 6th, 9th and 8th.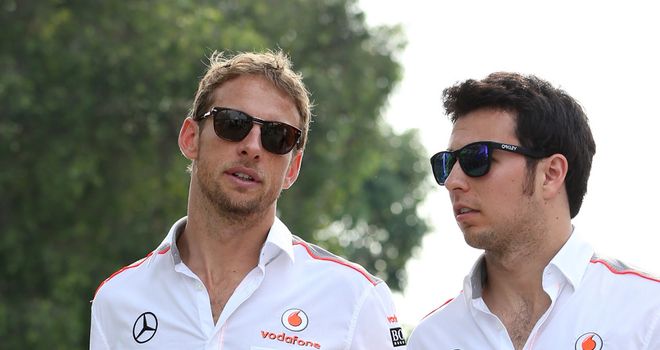 McLaren
Jenson Button: Average Qualifying: 10; Average Finish: 9.
Sergio Perez: Average Qualifying: 11; Average Finish: 9.
As Sergio Perez finds his feet at McLaren, he has now moved level with Jenson Button on average finishing position, although he continues to trail the 2009 World Champion 3-6 in their head-to-head qualifying comparison. Neither McLaren driver is yet to qualify in the top six this season, although Button continues to hold a clear edge over the younger man on Saturdays - Button qualified four places ahead of Perez in Germany.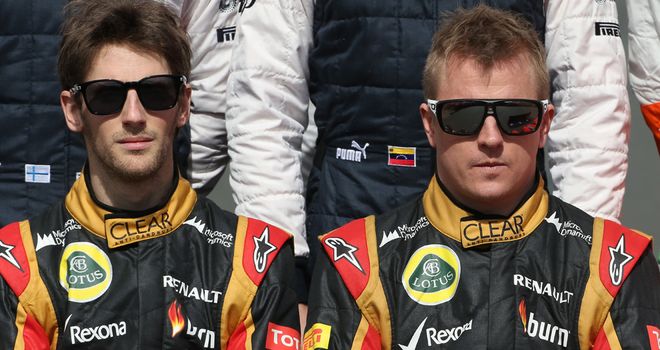 Lotus
Kimi Raikkonen: Average Qualifying: 6; Average Finish: 4.
Romain Grosjean: Average Qualifying: 9; Average Finish: 7.
Strong qualifying and race performances in Germany have helped improve the averages of both Lotus drivers, although Kimi Raikkonen still holds a significant average advantage over Romain Grosjean in both qualifying and races. The Frenchman is typically three positions behind the 2007 World Champion on both a Saturday and a Sunday and his race average could be even worse had he not retired from three of the last five races.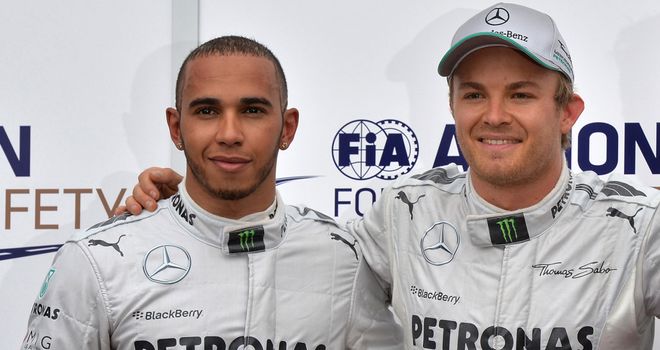 Mercedes
Nico Rosberg: Average Qualifying: 4; Average Finish: 5.
Lewis Hamilton: Average Qualifying: 3; Average Finish: 5.
Back-to-back poles coupled with a strategy blunder causing Nico Rosberg to miss out on Q3 in Germany mean Lewis Hamilton edges ahead of his team-mate on single-lap pace. Not only does Hamilton lead Rosberg 6-3 in qualifying stakes, but the 2008 World Champion has the joint lowest starting position of any driver along with Sebastian Vettel - 2.778. However, the Mercedes team-mates are inseparable on race pace, with Rosberg's stats boosted by two victories this season.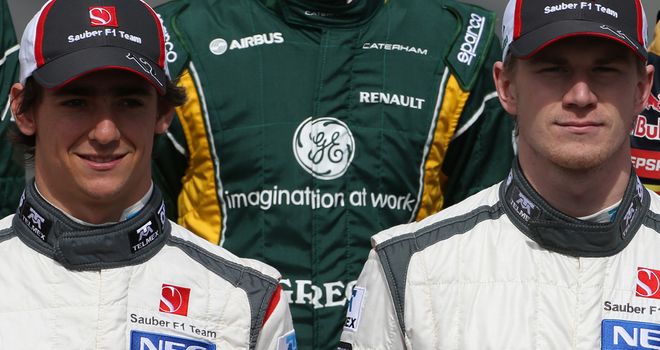 Sauber
Nico Hulkenberg: Average Qualifying: 12; Average Finish: 11.
Esteban Gutierrez: Average Qualifying: 17; Average Finish: 14.
After an ultra-difficult start to his rookie season, Esteban Gutierrez has managed to close the gap to his team-mate slightly in qualifying in recent weeks. Nevertheless, he remains a long way behind on race pace with gap widening from two to three places after Hulkenberg's points finishes in Britain and Silverstone.
Force India
Paul Di Resta: Average Qualifyng: 12; Average Finish: 8.
Adrian Sutil: Average Qualifying: 10; Average Finish: 10.
Two lamentable Q1 exits in Monaco and Canada saw Paul Di Resta slip behind Adrian Sutil in the qualifying standings at Force India. The Scot's Silverstone result is not included having been disqualified from the session, but had his fifth-place stood, Di Resta would still remain two places behind his team-mate. However, the Scot's race pace continues to be strong, helping him maintain his Sunday advantage, in what looks like being one of the most intense battles on the grid in 2013.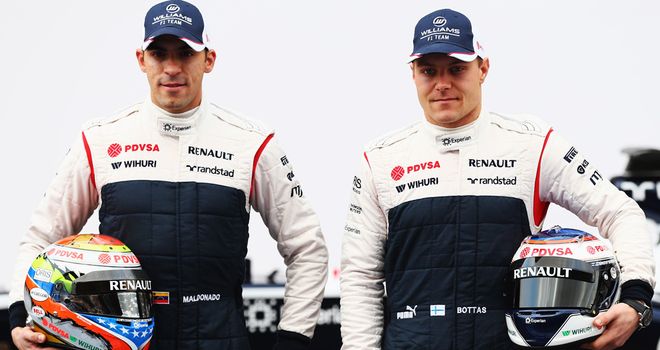 Williams
Pastor Maldonado: Average Qualifying: 16; Average Finish: 14.
Valtteri Bottas: Average Qualifying: 15; Average Finish: 14.
Valtteri Bottas started the season as the surprise package of 2013, outperforming the much more experienced Pastor Maldonado in both qualifying and the races. However, the Venezuelan has recently started to close the gap, moving level on average finishing position, whilst the Finn's outstanding third in difficult conditions in qualifying Canada is all that keeps him ahead on Saturday pace.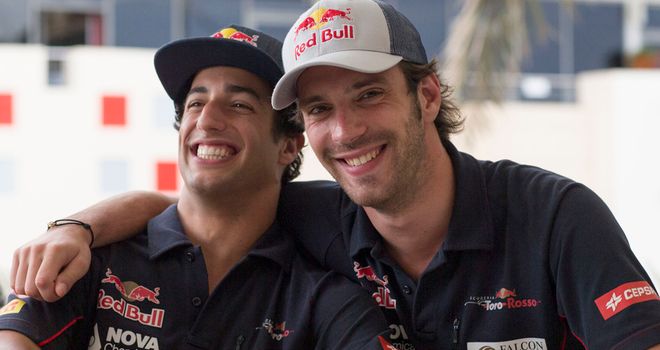 Toro Rosso
Jean-Eric Vergne: Average Qualifying: 13; Average Race: 10.
Daniel Ricciardo: Average Qualifying: 10; Average Finish: 12.
After the wet conditions for qualifying in Monaco and Canada allowed Jean-Eric Vergne to close the gap to Daniel Ricciardo, the Australian has searched ahead once more with fifth and sixth places at Silverstone and the Nurburgring respectively. He now leads Vergne 6-3 in qualy. Whilst Ricciardo may have unable to retain those spots come race day, his team-mate failed to finish on both occasions whilst running further down the order, thus preventing Vergne from falling behind in the average finish column.
Caterham
Charles Pic: Average Qualifying: 19; Average Finish: 16.
Giedo van der Garde: Average Qualifying: 20; Average Finish: 18.
Charles Pic has edged ahead once more on in qualifying, partly helped by Giedo van der Garde picking up a grid penalty at Silverstone. On a Sunday, the Frenchman's additional experience shows, with his 14th Malaysia the team's best result of the season.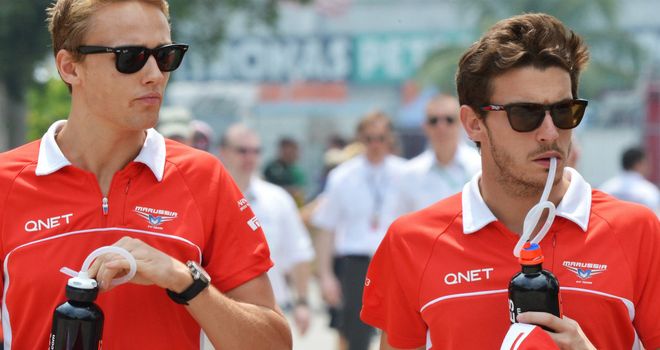 Marussia
Jules Bianchi: Average Qualifying: 19; Average Finish: 16.
Max Chilton: Average Qualifying: 20; Average Finish: 18.
Despite his 11th-hour arrival at the team, Bianchi has dominated his head-to-heads with Chilton so far in the all-rookie battle at Marussia. The Englishman is yet to out-qualify or finish ahead of his team-mate when both have reached the chequered flag, and the Sunday gap between the pair has widened in recent weeks. Bianchi's 13th place in Malaysia remains the team's highlight of the season and could be crucial in the battle for tenth at the end of the season.