The 2013 F1 grid in numbers
Find out who the oldest, youngest and most experienced drivers on the new season's grid are, which country has the most representatives, and lots, lots more besides...
By James Galloway. Last Updated: 05/03/13 4:32pm
After Marussia made the final move in the 2013 driver market by hiring newcomer Jules Bianchi, we finally know the identity of all 22 drivers that will line up on the grid for the first race of the season in Australia on March 17.
So what can we tell you about the class 2013? We've crunched the numbers...
YOUNGEST AND OLDEST
Oldest driver - Mark Webber (36 years old; August 1976).
Youngest driver - Esteban Gutierrez (21 years old; August 1991).
F1 on Sky Sports in 2013
Sky Sports F1 is the only place to watch every grand prix live in 2013.
Our dedicated F1 channel will broadcast every race, qualifying and practice session live, along with highlights shows, analysis and even more coverage via the Red Button.
Find out more at sky.com
Average age of the grid - 26.6 years.
Drivers in their 30s - Six.
Drivers in their 20s - Sixteen.
Oldest driver line-up - Alonso and Massa (62 years; Ferrari).
Youngest driver line-up - Chilton and Bianchi (44 years; Marussia).
Most experienced - Jenson Button (228 starts).
Rookies - Five (Bottas, Gutierrez, Van der Garde, Chilton and Bianchi).
World Champions - Five (Vettel, Alonso, Button, Raikkonen, Hamilton).
Grand Prix winners - Nine.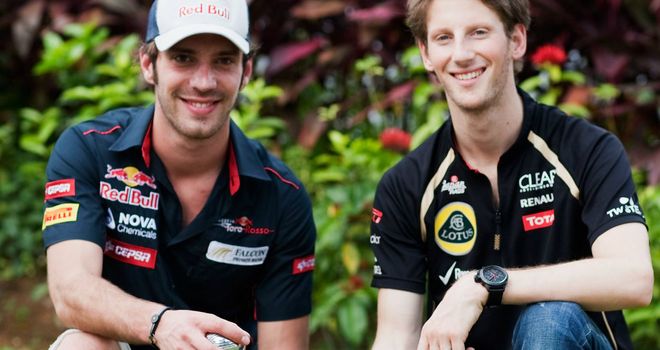 LEAGUE OF NATIONS
Number of countries represented by drivers - Ten (Great Britain, France, Germany, Australia, Mexico, Finland, Brazil, Spain, Netherlands, Venezuela).
Host GP countries with a home driver - Five (Spain, Brazil, Germany, Great Britain, Australia).
Countries most represented - Germany, France and Great Britain (four drivers each).
Drivers from Europe - Sixteen.
Drivers from South America - Two.
Drivers from North America - Two (Mexico).
Drivers from Australia - Two.
TOP OF THE POPS
Most championships - Sebastian Vettel (Three).
Most race wins - Fernando Alonso (30).
Most poles - Sebastian Vettel (36).
Most podiums - Fernando Alonso (86).
Most fastest laps - Kimi Raikkonen (37).
Most seasons with current team - Felipe Massa (Eighth season at Ferrari).