It's a big year for...
...Nico Rosberg. Though his future is secure at Mercedes, Nico's breakthrough into the top tier of F1 is already long overdue...
Last Updated: March 1, 2012 2:29pm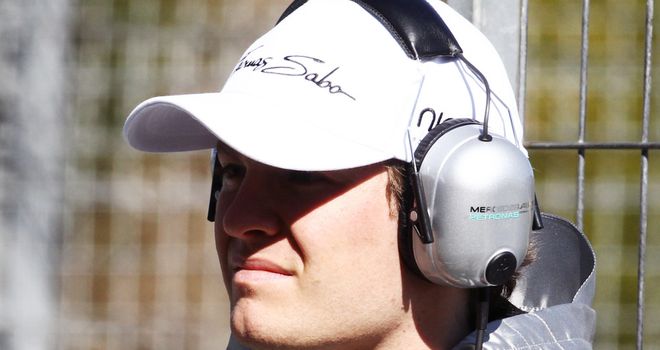 It's time for Nico Rosberg to deliver in 2012...
Formula 1 Betting

Formula 1 Betting

Join the Free Bet Club
As one of the few drivers on the grid entering the new season with a long-term contract signed and sealed, 2012 does not, at first glance, smack of being a big year for Nico Rosberg. For better or worse over the next twelve months, he will still be a Mercedes driver in 2013. But there's a salient but coming because although the German is contractually sure, his reputation is at a crossroads. It's delivery time for a driver who has yet to arrive as a genuine force in a sport which has given him far more than he has given back.
If that sounds a provocatively harsh summary then consider the facts. Entering his seventh season in F1, Rosberg is yet to win a race nor claim a pole position. He has finished on the podium five times but only once led a race. After over a hundred races, his only statistical claim to dubious fame is setting a new record for the most points won without a race win. Put bluntly, there's a damningly-provocative question to be asked of Nico Rosberg: just what has he actually done in F1?
The nagging sense that he is still receiving more than he deserves was hardened by the peculiar incongruity of Mercedes extending his contract in November at the end of a deeply unimpressive season. With no indication that his services were in tempting demand elsewhere, the extension smacked of being an unearned reward for a driver benefiting from circumstance rather than deed. But for his name and nationality - Keke, Nico's father, is a former World Champion, and Mercedes, with their all-German line-up, have taken the form of being Germany's national team - it seems doubtful that he would have received any such lucrative reward for relative failure.
The impression of inflated reward was further enhanced by Mercedes' own press release announcing Rosberg's new deal and the triumphant salute of Ross Brawn: "As we know, Nico is a driver who can win races and championships". A subjective retort would be that we know no such thing. An objective response would be that the only drivers who we know can win championships are previous champions. And Rosberg, we repeat, has yet to win a race, let alone a championship.
SKY SPORTS F1 HD
Watch all this season's races
No ad breaks - uninterrupted live race and qualifying coverage
Enjoy F1 on the move with Sky Go
Expert commentators and pundits - including Martin Brundle, David Croft and Ted Kravitz
In-depth programmes and analysis
So what gives? Mercedes must know plenty about Nico that the rest of us do not and Brawn's jarring salute was tempered by the acknowledgment that his driver has so far only been able to "achieve results at the very limit of the technical capabilities of our current car." Make no mistake, that is a claim that nobody outside of Mercedes' inner sanctum can argue with. They have the data and the technical insight upon which to base their judgment; we, as outsiders, don't.
It also must be stressed but for Mercedes residing in a league of their exclusive own last season - a long way behind the top three, a long way ahead of the rest - then Rosberg's qualifying advantage would have undoubtedly resulted in a more emphatic defeat of his team-mate. As it was, despite regularly being out-paced in qualifying by three or four tenths, Schumacher was still able to line up in very close proximity to Rosberg because of Mercedes unsplenid isolation, whereas such a timely discrepancy anywhere else in the field would have resulted in the pair being separated by several places.
And yet heading into 2012, it's difficult to dislodge the growing unease and gut feel that Rosberg has not done enough and is not doing enough. That indefinable but definite thing we're waiting for - the demonstration of star quality - is still ongoing. Rosberg is certainly good, but nothing he has done thus far has indicated he is good enough to be a World Champion.
There is, to return at last to our own enquiry, still no suitable or reassuring response to that uncomfortable question: just what has Nico Rosberg actually done in F1?
In 2012, he must deliver an answer that provides the already-overdue proof that he is a top-tier driver, or else the perspective of his career will shift from a thing of the present - with the expectation of a better future - to a matter of unfulfilled past.
Pete Gill