The crowning glory
Tony Jardine expects big things from Sebastian Vettel in Brazil - if he can hold off Lewis Hamilton.
Last Updated: 24/11/11 4:57pm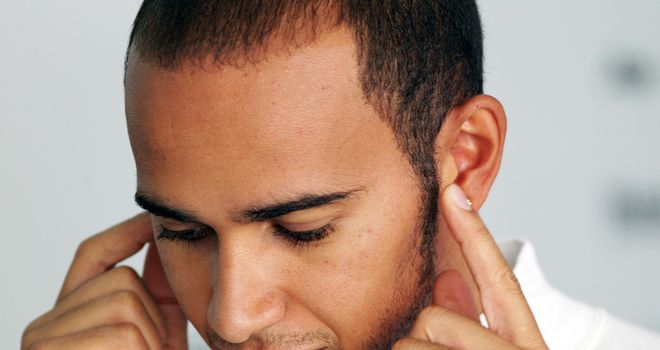 What if Sebastian Vettel captures a world record for pole positions in a season, then caps it off with a win?
That would certainly be the crowning glory for the double World Champion, who would then seriously be able to enjoy a samba with the ultra-successful Red Bull Racing team afterwards!
It would be brave to bet against that happening in the land that bred Ayrton Senna and Emerson Fittipaldi, but not so stupid when you stop to consider this high-altitude track that goes anti-clockwise, wrenching drivers' necks, and the precarious weather patterns that can prevail.
Look no further than Lewis Hamilton to challenge for the win; no doubt he's already rubbing his hands together at the prospect of gallons of rain washing down the bowl that is the Interlagos circuit, as it rises from the original swamp of a lagoon in its basin.
Hamilton, fresh from his reputation-saving win in Abu Dhabi, returns to the scene of his dramatic 2008 World title triumph, taken on the last corner of the last lap of the Brazilian GP on a track that has seen many title shoot-outs.
But this year will be contested for bragging rights going into 2012. "We want to go into the winter off the back of another win", said Hamilton.
"It's a fast track and a passionate crowd, but I hear it's been raining heavily in Sao Paulo so if it rains on Sunday anything could happen!"
Hamilton is capable of great drives, as he proved here in 2009; starting 17th and climbing to third by the finish. My money is on the revitalised Brit for victory.
Strain
Vettel is, of course, the favourite, so play safe if you wish, but he is wary of the weather: "If it rains, aquaplaning can be extreme here," he has warned.
That said the German does work to try to combat the anti-clockwise nature of the circuit that sits high above the shanties of outer Sao Paulo.
"The strain on neck muscles is such that I do special training, but I still love the track and we will try to win to add to the highs of an already phenomenal season," said last year's race winner.
Whilst Vettel may have to ward off the threat of Hamilton and McLaren, Lewis, in addition, may have to contend with the wrath of the partisan Brazilian crowd who chant, cheer and beat drums incessantly to a very Latin beat.
Brazilians love motor sport and adore their heroes, such as Senna and Fittipaldi, so they are bound to be jingoistic about Rubens Barrichello in possibly his last Grand Prix.
They'll also be vociferous in their support of Felipe Massa, who has been involved in no less than six separate on-track accidents with Hamilton this season. The fact that it was Massa who won the race in 2008, but ultimately lost the World Championship by one point to Hamilton, who slithered home in fifth to snatch the crown away (that the Brazilian had held for 15 seconds), also goes against the McLaren driver.
Sympathy will be with Massa, who will be celebrating his tenth year in F1: six of them, and one hundred GP's, with Ferrari. That support could well propel Massa onto the podium ahead of his Ferrari team mate, Fernando Alonso, who, despite his second place in Abu Dhabi - his 20th for the team - seems to be happy that the season is drawing to a close.
Boost
Another man who clinched his World Championship at Interlagos was Jenson Button in 2009, for Brawn GP.
Like Hamilton, he has never won on this track but he wants to put that right. He needs a good result anyway, to be sure of second place in the world standings, as Alonso is just ten points behind - despite Button winning three GPs this season and Alonso just one, at Silverstone in July.
"It would be a great feeling to win here which would give a big boost for 2012," said Button. "I have struggled in the past in qualifying, but raced well at a track that holds so many memories for me, but also its history is very special. I am determined to win my fourth GP of the year."
Seven of the last ten Brazilian GPs have been affected by incidents requiring the Safety Car to be deployed. Teams will have to cater for this possibility in their strategy for the race, a point already well made by Norbert Haug, Mercedes motorsport boss.
He will no doubt be hoping that Nico Rosberg can repeat his sixth place, or better, in Abu Dhabi, as he was sixth last year in Brazil, whilst team mate Michael Schumacher was seventh. There is every chance they will both be in the top ten again, especially as the powerful Mercedes engine will help counter the altitude that can reduce engine output.
Overtaking
Barrichello has never won his home Grand Prix and suffered cruel mechanical problems when in a position to do so, but he still savours his home fixture. His Grandfather lived near the track and, as a young karter, Rubens used to climb the wall and watch his hero Ayrton Senna practice.
"There is huge emotion here at this track for me," said Barrichello. "Naturally this is the best week and best race of the year for me. The track is good for overtaking, although you need good brakes and a powerful engine."
Rubens may just get the top ten placing he yearns for after a very difficult season, but it would be fitting if he could do it in front of his adoring public who saw their hero's title challenge evaporate in 2009, when team mate Button did just enough to take the crown.
Sahara Force India have scored points in twelve out of 18 races and want to secure sixth place in the World Constructors' Championship. Adrian Sutil and Paul di Resta were eighth and ninth in the last race and are a good bet for top ten finishes, which should help them retain the precious prize-money-paying place.
Sauber returned to form in Abu Dhabi, but will need to carry that form to the bumps of the Carlos Pace Interlagos circuit if they are to take the fight for seventh place in the Constructors' Championship to Toro Rosso.
Mexican Sergio Perez should expect many of his home fans to make the trip to Sao Paulo, as he battles for honours; just as Pastor Maldonado will expect a sizeable Venezuelan crowd to make the trip to watch him try and make the Williams work over the undulating track, just as Nico Hulkenberg did when he claimed a sensational pole position for Williams in 2010.
Despite Red Bull's Mark Webber, a former Williams man himself, winning here in 2009, he remains an outside bet for a repeat this year, as I have Hamilton, Vettel and Massa as my podium finishers.
The fact remains that the Brazilian Grand Prix has a history of dramatic events, which have changed the course of the race.
The most graphic time came in 2003 when rain fell so hard it would have been easier to race a boat around. Top drivers like Schumacher lost control over streaming rivers; Alonso and Webber survived huge crashes; and Fisichella thought he'd won in a Jordan, which caught fire at the end of the race.
He was eventually declared winner over Kimi Raikkonen's Ferrari after an FIA court ruling. Let's hope there is a clear cut winner on Sunday and I hope it's Hamilton!