Indian summer
Tony Jardine expects Mark Webber to break his duck for the season at Buddh - albeit a little late.
Last Updated: 27/10/11 2:27pm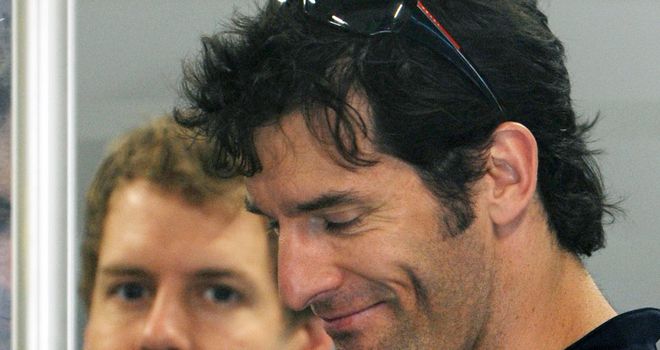 What if the Australian Red Bull driver unravels the secrets of the all new Indian Buddh Circuit first and sets up a great car for the race? Will he be supported by the team?
Yes, I am sure he will. There have been hints from both Red Bull team boss Christian Horner and 20-time winner Sebastian Vettel that Mark Webber should win some of the last races of 2011 and the first ever Indian Grand Prix would be a fitting race for him as he loves to conquer new tracks.
With Red Bull threatening to attack the last three races of this season there is good reason to put money on Mark. Vettel aside, he has the car for all seasons and all tracks in 2011. It even succeeded at its weakest venues such as Monza and Spa.
A great all-round car will be essential in order to take a baseline set-up (derived from hours of virtual simulation the team has put together of the new 5.1 kilometre Buddh International Circuit) and then adapt the Red Bull to the new track once it hits the Indian tarmac on Friday for the first time.
New double world champ Vettel thinks that from what he has seen on the simulator: "We are expecting the second highest average speed after Monza and the altitude difference is extreme like Spa and Turkey." He may still start favourite but I think he may have to make way for Webber.
The new track near New Dehli seems a mix of Monza and Turkey with high and medium speed corners with a long straight ending with a tight turn four. Technical Chief of Team Lotus, Mike Gascoyne, reckons multiple lines can be taken into some of the corners with some good overtaking possibilities. But the circuit has only just been finished in the nick of time.
Displaced
F1 overlord Bernie Ecclestone was sure it was not going to get finished when he saw pictures last week, but a swarm of workers have since made it roughly ready to go. Bernie said: "What they have done is incredible. People there are very anxious to be sure they are doing a good job."
India will be on the F1 and world sports map in a big way. "The world's perception of India is going to change after the Grand Prix," said Jaiprakash Gaur, the founder of the private Jaypee Group responsible for the new facility. "We will make up for the shameful memories of the Commonwealth Games," he added.
India has its own Grand Prix team too. Sahara Force India run by Indian business tycoon Vijay Mallya has waited years for this moment. "I have enjoyed 30 years of passion for F1, I even brought my first F1 car over here in the early eighties, now the race is reality, a proud moment for India and my team."
Both drivers Paul di Resta and Adrian Sutil should have a good chance of top-10 point-scoring positions although Sutil is calling for a quick answer as to whether his services are required for next year as rumours mount that he will be displaced by test driver Nico Hulkenberg for 2012.
No such chance for Indian driver Narain Karthikeyan, who will also have the backing of the huge partisan crowd as he drives the Spanish HRT with just a finish in mind - although the occasion will be spirited for him. "The experience will be surreal," said the ex-Jordan driver.
Designs
Track temperatures should be good according to the forecast as Pirelli has structured their tyre allocation to allow more soft tyres for the unknown conditions with extra super soft tyres for Friday.
McLaren have to be considered as candidates for a win after super performances from both Hamilton and Button in the last two races in Japan and Korea resulting in a win and second place respectively.
Although they remain great rivals both the Woking-based team and Red Bull Racing will use these last three races to try new designs on their cars before 2012. It is a chance to learn more according to Adrian Newey, the brilliant Red Bull Technical Director, although he won't risk it if he thinks the opposition can see what he is up to.
Martin Whitmarsh the CEO of McLaren on the other hand was quite open about evaluating 'go faster' bits for their 2012 cars: "We are winding down the 2011 car but ramping up the 2012 edition so the opportunity to track test components and developments then carry them over to next year is there to be used." If McLaren bring some super-quick bits and take another win it will be their fifth of the season.
Whitmarsh remains confident whether new components give them more speed or not: "Both our drivers are highly motivated to win and I believe we can challenge for victory in all the remaining Grands Prix."
"We have a car that can be quick anywhere, we were quick in Singapore, Japan and Korea, there is a settled pattern at the front," said Lewis Hamilton, to add weight to his boss's optimism.
Jenson Button on the other hand is concerned about learning a brand new track even though all drivers will start on a level playing field.
"It can be an intense experience on a new track piecing together incredibly diverse and vivid set-up data, checking every bump and kerb all at 170 mph! The track does look like a nice mix of corners but it is important for the sport that we make a good first impression in India." Button will be looking for enough points to keep his second place in the championship.
Ferrari continue to disappoint their fans and fall short of their capabilities. Their focus must be well and truly on their 2012 campaign especially after Fernando Alonso told his engineer in the dying moments of the Korean race over the radio that he had 'given up'!
For all that, Alonso is an amazing driver who can push a car hard and fast, lap after lap. He is also quick at learning new tracks and has a record of winning at them, such as Singapore in 2008. With higher temperatures and soft Pirelli tyres the Ferrari could go well and Fernando could be podium-bound.
Rawness
The new track could pose problems early on as the new surface beds in, but as the tarmac gets covered in rubber and the dirt is blown away the rawness should lead to more grip. Grip levels will increase during the weekend and Mercedes F1 think they have done enough homework to be ready.
One million iterations of potential race situations with hundreds of strategy and track simulations before the race should give them great baseline settings to work from. Nico Rosberg would like to run in the top six again as he did in Korea whilst Michael Schumacher could be in for points as he is another quick track learner after winning inaugural races in both Malaysia and Bahrain.
Sauber will be hoping they have an answer to the set-up issues which caused their front tyres grief in the last race. They found themselves struggling towards the tail of the field where we normally expect them inside the top 10. So I have them down to return to form.
The fact is that all the simulations in the world cannot make up for the real first time experience all the teams will encounter as they find out what the track surface is really like and where the bumps and kerbs really are.
Whether it is Lady Gaga or cricket legend Sachin Tendulkar who will be there watching, India itself is about to learn first-hand what the F1 circus can deliver in terms of spectacle and excitement.
Come race day Grand Prix racing will be matched for spectacle, colour and pure vibrancy as a nation known for its great celebrations and cultural warmth unleashes its own kaleidoscope of sights and sounds as tradition meets high-octane for the first ever Grand Prix of India.