Time to make a Mark
It's time Mark Webber stepped up and delivered, says Tony Jardine ahead of the Korean Grand Prix.
Last Updated: 13/10/11 3:53pm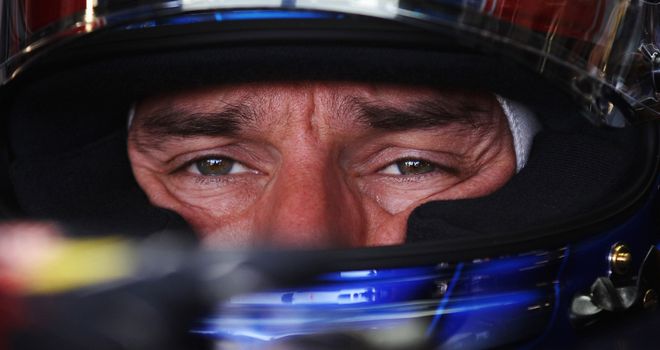 It is about time 2010 Championship contender and teammate to new double world champion Sebastian Vettel, Aussie Mark Webber took the top step of the podium.
He has the same car, engine and aerodynamics as his young German teammate in his Red Bull yet he has just two second places to his credit, in Turkey and Belgium so far.
While rivals may hope Vettel takes his foot of the gas, the team orders say Red Bull Racing have the Constructors' Championship to secure and logic says Sebastian will want to rub his dominance in further. Webber can stop him and should be a good bet to take his first win of the season despite crashing out here last year and taking Nico Rosberg out in the process.
What if McLaren continue their winning momentum? Jenson Button is riding the wave of McLaren success right now with five consecutive podiums and the emotional Japanese Grand Prix win to prove their second-half form.
They could be the obstacle to Red Bull success in Korea which is why my money is on Button (4/1) for the win. He wants to win again. As 1996 world champion Damon Hill suggested: "Button has shown he's better than we ever thought he was."
Jenson himself is rightly feeling confident: "There's more to come, we're going for a few more wins." But this year should prove to be a total contrast to the first Korean Grand Prix run in the wet and almost completely dark conditions before the chequered flag came out for Fernando Alonso.
Celebrations
Different for Button too, who described the first Korean Grand Prix in 2010 as an 'hysterical race', which should have been stopped early and in which he had no grip at all.
"We arrive in Korea this year with pace and form, we will be more positive. Unlike last season I can really trust the car underneath me, I am comfortable pushing hard," said the man from Frome in Somerset.
McLaren also crave another win as it would complement their 700th Grand Prix celebrations nicely. But what if Lewis Hamilton endures another poor race by his standards, will that distract the young Briton further?
Hamilton is certainly a good bet (9/2) to bounce back onto the podium; a result which would give him a much-needed lift. His qualifying pace in Japan was good until a mistake but an early puncture in the race and poor pace later added up to his worst performance of the year in terms of lacking his normal raw speed.
Something major is preventing him from delivering his usual performance; even when the car is below par he can normally take it to a higher place. McLaren's MD Jonathan Neal has publicly recognised the issue: "Certainly I'm concerned to make sure that he feels and understands we are 100 per cent behind him and this team certainly is. We want to take care of him, it's been a difficult season."
Hamilton has been off the podium since July, when he won in Germany, and Button has beaten him in the last five races. His mistakes and on-track skirmishes particularly with Filipe Massa suggest he needs a lot of TLC from the team, I just hope he gets it and the real Lewis can get back on track.
Ferrari were encouraged by Alonso's second place in Japan. Whilst they were kind to their tyres Vettel was busy wearing his out. In Korea Pirelli will bring soft and supersoft tyres which will help the team with their tyre temperature problems which could put the Spaniard into contention to win his second Korean Grand Prix. The forecast suggests it may stay dry which would help the Prancing Horse cause, too.
When assessing Korean form from the inaugural Grand Prix last year it is difficult not to mention Michael Schumacher who finished a fine fourth, equalling his best for the Mercedes F1 team. Given their recent strong performance in Japan and Rosberg's intention to stay clear of Webber and score some points, both could finish in the top six.
Opportunities
Force India too has upped its game, both Adrian Sutil and Paul di Resta have a car that will work over the early technical part of the track and yet still perform over the fast-flowing sections. The track has the longest straight on the calendar and a DRS zone that should allow some clear overtaking opportunities.
The challenge facing all the teams is that last year parts of the track were unfinished and the race was run in the wet. Nobody really has a clear idea of good dry track performance.
Given that the new track has now settled, the once smooth surface could well be a little rippled in the braking zones and weathered in where once it was green.
However, it's all there for Webber to make his mark in 2011 and Button to ease his way towards another smooth and assured win - providing he can get the car hooked up properly and find the grip.
However, the new champ Vettel will never be far from the zone - and for most of this year his own zone has been higher than anyone else's.