Brit rewards?
Tony Jardine believes McLaren's drivers can push Sebastian Vettel all the way at the Japanese GP.
Last Updated: 07/10/11 12:03pm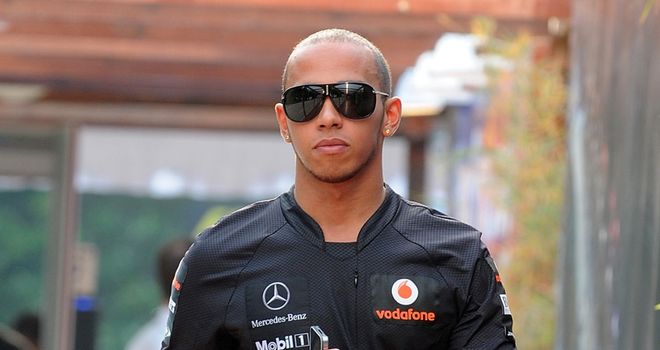 It's a long shot, as Sebastian Vettel only needs one point to become the youngest ever back-to-back World Champion in history, but he may lose out on the glory of a podium if the British drivers have their way.
Or worse, he could fail to finish and have to do it all again in Korea.
What if McLaren's fast-track pace from Monza and Spa finally puts them ahead of the Red Bulls?
It's worth a bet on Hamilton and/or the man who has enjoyed four consecutive podiums and is much loved by the Japanese public (and, of course, his Japanese/Argentine girlfriend, Jessica Michibata) - Jenson Button. How about a one-two for McLaren at Suzuka?
Lewis Hamilton, McLaren: "I think Suzuka will play to my strengths. It's a track that really requires you to drive in an attacking way to be able to get a good lap time. It's an uncompromising place.
"But that's when the thrill of driving a Formula One car is at its highest; when you know you can't afford a single mistake and where driving on the absolute limit is the only way to get the best time. In that sense, it's a lot like Monaco, and maybe that's why I like the place so much - it's unique.
"I think we're headed there in pretty good shape. We know that the Red Bulls will be strong. But we also have a very quick car, and we can make it work on different kinds of circuit. Suzuka is another reasonably high-downforce track, which should play to our strengths.
"The weather in Japan in the autumn is always unpredictable- we've seen before that it can be beautifully sunny and hot or extremely cold or wet. I'll take any conditions as long as I can race hard."
Jenson Button, McLaren: "I consider Japan my second home - it's a place that's very close to my heart and obviously it's going to be a very emotional experience for me to be racing in Japan for the first time since the events of last March.
"In the last few races I think we've shown that we have extremely good pace and that we've been the most able to take the fight to Red Bull. On paper I think it's a circuit that will suit the Red Bull, particularly in the high-speed sweeps that make up the first sector of the track, but I certainly don't think people should under-estimate our package.
"We showed at Spa that we have a car that's very effective in high-speed corners. We've also improved our straight-line speed and we have a more efficient rear wing for qualifying, so I think we're feeling positive about the weekend."
Don't underestimate McLaren. Hamilton needs to put Singapore and Massa behind him and come out fighting. This is where he won in 2007 and he needs to re-establish himself at McLaren.
Sweeping curve
It won't be easy. Vettel has won the last two Japanese GPs and the Red Bull just eats up the first sweeping curve. He will be tough to beat, especially as team boss Christian Horner has said the team will go on full attack in the last races of the year. Like many other drivers, he loves this classic figure-of-eight track:
Sebastian Vettel, Red Bull Racing: "Suzuka is one of my favourite tracks; it really couldn't have been built any better. The Degner Curve is the most spectacular and challenging of the whole season. The 130R is legendary. I'm not the only one who loves this track and our car normally loves it, too."
He could just take all four honours given his form and the performance of the Red Bulls this year - the world championship, the win, pole and fastest lap.
Team-mate Mark Webber is hoping the German will opt for the conservative route to earn the single point he needs to secure the title - ease off a bit and stay out of trouble. This would, at least, allow the Australian a shot of glory. Webber knows how to get it right on this most challenging track.
Mark Webber, Red Bull Racing: "Rhythm is very important there as well; you have to make sure you have the car completely on the limit for all the corners and you have to get certain section absolutely right."
Performance drop off
Ferrari could have performance issues in Japan if temperatures are low. They have suffered from not generating enough heat in the tyres which has led to the performance drop off clearly demonstrated in the last laps of the Belgian Grand Prix when Fernando Alonso lost his podium place.
The Spaniard gave 120 per cent effort in qualifying at Singapore for just fifth place and took fourth in the race. The Ferrari team is already shouting about how good its 2012 car will be, so don't expect more than the Singapore result unless it's blazing hot.
Tyres should work well for everyone else though, even in cool conditions.
Paul Hembrey. Pirelli's Motorsport Director: "The combination of soft and medium tyres has produced several close finishes in the past, as there is not a hugely different level of degradation between these two compounds. All the ingredients are in place for a memorable race"
I was hugely impressed yet again by rookie Paul Di Resta in Singapore, his fifth points-scoring race of the season. His sixth place was his best ever, and yet the team will make him wait until December to find out if he has a job next year!
Paul Di Resta, Force India: "Just walking the track makes you respect the place because it's narrow, fast and has some really unusual corners."
The Force India is a good high-speed-circuit car. They should be fast at Suzuka and on for more points.
Home advantage
However, the man who will be on fire - provided he doesn't over drive - is Kamui Kobayashi. The Japanese driver will, surprisingly, be at Suzuka for only the third time in his career, but will still hope for home advantage to complement his undoubted speed.
Last year he overtook everything in front of him. This year Sauber will have new wings and a modified floor to help the Japanese driver at this legendary 60s circuit that ranks with Silverstone, Monza and Spa as one of the classic high-speed tracks that underpin the World Championship.
The Mercedes GP team could use their high-speed form to good effect here. The car has proved troublesome on some tracks, but flies on the fast stuff.
Michael Schumacher, however, arrives in Japan having flown literally over the top of Sergio Perez in Singapore, smashing his Mercedes headlong into the barriers. The seven-time champion and six-time Suzuka winner was admonished by the stewards. Still, his Japanese GP experience could well see him in the top six - a 7/4 shot with Sky Bet.
Titles are won at Suzuka. It is the home of champions: Nelson Piquet's triumph over Mansell in '87; Mika Häkkinen overhauling Eddie Irvine's four-point lead in '99; Michael Schumacher's breakthrough Ferrari title in 2000, denying Häkkinen and sparking the red-wigged celebrations of the Italian team.
Incredible recovery
But perhaps the best of all were the three title deciders between Ayrton Senna and Alain Prost.
Senna's incredible recovery from 14th at the start to take race win and title in 1988; Prost slamming the door on his team-mate in '89 and Senna's subsequent disqualification from the race making it one all.
Senna had the last word in 1990 as he repaid the favour into the first corner to ensure his points advantage remained intact. All of these classic Formula 1 encounters only go to show that this track takes no prisoners and the unexpected often happens.
So what if Vettel fails? It is still possible despite his raging form. So don't be afraid of betting on the Brits and my outside tip for a podium, Kamui Kobayashi.