Street fighter
Tony Jardine expects Fernando Alonso to win in Singapore and delay Sebastian Vettel's glory.
Last Updated: 22/09/11 4:04pm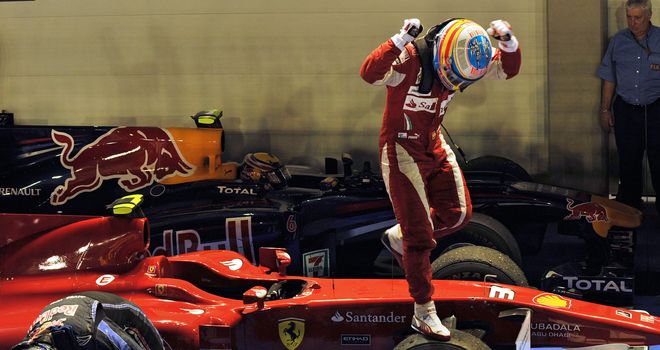 The brilliant 24-year-old German, Sebastian Vettel, is 112 points clear of Fernando Alonso after his emphatic win at Monza - a track that was meant to be the weakest for the Red Bull squad!
I was amazed at Vettel's commitment and bravery when he overtook Fernando Alonso around the outside of the fast Curve Grande with two wheels on the grass! He now needs to outscore Fernando by 13 points and Jenson Button and Mark Webber by eight points this weekend in Singapore to take the title. He is in touching distance of the crown but he has one hand on the trophy already.
Design guru Adrian Newey says he thinks his world champion driver will want to win his back-to-back championship in style as the youngest ever driver to pull off such a feat. I think he may have to wait until the next race in Japan at Suzuka, one of the German's favourite races and one where Vettel has enjoyed considerable success. But Sebastian is not thinking that far ahead: "The championship is over when it's over and not before. You can look at last year for proof of that."
My tip outside the favourite is Ferrari driver and winner of two out of the three Singapore Grands Prix held so far, Alonso, a 9/2 shot with Sky Bet. We know the car struggles to get temperature into harder tyres especially when temperatures are lower such as in Belgium when the Spaniard lost places hand over fist in the closing laps. But with heat and humidity on the menu the Ferrari should be able to use its subtle chassis to good effect.
And if you look at Alonso's explosive start in Italy where he took the lead from fourth on the grid, I expect fireworks. Further, Pirelli's tyre choice for this race should play into the hands of the prancing horse team, as Scuderia driver Felipe Massa said: "Pirelli has chosen the supersoft and soft tyres for Singapore, that will suit us. The heat and humidity make it tough for the drivers but the car was OK at Monaco and I have been training extra hard for this which is one of the longest races."
Red Bull Chief Christian Horner described the tough challenge that is Singapore as " the bumpiest toughest circuit on the calendar. It's physically demanding and hot too, it is a real challenge. However, you will still see us attack each race, we won't cruise around for points."
Dazzling
Singapore is a week-long festival of events and celebrations leading to F1's only night race which starts under floodlights at 8.00pm in the evening local time. In order to keep in the best physical shape for this dazzling Grand Prix marathon, teams and drivers stay on European time for sleep and food. Hotel rooms are heavily blacked out so drivers can sleep at optimum times, and breakfast is taken at lunchtime!
McLaren will be strong in high downforce trim for this street circuit. Jenson Button who has currently taken the high ground from team-mate Lewis Hamilton has scored three consecutive podium finishes up to Monza.
"I've had two of my best drives of the year on high downforce circuits at Monaco and Hungary so I am hoping for the same sort of pace."
Button was imperious at the Italian Grand Prix. While his team mate Hamilton was trapped behind legend Michael Schumacher desperately trying every move to get past the seven-time champ, Button latched onto the pair then disposed of the two world champions as if they were standing still, he made it look easy. I would see him as a strong bet for the podium and as per my recommendation he is still looking good for the season end top three, currently level in third place with Webber in the World Championship.
Sadly for this event it is notorious due to its infamy as the venue for the first race-fix scandal where a driver was asked to crash a car deliberately so that the outcome of the race for his team-mate could be assured. Then Renault driver Nelson Piquet Junior was asked to crash early on so that Alonso could pit quickly to jump the other cars when the safety car came out after his awful qualifying left him down in 15th place on the grid.
It worked. He won, but ultimately both the Team Principal Flavio Briatore and Engineering Chief Pat Symonds were banned from the sport. The reconstituted Lotus Renault team with Vitaly Petrov and Bruno Senna driving, are apprehensive ahead of this Singapore race - but not because of the legacy left by their predecessors.
Apprehensive
Technical Director James Allison is more worried about the team's performance at slower tracks so far this year: "Monaco and Hungary were not good races for us and Singapore shares some of their characteristics, we feel we have improved since then and have a bit more to deliver in Singapore, but it's fair to say I am apprehensive."
Lotus Renault could turn around their slow speed performance and spring a surprise. Russian Petrov is a good street-fighting driver even though he was knocked unconscious by a Monaco crash earlier this year. Late season returnee Senna has also found point-scoring form.
James Allison was full of praise for Ayrton Senna's nephew: "Several promising F1 careers have foundered on the rocks of a mid season introduction in recent years, Bruno hasn't had a meaningful chance to get up to speed but he has impressed us all the way."
The Sauber Ferraris should perform well, especially Sergio Perez after his recent Ferrari test has buoyed his confidence. However, one man who has won here before and should appear further up the ranks but has failed to deliver of late is Lewis Hamilton.
He knows he could have won recently with the form of the McLaren at his disposal. "I had a car capable of winning in Belgium and Italy so I want to arrive in Singapore with a good set-up. I will be driving to win as always, I love street tracks."
Out-foxed
Despite a great win in 2009 last year he tangled with Mark Webber and came off worse retiring with car damage. He needs to turn his form around here but currently he is being out-foxed by team-mate Button, I would love to see him win but he may just have to change his mindset first.
Floodlights, good as they are, make you more tired according to Webber, who could also do with a results reversal after his crash in Italy. Add to that the bumps, the humidity and heat in one of the longest races of the season and the challenge starts to intensify.
Rain is prevalent at this time of the year and if it falls it takes on monsoon proportions. That and the glare of the lights might just take away some of the Singapore sparkle but the winner will not only have survived running the gauntlet of concrete walls, they will have also conquered the elements.