The need for speed
Tony Jardine is backing Lewis Hamilton's daredevil approach to silence the Ferrari fans at Monza.
Last Updated: 08/09/11 4:06pm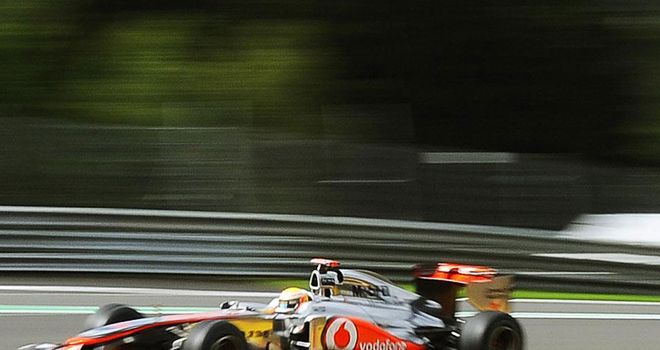 It's the oldest and fastest track on the F1 calendar, it has witnessed epic 'slipstreaming' battles in the past and now the high altar of motorsport will host a high-speed overtaking fest this weekend in the Italian Grand Prix, the final European event of this year's championship.
There is the potential for Monza to see more overtaking manoeuvres in one race than seen in the last 10 at the Milan track as a direct result of the FIA specifying two Drag Reduction System (DRS) zones where drivers can deploy the overtaking device on the fastest track in the world. Monza has built its reputation since the 1920s due to its format of two, long straights joined by long fast bends (which were previously banked) and in the later era, chicanes.
This means that although Red Bull Racing start favourites, it could be tougher to predict the winners with so much potential place swopping in the Monza Royal Park. As Jenson Button said: "The DRS is a major asset for the following car so things could be a little bit more mixed up than usual during this race."
Following their hard earned one two in the Belgian Grand Prix the Red Bulls of Mark Webber and particularly Sebastian Vettel, who scored his debut win at a wet Monza in 2008, will still start favourites but 2010 winners Ferrari will be strong. Fernando Alonso will be looking to repeat his famous triple of pole, fastest race lap and the win from last year.
McLaren are squarely in the frame, determined to take a win for one of their drivers neither of whom have been victorious here. With two opportunities per lap for the following car to deploy the DRS and rush past an opponent it could be difficult to predict the podium finishers.
Red Bull confounded predictions in Spa by finding good top speed through advanced aerodynamics and critical front camber settings which help the car to turn in but put a strain on the Pirelli tyres which blistered.
As a direct consequence Pirelli have recommended for Monza that the maximum camber of the front suspension should be 3.75 per cent in order to keep the tyres safe. Red Bull were rumoured to have gone as far as 4.3 per cent at Spa which if true was very pronounced.
Full-throttle
If Red Bull design chief Adrian Newey decides to stay within Pirelli's recommendations their high speed agility could be affected at a track where engines spend most of the lap on full-throttle and where top speed is sustained for long periods on the straights at 240mph.
British Sauber and ex-Force India designer James Key explains: "Technically it's by far the lowest drag circuit of the season, you have to reduce downforce to optimum levels. It is critical for braking because the top speeds are the highest of the year and you are braking down to a very low speed for the two chicanes.
"The big kerbs play their role in these chicanes but we are dealing with the same two tyre compounds as Spa, the soft and the medium."
That could play into the hands of Button and McLaren. The Briton should and could have won in Spa but his lowly grid position after the qualifying mis-communication left him in 13th and damage from the other dodgem cars at the start meant an early pit stop which dropped him to 19th! And yet he reeled them in to finish third and was still catching when he ran out of laps, his tyre management was again scrupulous.
Jenson lost the lead last year at Monza when he elected to run more downforce so he lost top speed to the Ferrari of Alonso. He is a great bet for top three again here although my instinct leads me to believe his team-mate may usurp him.
Lewis Hamilton has developed this curious habit of running one great race then the next off the boil. He admitted his error in colliding with Kamui Kobayashi in Belgium and now wants to put it right. "Last year I won at Spa and failed at Monza, I am looking to reverse that sequence," said the 2008 World Champion.
Failure
I think the way the McLaren has developed that if Lewis sets his car up with the right delicate balance between low drag and just enough downforce he could win this race with his daring overtaking capability. Despite his up-and-down season McLaren won't ask him to change his style either. Principal Engineer Phil Prew agreed with the majority as he told fans: "His aggressive style has secured many victories." I hope he takes win number 16 this Sunday.
Likewise there are good reasons to bet on Ferrari taking another Monza podium. Firstly their record of 19 wins here and secondly their tails are right up for their home event where the tifosi come to pay homage to their beloved Ferrari, failure is not an option!
Alonso is a two-time winner here including last year and the car should be very quick. We should not see them fade as they did in Spa, desperately trying to get enough heat in the harder rear tyres as first Webber, then Button sped by in the lower temperatures.
Monza should be hotter even though they will have to run the same tyre compounds as in Belgium. The atmosphere will be electric as usual with the crowd having eyes only for the red cars, so home support will count but I still expect Ferrari to be on the podium.
If I was betting on this race I would put my money on Hamilton to win, Alonso second and Vettel third ahead of Button. With lots of overtaking expected and potential position changes don't be surprised if the result is a bit mixed as Jenson predicted. We could even see outsiders in the top six!
Flat-out
Force India want both cars to score points andPaul Di Resta could spring a surprise as he takes a flat-out approach to Monza with Mercedes power behind him. The works Mercedes cars should be right up there too as they work well at high-speed tracks with their powerful engines.
Michael Schumacher has won five times here although Nico Rosberg led for a while in Spa and made a blinding start to take second place at the beginning of the race. The young German could well haul the Mercedes inside the top six as Schumacher did at Spa.
What they both don't want to listen to is former Ferrari driver Gerhard Berger criticising the team's progress, he said: "All the explanations and excuses from Mercedes make me tired. It is high time that a premium manufacturer provides its drivers with a premium car."
Ferrari driver Felipe Massa thinks the Mercedes F1 team may be even more competitive than just a top six. "They have shown the best top speed on the straights and in Monza could well have some influence on the final result."