Button rues pit-stop mistake
9.7 seconds stop costs Jenson dear
Last Updated: 15/04/12 3:13pm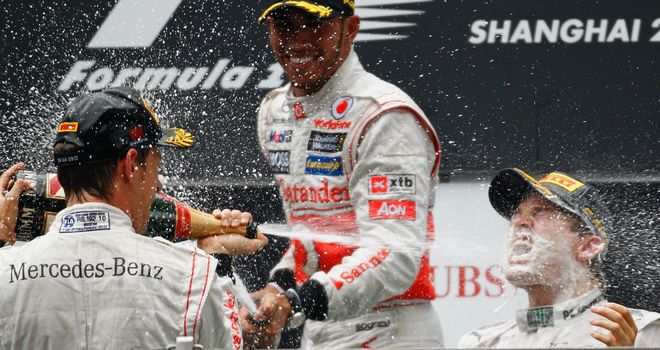 Jenson and Lewis give the race winner a soaking
Jenson Button was left to rue a costly pit-stop blunder as he reflected on Sunday's Chinese GP and a challenge for victory that never quite materialized due to a sticky wheel nut.
THE ONLY PLACE TO BE
Sky Sports F1 HD is THE only place to watch the 2012 Formula One season in full. We will have live and exclusive coverage of the Bahrain Grand Prix starting with P1 on Friday.
FRIDAY - P1 from 7.45am. P2 from 11.45am
SATURDAY - P3 from 8.45am. Q from 11am
SUNDAY - Race from 11.30am
To find out all the different ways to watch the action, click here
Though Button's boss Martin Whitmarsh was later heard to doubt whether his driver would have been able to challenge Nico Rosberg for victory even with a clean stop, the 2009 World Champion struck a frustrated tone as he mused on what might have been.
"Our calculations say we would have caught Nico with two laps to go. To do three stops was the best, it just went a little wrong at the end. Our pace was very good and when I had five or six laps of clean air I was about two seconds a lap quicker than Nico," Button noted to Sky Sports F1.
"The aim was to come out in front of the pack and that's what we would have done had we not lost six seconds at the pit-stop. We could have chased them down - or at least put them under pressure.
"That little mistake cost us a much easier race because I would have come out three seconds clear of [Felipe] Massa and had the circuit all to myself. But as soon as you are in traffic, the tyres grain - which is what happened to me behind Sebastian [Vettel]."
Kimi Raikkonen's unravelling was a pertinent example of how quickly a set of Pirellis can drop off when pressure was applied to long-running rubber and Button was left to take considerable solace from another podium finish.
"Of course I'm disappointed not to challenge for the race, but the pace is there in the car and that's the important thing at this time in the season. It was a great day for the team - there are just a couple of things we need to work on to make life easier for ourselves," he said.
No prizes for guessing what areas of McLaren's performance he is referring to.