Button still targeting victory
McLaren man confident of race pace
Last Updated: 14/04/12 10:43am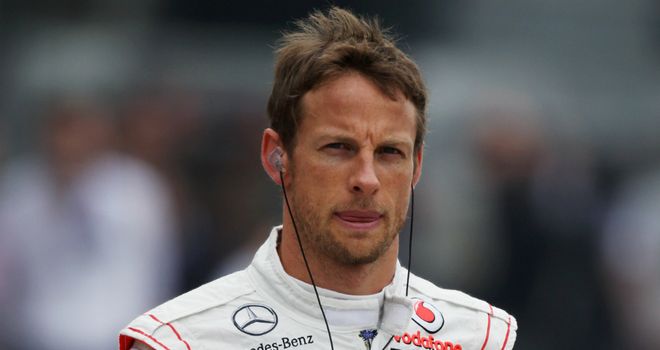 Jenson Button: Still targeting victory for McLaren
Jenson Button has insisted he is still in good shape to win the Chinese GP despite only qualifying in a lacklustre fifth position.
THE ONLY PLACE TO BE
Sky Sports F1 HD is THE only place to watch the 2012 Formula One season in full. Coverage of the Chinese Grand Prix continues with the race live and uninterrupted.
SUNDAY - Race from 6.30am
To find out all the different ways to watch the action, click here
Attributing his relatively poor time - Jenson actually qualified sixth, but has been promoted to fifth on account of Lewis Hamilton's demotion - to his late arrival on the track in Q3 as the temperature began to plunge in Shanghai, Button struck a surprisingly upbeat tone as he confidently predicted a challenge for victory on Sunday.
"The aim still has to be for victory and our race pace seems to be very good," Jenson confidently asserted to Sky Sports F1. "It won't easy, but we'll probably be quicker than most of the cars in front. The one unusual one is Kobayashi and their pace seems very good."
Yet the expectation of higher temperatures on Sunday afternoon will be critical to Button's chances, with the 2009 World Champion struggling for grip in the cooler conditions.
"I've struggled all weekend when it has been cold to get any pace into the front tyres so it's been tricky.
"In Q1 we went out on the softer of the two tyres just to make sure we got in and we put a lap on them which most of the people around us didn't, so that was probably a mistake. But even so, in Q2 we just didn't have the pace and I had too much understeer.
"We made some adjustments for Q3, yet you could feel the temperature dropping from the start of the session to the end and we went out a bit late - the quickest times were set at the beginning. So that was disappointing. I thought there was more."