Whitmarsh: Win gives title belief
McLaren team boss thrilled with winning start to the season
Last Updated: 18/03/12 8:49am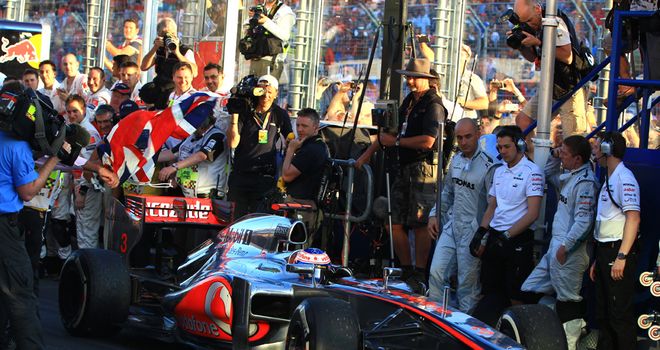 Jenson Button moved clear of Hamilton from the start
Formula 1 Betting

Formula 1 Betting

Bet with Sky Bet
McLaren Team Principal Martin Whitmarsh says winning the first race of the 2012 season in Australia should give the team the confidence that they can go on to win this year's World Championship.
After a stunning qualifying performance saw Lewis Hamilton and Jenson Button lock out the front row of the grid, the British pair streaked away in the opening stages of the race as Michael Schumacher's Mercedes initially held up the field - with Button looking particularly comfortable after taking the lead off the line.
Although Hamilton was later jumped by Red Bull's Sebastian Vettel thanks to the appearance of the Safety Car to deny McLaren a one-two finish, Whitmarsh was still thrilled with the result -particularly as he revealed both drivers had to drive more conservatively than they might have ideally in order to save fuel.
"Of course, to come to the first race and have the front row and then get a great win like that..." the McLaren chief told Sky Sports F1.
"I think Jenson did a fantastic job. Lewis was a little bit unlucky - one, unlucky on the start, he just bogged down a little bit, so that's a combination of him and our engineers.
"But we thought we had the pace, we were controlling the pace. We were a little bit short of fuel frankly, so we were having to monitor that very closely and measure our pace.
"And then a little bit unlucky with the safety car. So that was a little bit frustrating but overall we can't be displeased with the weekend."
McLaren had just stopped both their drivers simultaneously prior to the appearance of the safety car but Vettel was still able to pit at the end of the next lap and take advantage of Hamilton being slowed by the controlled safety-car lap time drivers have to adhere to.
Whitmarsh admits it was frustrating to lose second place but conceded there was little the team could have done to avoid it.
"We couldn't predict it at all. Unfortunately at that second stop we came in - it was the right thing for us to do - immediately after we came there was a Safety Car which gifted time to Sebastian and allowed him to come in and allowed him to come in and effectively go out in front of Lewis," he said.
"But that's motor racing. We can complain about it, maybe at the next race the Safety Car will work for us."
The McLaren chief reserved special praise for Button, who he says demonstrated supreme calmness in controlling the pace at the front to take his third Melbourne win in four years.
"I think both guys did a fantastic job. Jenson in particular; the calmness with which he controlled his pace. If Sebastian got within three seconds, he just stretched it again. He ended the weekend with the fastest lap in the race," he said.
"People underestimate him - he's such a calm, mature, easy-going fellow, that people don't realise necessarily that is in him to compete and win.
"He's just got stronger and stronger since he's been in our team and he must fancy his chances of a real championship assault this year."
Indeed Whitmarsh reckons winning the season's opening grand prix - something McLaren hadn't managed since their last championship-winning year of 2008 - should boost the team's confidence.
"Overall we should go away feeling reasonably pleased - we've had a great win," he added.
"We've proved we've got a quick car and I think to start the win with a win like really gives the confidence to the team, and the belief to the team, that we can really win this championship."