Schumi says car handles 'nicely'
Mercedes driver set the pace in second practice
Last Updated: 16/03/12 2:19pm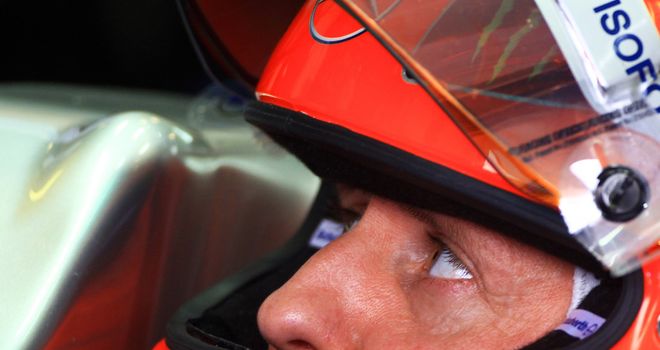 Schumacher: Was pleased with his W03's handling
Michael Schumacher says his Mercedes W03 handled "very nicely" during Friday practice in Australia - although concedes the day's changeable conditions made firm conclusions impossible.
Sky+ and F1: Important Information
If you plan to Sky+ any of the live F1 programming from Australia, to save you searching for all the individual programmes in your Sky Guide we have series linked every live session - from the Practices on Friday to the Qualifying session on Saturday right through to the live race on Sunday morning.
Please note, if you intend to set your recordings individually, several of the programmes cross the 6am boundary where one broadcast day turns into another, therefore these will appear as two back-to-back programmes on your Sky Guide so you need to ensure you record both. The specific slots affected are:
Practice 2 on Friday morning (shown as 5.15am & 6am)
Qualifying on Saturday morning (shown as 5am & 6am)
The Race on Sunday morning (shown as 4.30am & 6am)
The seven-time World Champion made a positive start to the first weekend of the new season as he set the third-fastest time in first practice and then the overall pace right at the end of the drying second session.
A strong winter has given Mercedes encouragement that they will be able to make a step forward this year but Schumacher, while satisfied with the car, was characteristically unwilling to read too much into the timesheets at this stage.
"We had a good work out with the car," he told Sky Sports' Natalie Pinkham during The F1 Show.
"The car handles very nicely, but what it's really worth we'll out probably later in the weekend."
He added: "Unfortunately, that's not very realistic [to read into Friday practice]. [There were] too many variables that can have a big effect, so we will have to wait to tomorrow."
Schumacher enters the new season still searching for his first podium finish since coming out of retirement in 2010, although many are viewing Mercedes as the dark horses of the early races.
Asked about his long odds for victory with the bookmakers for this weekend, Schumacher added: "I don't want to count too much into betting. Let's stay on real terms and tomorrow we will know."