Ecclestone: Bahrain will go ahead
F1 boss says race will go ahead after second team caught up in protests
Last Updated: 20/04/12 3:23pm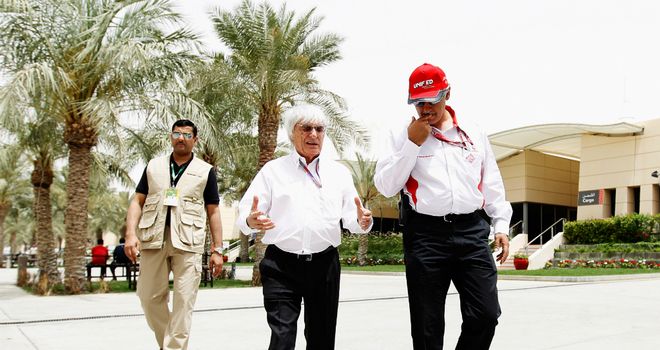 Bernie Ecclestone: Says Bahrain race will go ahead as planned
Formula 1 Betting

Formula 1 Betting

Bet with Sky Bet
Bernie Ecclestone says the Bahrain Grand Prix will not be abandoned after Sauber became the second team to be affected by disturbances in the city.
After driving into a petrol-bomb incident en-route to their hotel on Wednesday night, Force India pulled out of the second practice session on Friday, to allow team personnel to travel home during daylight hours.
Sauber have now confirmed that on Thursday night their mechanics witnessed a similar incident as they travelled back to their hotel in Manama.
SKY NEWS IN BAHRAIN
Sky News is providing full coverage of the political situation in Bahrain as it plays host to the grand prix. Click here for more from the Sky News team.
A Sauber statement read: "Yesterday night at 20:30hrs a minibus of the Sauber team left the circuit to go back to the Novotel in Manama.
"At 20:50hrs the 12 mechanics on that bus noticed fire on the medial strip of the highway.
"The traffic was slow, cars had their hazard flashers on. On the opposite lane there was no traffic.
"The team members saw a few masked people running from there over to their lane where a bottle was burning as well.
"The minibus moved to the very right side of the highway and went past the situation. No-one from the Sauber team was hurt."
Security
Sauber though, unlike Force India, did take part in the afternoon session in Bahrain.
F1 supremo Bernie Ecclestone confirmed he had offered to personally travel back from the circuit with the team members if they stayed for the second practice session.
"They were also told they could have security if they wanted," said Ecclestone.
Asked if it was an over-reaction on the part of Force India, Ecclestone said: "No, I think you guys want a story, and it's a good story.
"And if there isn't a story you make it up as usual, so what difference. Nothing changes."
Despite the incidents, Ecclestone insists any decision to cancel the race is out of his hands in any case.
"I can't call this race off. It's nothing to do with us. We've an agreement to be here, and we're here," said Ecclestone.
"The national sporting authority in this country can call the race off. You can ask the FIA if they can."