Button encouraged with second
Tyre management pays dividends for McLaren driver as Hamilton suffers
Last Updated: April 11, 2011 10:02am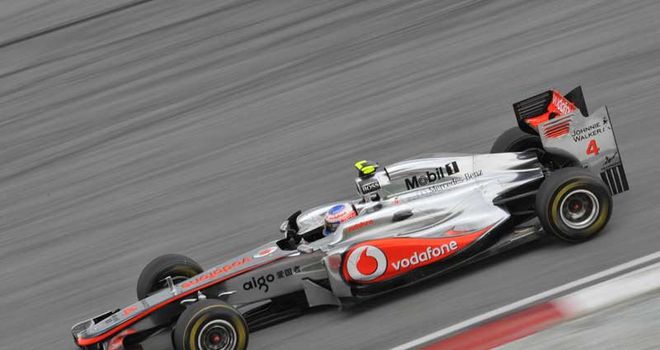 Button thinks there's more to come from McLaren
Formula 1 Betting

Formula 1 Betting

Join the Free Bet Club
Jenson Button said he was encouraged by McLaren's performance in Malaysia after finishing a close second at Sepang to Red Bull's Sebastian Vettel.
The 2009 world champion made full use of his smooth driving style on Sunday in a race dominated by tyre wear that had brought as many as four stops for fresh rubber.
Team-mate Lewis Hamilton was among those to suffer such problems and he was also demoted a place - dropping from seventh to eighth - after being penalised for changing direction more than once in a late duel with Ferrari's Fernando Alonso.
Button, however, now heads to the next race in China placed second in the drivers' championship behind Vettel - and is convinced McLaren have yet to realise their full potential.
"This has been an extremely encouraging weekend for us," Button said. "Today's race was all about looking after the tyres.
"On the way to the grid, I purposely took a lot of front wing out of the car, which was a mistake because I had massive understeer for the first stint, which also hurt the rear tyres. I just got the balance wrong.
"So at each pitstop, I dialled in more front wing and my pace kept getting better and better. At the end, the Prime tyre was really working for me.
"I knew Lewis had a problem in one of his pitstops and that I would be able to come out in front of him, but my pace was very good anyway. It was a great afternoon.
"In the closing laps, the team told me to take it easy on the tyres, but I chased down Sebastian [Vettel] as much as I could all the same - still, it wasn't quite enough.
"We should all feel very encouraged that we have a good, strong package. I still don't think we're getting the best from it yet - but I hope we will in China, and that Lewis and I will both have great races."
Difficult
Despite falling behind Renault's Nick Heidfeld at the lights, Hamilton moved back to second place behind Vettel between the first and third pit-stop windows.
However, he was leapfrogged by Button after a slow third stop, with a hard-fought battle with Alonso then damaging both their cars - and landing each driver with a 20-second penalty.
Hamilton then lost third place to Heidfeld and was forced to make a fourth stop with five laps to go.
"During the race, my tyres kept dropping off; we pitted earlier than was optimal, and ran out of tyres at the end," he said.
"I'd hoped to make the end of the race on a set of used Primes, but they didn't last so we had to pit right at the end of the race.
"There were a lot of factors that made this afternoon very difficult: the delay at the pitstop, being chased by a couple of cars when I was trying to look after my tyres, and being hit from behind by Fernando [Alonso].
"I think he got a bit too close, and, when he pulled out, he just clipped me with his wing and broke my car's rear floor. I don't how much downforce that lost me.
"Today wasn't the greatest of days, but I'm going to China aiming to win; I'm only looking forwards."