Hamilton raring to go
McLaren star loving his new-found Monaco lifestyle
Last Updated: 24/05/12 7:55am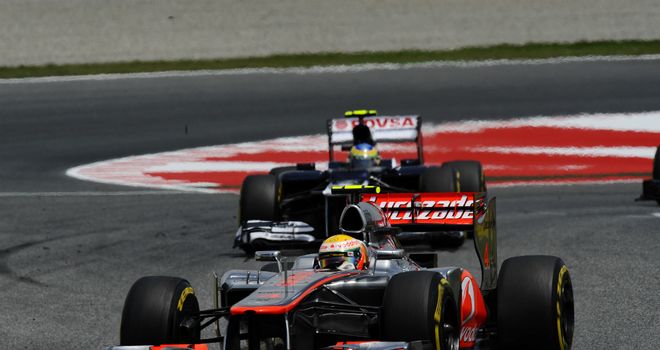 Lewis Hamilton: McLaren star loving Monaco lifestyle
Formula 1 Betting

Formula 1 Betting

Bet with Sky Bet
Lewis Hamilton has admitted to pinching himself as he enjoys a new-found Monaco lifestyle after leaving behind his Swiss isolation.
It was at the end of his stunning debut year in 2007 that Hamilton opted to quit Britain and move abroad, citing press intrusion, but primarily for tax reasons.
Rather than pitching up in Monaco as many Formula One drivers had done before him, Hamilton opted for Switzerland, initially settling down in Geneva before switching to Zurich.
"To be able to wake up in your own bed, drive just down the road and be at work is a fantastic feeling."
Lewis Hamilton on Monaco Quotes of the week
But the 27-year-old McLaren star soon grew tired of the tranquil setting and, hankering for a more lively scene, he made the move to the principality earlier this year.
Now residing in the same apartment block as Mercedes' driver Nico Rosberg and McLaren's former double world champion Mika Hakkinen, Hamilton's journey to work this weekend is just a short scooter ride.
Love it
"I love it here," said Hamilton. "To be able to wake up in your own bed, drive just down the road and be at work is a fantastic feeling.
"Today was my first experience of that and I'm sure it will make quite a big difference. I loved where I lived before, but this is a different place and I seem to be enjoying it a little bit more.
"Switzerland is one of the most beautiful countries I've been to - with the weather a little like England. Where I was living was away from the city and it was very quiet. It took ages to go to a restaurant. I couldn't jog or walk to one.
"Here it's sunny every day which makes a big difference, with great restaurants a couple of minutes from where I live, there's a gym where I live, and a pool.
"Before I used to have to drive half an hour to get to the gym, so things were just less fun there.
"I'm still in my twenties so I feel I need to make sure I continue to enjoy them more, and since I've been here I've been much happier.
"Every day I go running on the track, and it's incredible to run around your favourite circuit every day. I go through the tunnel and I just cannot believe I'm there.
"You have to pinch yourself every day, thinking, 'Wow! I'm running through the tunnel that the greats like Michael (Schumacher) and Ayrton (Senna) used to race around'.
"Now I'm one of those drivers, but also living here. There's a lot to it, but it's spectacular."