Damage limited by Hamilton
Mixed day for McLaren duo
Last Updated: 13/05/12 6:38pm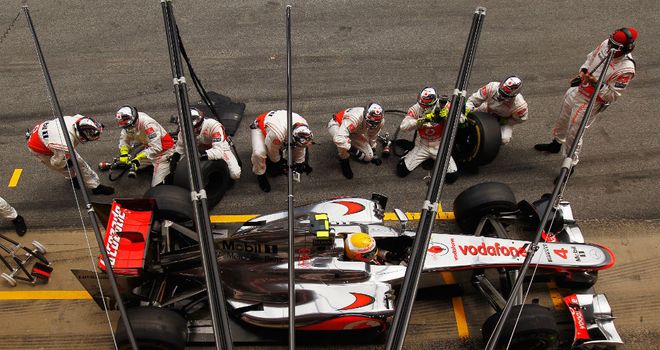 Formula 1 Betting

Formula 1 Betting

Bet with Sky Bet
Lewis Hamilton has described his eighth-place finish at the Spanish GP as the best result possible in the wake of his demotion to the back of the grid.
Outstanding on a two-stop strategy, Hamilton came within a whisker of snatching seventh out of the grasp of Nico Rosberg on the final lap, but was ultimately content just to finish in the points - and silence a regular criticism of his driving.
"I'm happy, it was the best I could do," the McLaren driver told Sky Sports F1. "It was an incredibly tough challenge, they said that I was one of the only ones to do a two-stop strategy, and people are always commenting how aggressive my driving style is so I think today that I proved them wrong."
So much, in other words, for his reputation for being a tyre eater.
"I was really surprised to see my options last long and it was just unfortunate that we didn't quite pip the drivers ahead through the pit-stops."
In contrast, Jenson Button had little reason for satisfaction after trailing home his McLaren team-mate despite starting fourteen places further up the grid. Bedevilled by understeer throughout the weekend, the 2009 World Champion was once again made to struggle by a lack of heat in his Pirellis.
"I'm alight in clear air but as soon as I get in traffic, I can't get heat into the tyres and I just don't know why that is. I'm struggling at the moment with long-run pace - and that's something I always work very hard on," Jenson reflected. "I'm going to fly home tonight and forget about this one."