Whitmarsh confident for race
McLaren Team Principal delighted to shut out front row
Last Updated: 17/03/12 8:04am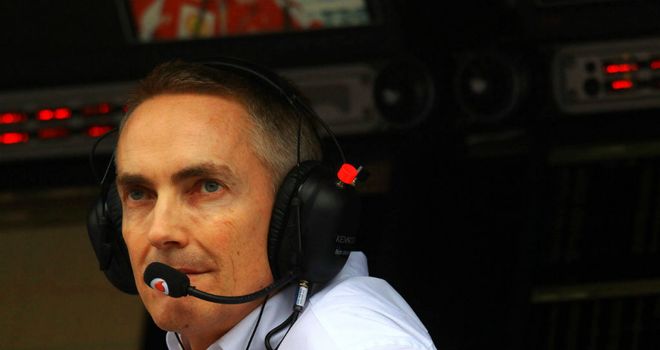 Martin Whitmarsh: Hoping to turn pole position into victory at Australian Grand Prix
Formula 1 Betting

Formula 1 Betting

Bet with Sky Bet
McLaren boss Martin Whitmarsh has expressed his delight at securing a one-two in Australia qualifying, but warned that the team now need to finish the job off in Sunday's race.
Lewis Hamilton claimed pole position in Melbourne with Jenson Button a tenth of a second behind him as McLaren proved to be the fastest when the front-running cars finally showed their true pace.
Sky+ and F1: Important Information
If you plan to Sky+ any of the live F1 programming from Australia, to save you searching for all the individual programmes in your Sky Guide we have series linked every live session - from the Practices on Friday to the Qualifying session on Saturday right through to the live race on Sunday morning.
Please note, if you intend to set your recordings individually, several of the programmes cross the 6am boundary where one broadcast day turns into another, therefore these will appear as two back-to-back programmes on your Sky Guide so you need to ensure you record both. The specific slots affected are:
Practice 2 on Friday morning (shown as 5.15am & 6am)
Qualifying on Saturday morning (shown as 5am & 6am)
The Race on Sunday morning (shown as 4.30am & 6am)
And Whitmarsh was pleased to see his team close out the front row of the grid, although he was quick to turn his attentions to Sunday's race .
"I think we've looked pretty tidy all weekend but tomorrow's the one that counts," he told Sky Sports F1.
"It's pretty important to have a front row here, on a circuit that's difficult to overtake. I think both drivers did a fantastic job in qualifying.
Tight
"It's tight, there are some surprises up there but I think we've got a good race car and we've got two great race drivers. I think we can definitely have a good show tomorrow."
Hamilton was well ahead of the rest after his first flying lap in the final qualifying session, but saw Button close in on him as the 2009 World Champion got to grips with his tyres.
Whitmarsh admitted that Button took some time to get up to speed during the session but was very happy with the lap he produced at the end of the third part of qualifying.
He added: "(The challenge) was trying to get the first lap out of the tyres. I think Jenson was struggling a little bit with that, obviously his first run in Q3 was difficult.
"But he nailed it at the end, obviously, and I think both drivers did a fantastic job. It's a good feeling to be back on the front row again."