Force India: Lots to do in Barca
Last Updated: 11/02/12 9:05pm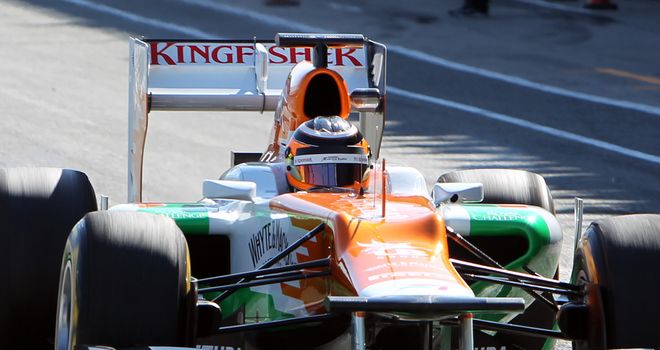 Formula 1 Betting

Formula 1 Betting

Bet with Sky Bet
Force India's Nico Hulkenberg was pleased to finally make his debut for the team in Jerez on Friday but knows the team have a lot of work ahead in Barcelona.
The German - promoted from third driver in 2011 to a race driver for the coming campaign - was scheduled to drive Force India's new car at Jerez on Thursday afternoon. However, that plan was scuppered when test driver Jules Bianchi crashed early on Thursday with the damage too extensive for the car to return to the track for almost twenty-four hours.
Only out on track first thing on Friday morning, the German completed 90 laps with a best time of 1:19.977, which was just over a second behind the day's P1 time.
"A busy first day in the car and good to get so many laps under my belt," said Hulkenberg.
"It was my first time in the new car so I concentrated on getting comfortable and up to speed. The long runs were useful for that and it also allowed me to start understanding the new tyres.
"There is still a massive amount to learn and lots of data to look at, but it feels like we have a good baseline to develop from and I'm pleased with how the day went."
Technical director Andrew Green was happy with the German's workload on Friday and declared the entire four-day test a "positive" one despite Thursday's lost track-time.
"Overall I think we can come away from Jerez feeling positive. The car has run reliably, the initial feedback from the drivers is encouraging and we've learned a lot about the set-up directions we want to explore over the coming weeks," said Green.
"I also want to highlight the tremendous effort from the team at the track this week, backed up by the staff at Silverstone, which helped ensure we got the most from our first test with the new car."