Williams' Pat Symonds says their new FW36 has 'run like a dream' in winter testing
Oxfordshire-based team targeting podium places in 2014
By Phillip Porter. Last Updated: 26/02/14 1:18pm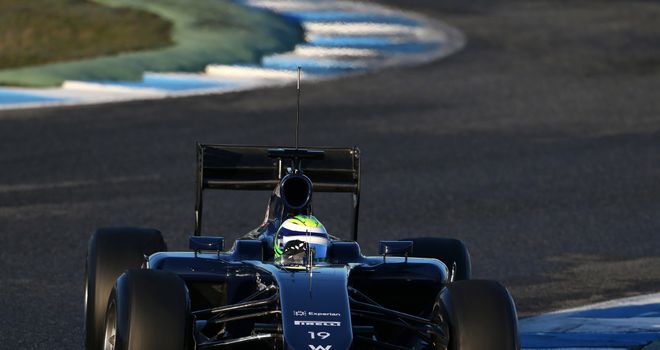 Felipe Massa drives the FW36
Formula 1 Betting

Formula 1 Betting

Bet with Sky Bet
Williams Chief Technical Officer Pat Symonds says the team's new FW36 car, powered by a Mercedes unit, has 'run like a dream' during pre-season testing.
Although the team's fastest time at the first Bahrain test was four seconds slower than that of pace-setter Nico Rosberg in the Mercedes, the Grove outfit have demonstrated the impressive reliability of their new runner, completing more laps than any other team last week.
Despite a tough 2013, finishing ninth in the Constructors' Championship, optimism is high at the Oxfordshire-based team and new recruit Pat Symonds, following his winter move from Marussia, was eager to remind their rivals of the strength of this year's new Williams.
"One thing we are very proud of at Williams is that we are the only team that has gone through winter testing without causing a red flag - we haven't stopped on the track once and that's a real testament to the design, the build and the quality that's gone into the car," Symonds told Sky Sports F1.
"We totally lost a day at the beginning through this wiring problem which was part of the fuel system electronics, but after that the car has run like a dream."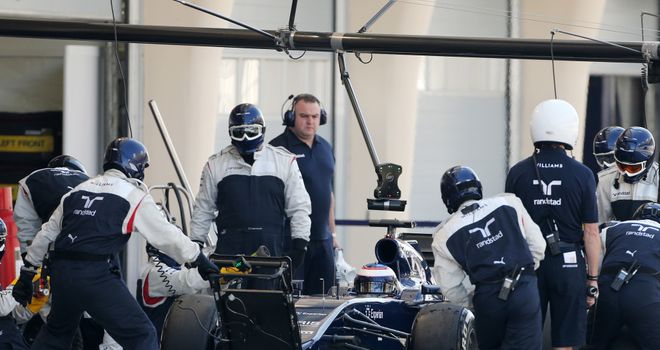 Pit-stop practice for Williams in Bahrain
What's clear is that the team have adapted quickly to the challenges posed by the new regulation changes for 2014, and the team's ability to merge the new Mercedes-based power unit suggests the team could be the new dark horses of 2014.
"With the complexity of the power trains we're using in 2014, we've all got to learn a little bit more, we've got to reprogram the diagnostic part of our brains to understand these systems," added Symonds.
"We're very happy with what we've got there, it's a complex unit, it's a work of art to an engineer. It really has run very reliably for us. It's got plenty of power, it's got great torque. It really is a real tribute to them.
"I think this is the biggest season-to-season changes. People have had troubles but some haven't. I think Formula One needs to be at the forefront [of new technology], it shouldn't be easy, we're constructors and that's what differentiates Formula One and part of the DNA of Formula One is to have technical leadership and to be on the edge of technology."
Pressed on whether the team can challenge for race victories this season, Symonds was keen to suggest pragmatism still remained embedded within the team.
"Well I certainly hope so. Challenging for wins is a really difficult thing to do. It's intensely competitive, the rate of progress is just relentless, we're pushing as hard as we can but we don't expect overnight miracles.
"Things are looking good, yes, we're on the up but let's just keep working and the results will come.''
The third and final test of the winter, which will also be staged in Bahrain, starts on Thursday.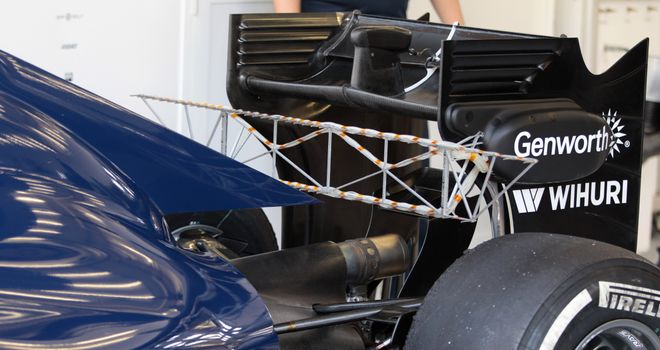 FW36 with an aero sensor
The third and final pre-season test starts on Thursday morning in Bahrain. The Sky Sports F1 Online team will be providing live commentary from dawn until dusk on all four days, with live updates from trackside also on Sky Sports News.