Sebastian Vettel says he will miss being pushed by Mark Webber at Red Bull next season
The pair have been team-mates at Red Bull since 2009
By Pete Gill. Last Updated: 19/09/13 3:51pm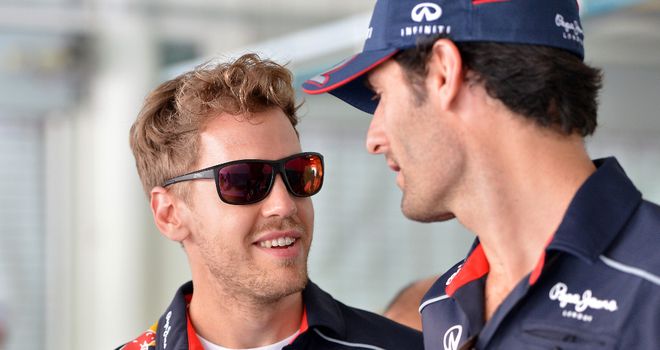 Formula 1 Betting

Formula 1 Betting

Free Matched Bet
Sebastian Vettel says he will miss the competitiveness of longstanding Red Bull team-mate Mark Webber when the Australian retires from F1 at the end of the season.
The Webber-Vettel relationship is renowned for being one of the most fractious along the pitlane, with the pair repeatedly clashing on and off the track - most memorably, or infamously, in Malaysia earlier this year when 'multi-21' became a permanent addition to the F1 dictionary. Despite, or perhaps because of, being team-mates since 2009, familiarity has not bred friendship.
"You can say what you want about our relationship, but in the end we pushed each other very hard. I will miss that," reigning World Champion Vettel told Austrian magazine Sportwoche.
"There has always been two or three corners where Mark has me biting my lip. You try to figure out what he is doing, which keeps you busy enough."
For his part, Webber, who will leave F1 for a new career in Sportscars, has made no pretence that he will miss sharing a garage with Vettel next year.
"Probably not a huge amount, no," he told Top Gear last month. "I think in a competitive environment there is always a bit of needle and there is a lot of history between us."
Asked whether he had ever been tempted to hit the three-time World Champion, Webber replied: "My dad always says you shouldn't hit boys."
Webber, who currently trails World Championship leader Vettel by 92 points in the standings, has yet to out-qualify his team-mate this term. He will be replaced for the 2014 season by Toro Rosso driver Daniel Ricciardo.