Sky F1 Exclusive: Christian Horner Q&A
The Red Bull boss speaks exclusively to Sky Sports F1 on The F1 Show about the feud between Mark Webber and Sebastian Vettel...
By Pete Gill
Last Updated: 14/04/13 6:38am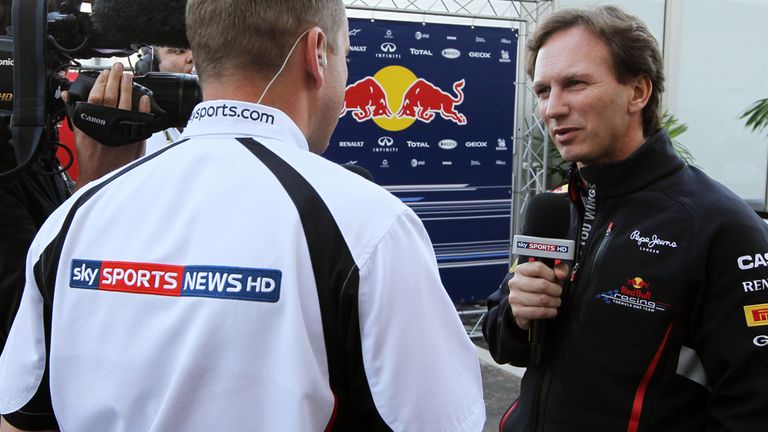 Natalie: So, Christian, much to do recently?...
Christian Horner: "It's been a busy couple of weeks! The shame is that the performance the team put in at the last race seems to have gone unrecognised, but we're glad to be in China and ready to get on with the next race."
Ted: Amazing scenes in the press conference [on Thursday] with Sebastian completely unapologetic about breaking team orders. Were you happy for him to be like that?
CH: "The important thing with both of our drivers - and what we've always enabled them to do - is to speak openly with their own thoughts and feelings and that's been a policy at Red Bull. Sometimes it's a bit uncomfortable, but it's what Sebastian feels just as Mark has always spoken in the way he feels as well. It's nothing new to us, to be perfectly frank, it's something which has existed for the last four or five years when they've been team-mates - it's just that you guys are aware of it as well now. Does it change things? Not at all, for us."
Ted: Has Sebastian assured you that he won't go against you again and ignore your orders again?
CH: "Sebastian knows that he needs the team to achieve the success that he has had. He's apologised to me, he's apologised to the team, he's said what he has had to say and that's it. We move on, we focus on the next race. Our rivals aren't only in our garage, they are the Mercedes, the Ferraris, the Lotuses, the McLarens. We can't just look inwardly."
Johnny: You've mentioned they are professional drivers. But are you concerned that this might get personal on the track if we get in a similar situation to Malaysia?
CH: "I don't think so. They both know that, at the end of the day, they represent the team when they drive these cars and the six hundred people in the company and the whole of Red Bull. We rely on them, they rely on us. The problem with F1 is that it's sometimes difficult to understand you have conflicting objectives - a Constructors' World Championship and a Drivers' World Championship - and sometimes there are conflicting interests between the two. That's what we had in Malaysia, but our objective in Malaysia wasn't anything to do with the drivers not racing each other, it was purely to manage the concerns we had with the tyres to the end of the race."
Natalie: We do need to have some clarification here because it seems that it has gone on record that Dietrich Mateschitz has said team orders will be a thing of the past. Are they or not?
CH: "I sat down with Dietrich after the race, just he and I, and discussed it. He wants to see the drivers race, which is fundamentally what we have always tried to do - and we even saw it here last year when the drivers went wheel-to-wheel. He's a purist, he's a racing fan, and of course Red Bull support athletes around the world and they want to see the athletes compete fairly. Red Bull also own a team in Formula 1, and the objective is for the team to win the Constructors' World Championship so of course there has got to be communication and instructions regarding how we operate a race, strategy, tyres, and all of those aspects.
"But what we won't do is interfere with the drivers racing each other. They will have the information and they will know what they are expected to do with that information - whether they choose to do that is something else! But they will have all the information that they will need."
Ted: Sebastian is so loved by the team - and with good reason, because he has won three World Championships with you in a row - that he knows you can't really say 'no' to him. Is he a bit spoiled like that?
CH: "Not at all. These guys are competitive athletes and you are managing them all the time - and not just in a race. He is a big team player, as is Mark, and that is what has driven us to the success we have had. Occasionally, it gets lumpy and gets uncomfortable, but there are others in the pitlane who would die to have the success we have had over the last four years and that has come from these guys pushing each other.
"This rivalry is nothing new to us. It is something which has been there almost from day one. So yes, it has got headlines and kept Formula 1 in the news for the last few weeks, but for us internally it is nothing new."
Ted: But now we know they both hate each other...
CH: "I wouldn't go as far as 'hate', but there is a very strong rivalry. They won't be spending the summer holidays together, that is for sure, but it changes nothing - they are still in the briefing room now, talking openly about how to improve the car, working collectively for the team."
Ted: I was going to say that the atmosphere within the team seems to be exactly the same and they know not to collide, don't they, because we've been there before in Turkey and they will receive an almighty rollicking if they do collide?
CH: "Absolutely, it's totally unacceptable for them to collide and they won't just be answerable to me, they'll be answerable to the six hundred people who give everything to provide these two cars. They know that, they understand that, and they've demonstrated on numerous occasions that they can race wheel-to-wheel. Occasionally, we get situations that are difficult, and in the last race the difficulty was managing those tyres through the race."