Vettel plays down engine 'fuss'
World Champion reckons too much being made of engine clampdown and denies describing Hamilton's driving as "stupid" in Germany
By Mike Wise in Budapest. Last Updated: 26/07/12 9:05pm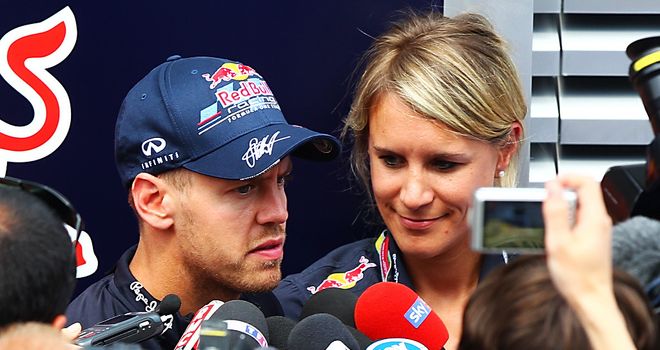 Sebastian Vettel says too much "fuss" has been made in the furore over Red Bull's engine map - and denied describing Lewis Hamilton's driving as "stupid" in Germany.
Speaking at the Hungaroring on Thursday, the World Champion played down the impact of the FIA's decision to tighten the rule which governs the amount of torque an engine can apply.
"There has been some talk Saturday night and Sunday, which wasn't nice for us in terms of race preparation," Vettel said of last weekend's events when the FIA reported the team to the stewards on the morning of the German GP. "But we took it and it was obviously good for us to start from the grid. But it was also clear that it probably was not the last action to be taken.
"He (Adrian Newey) wants to push the boundaries. This is on the engine side of it but it's the same philosophy. And it's the same philosophy with Vettel pushing the boundaries two laps from the end trying to overtake Button around the outside of the hairpin."
Sky Sports F1's Allan McNish on Red Bull Quotes of the week
"To be honest, I think there's more of a fuss in writing and talking than lapping in the car."
Vettel refused to say, however, whether he could actually feel any definite change in the car's performance at the German Grand Prix.
"I wouldn't say that. What we had in the car in Hockenheim is what we decided to race and go for because we believed it was quickest," he said.
"It's hard to say if it gives you two tenths, half a tenth, nothing. We can't measure either, so..."
The other major talking point of last Sunday's race was the decision to penalise Vettel for his overtaking manoeuvre on Jenson Button two laps from the finish.
The stewards ruled Vettel had gained an advantage when passing Button's McLaren from the run-off area around Turn Six.
The 25-year-old reiterated his post-race stance - namely, that he had left the track in order to prevent a collision.
"I think I said everything on Sunday. The only this I wanted to do was avoid an accident; surely if there had been gravel then I would not have gone in the gravel," he said.
"It's a bit of a shame. I think we should go out and race. That's what the people want to see; that's why they decide to come here, to come to the races, come to see Formula 1.
Playing catch-up
"We overtake sometimes things happen, sometimes people crash. Fair enough, nobody wants to crash - we don't want to crash, but these things happen."
Vettel's move came after he had earlier lost second place to Button at the final round of pit stops - a situation not helped from his point of view by the decision of Button's team-mate Lewis Hamilton, who was running at the back of the field, to unlap himself.
Although Vettel said it was "a bit stupid to disturb the leaders" immediately after the race, he sought to play down his reaction.
"I didn't say it was a stupid decision. If I say after the race that I thought it was unnecessary and then it gets quoted that I say he's stupid it's quite disappointing," Vettel claimed.
THE ONLY PLACE TO BE
Sky Sports F1 HD is THE only place to watch the 2012 Formula 1 season in full live. Our extensive coverage continues with the Hungarian Grand Prix exclusively live on 27 -29th July.
FRIDAY 27th - P1 from 8.45am. P2 from 12.45pm
SATURDAY 28th - P3 from 9.45am. Q from 12pm
SUNDAY 29th - Race from 11.30am
To find out all the different ways to watch the action, click here
"Sometimes I have a mouth, I say a couple of words, you have ears but it seems that in that process mistakes do happen.
"If you look at the rules it's clear: you're allowed to do that. I said it was unnecessary. I was hunting Fernando, it was a couple of laps to the stop. It didn't help me, it probably helped Jenson. That's racing.
"I'm not complaining. It was unnecessary from a racing point of view to distract the leaders no matter who it was. And that's it."