Ferrari play down Luca di Montezemolo's decision to publicly rebuke Fernando Alonso
Scuderia suggest Montezemolo comments should actually serve to "boost motivation"
Last Updated: 31/07/13 3:35pm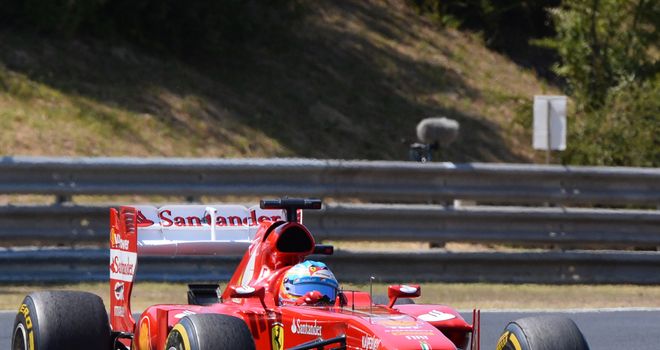 Fernando Alonso: Received rebuke from Ferrari President
Formula 1 Betting

Formula 1 Betting

Free Matched Bet
Ferrari have played down Luca di Montezemolo's decision to publicly rebuke Fernando Alonso, saying his comments should actually be seen as "a boost in motivation".
Double World Champion Alonso told Italian reporters after the Hungarian Grand Prix that he wanted a car that "the others have" as a present for his 32nd birthday.
His comments didn't go down well at Ferrari, though, and the Scuderia took the unusual step of issuing a statement on their website revealing that Montezemolo had, in their words, "tweaked the ear" of his star driver.
"All the great champions who have driven for Ferrari have always been asked to put the interests of the team above their own," the marque's President apparently told Alonso on Monday, having first wished him a happy birthday.
"This is the moment to stay calm, avoid polemics and show humility and determination in making one's own contribution, standing alongside the team and its people both at the track and outside it."
Montezemolo's intervention came after Alonso trailed home fifth at the Hungaroring, with the Spaniard and Ferrari losing further ground to Sebastian Vettel and Red Bull in the title race.
The weekend also brought rumours linking Alonso with a move to Red Bull next season, which their Team Principal Christian Horner did nothing to deny.
However, Ferrari have been quick to dismiss suggestions that there is tension in the relationship.
"Montezemolo is the first to support our driver's call to improve the car's competitiveness as quickly as possible," a spokesperson is quoted as saying by Autosport.
"He fully understands Fernando's frustrations after what has been the most challenging race of the year. He is his chief supporter and has full trust in him.
"His words must be viewed as a positive injection. They were a boost in motivation to inspire the team and to be united toward our common objective."