Romain Grosjean plays down attempt to try and get Lotus to impose team orders
"I thought I was quicker and I thought I could try to challenge Sebastian" Frenchman says
By Mike Wise at Suzuka. Last Updated: 10/10/13 12:47pm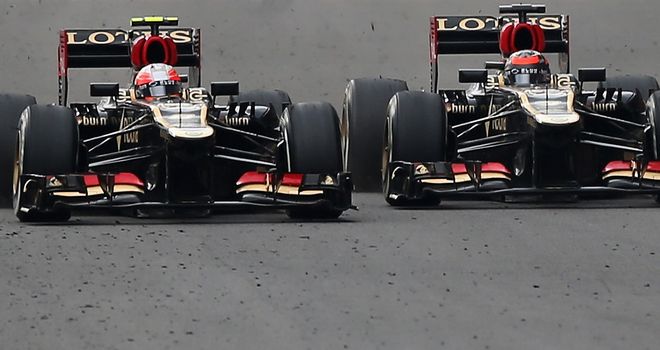 Frustration: Romain Grosjean and Kimi Raikkonen
Romain Grosjean has played down his attempt to persuade Lotus to impose team orders at the Korean GP so he could get back past Kimi Raikkonen.
Raikkonen finished second last Sunday having passed Grosjean in between Safety Car re-starts at Yeongam. The Finn capitalised on a mistake by his team-mate to overtake into Turn 1 but Grosjean, still believing himself to be quicker and therefore able to mount a stronger challenge to eventual winner Sebastian Vettel, subsequently asked the team to switch the order.
The response from team boss Eric Boullier was that Grosjean must race Raikkonen. Unable to recover, he had to content himself with a third third-place finish of the season.
Five days on, the Frenchman readily admitted it was his mistake that had caused the situation in the first place.
"I thought I was quicker and I thought I could try to challenge Sebastian. You never know, if you push hard on these tyres and he had a lock-up, it can open up. I think we have to try and get every single opportunity to win races," Grosjean said on Thursday.
"It was pretty easy to cope with the frustration as it was my mistake. I think Kimi did the right move; he had the chance to go for second and I would have done the same. That was fair.
"It's good that we were able to race. For sure, if you're second, you don't want to be second and that's why I asked."
Raikkonen cannily made his move in the knowledge that yellow flags had been deployed at Turn 3 in response the fire that had engulfed Mark Webber's Red Bull - which eventually brought the Safety Car out again - on lap 37.
Grosjean appeared glum-faced in the immediate aftermath of the race and rued not having had the chance to re-take Raikkonen. Yet he insisted there had been no issue.
"We didn't talk about it," he said. "After the podium, I saw Alan (Permane) and Eric and my engineers; I did a mistake and I was not aware that it was yellow into Turn 3. That's maybe what I could have done better: with an open door, I could have opened it to have a go at Turn 3. But there were yellow flags."
Lotus imposed orders when Raikkonen had a more realistic chance of the title and have also allowed their drivers to pass according to the strategies they've respectively run.
According to the Finn, though, racing is "what we're supposed to do. He made the mistake and paid the price, it's as simple as that."
Raikkonen added: "I think for the team, they don't care which one is in front as long as we score good positions."