Kimi Raikkonen reckons he can get more out of his Lotus ahead of Singapore qualifying
Ferrari-bound Finn eighth fastest after opening practice
By Mike Wise in Singapore. Last Updated: 20/09/13 7:24pm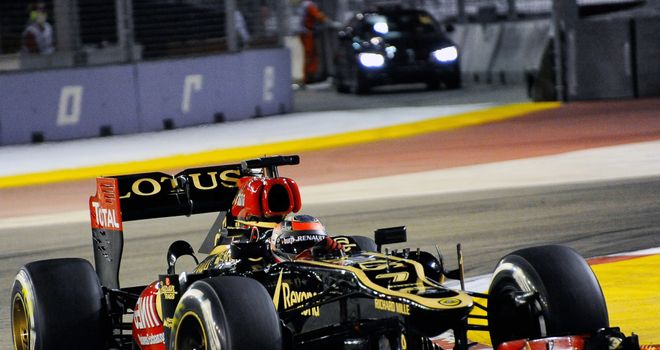 Kimi Raikkonen: Eighth fastest in opening practice
Formula 1 Betting

Formula 1 Betting

Free Matched Bet
Kimi Raikkonen reckons there's more to come from both himself and Lotus after ending the opening day of practice for the Singapore Grand Prix eighth fastest.
The Finn finished Friday evening's second session about 1.5s slower than pacesetter Sebastian Vettel but said that traffic had hampered his qualifying practice run.
Lotus are hoping for a better performance on the Marina Bay circuit this weekend having struggled at both the last two races in Belgium and Italy.
Both Spa and Monza are low-downforce tracks and Raikkonen, who failed to score points on either, said his car felt much better on the 5.065km street layout.
"It does normally with these kinds of downforce levels," the Ferrari-bound Finn confirmed. "I had some traffic on the first lap, so I'm not too worried. But the car felt not too bad, so we'll have to see tomorrow how we do on the one lap."
Raikkonen's qualifying performances have suffered of late as well, but he is hoping for better on Saturday. Even so it appears that Red Bull are, once again, beyond reach.
"They were much faster than everybody else and I'm sure on my own lap time I can do much better. I don't think we can match Red Bull but we'll see what it is," he said.
Team-mate Romain Grosjean was fifth fastest behind both Red Bulls and Mercedes, offering a more realistic indication of Lotus' single-lap pace.
The usual tendency is for them to close the gap over longer runs and Raikkonen hinted at more of the same this weekend. "Yeah, it was not too bad. I haven't really seen what the others did but it felt pretty okay," he said.
Raikkonen was more expansive about the re-modelled Turn Ten, formerly known as the 'Singapore Sling' chicane and hitherto universally unpopular with drivers.
"Much better," he added. "I mean it's a normal corner now - it was nothing before. It would just slow us down and there was no reason to have it. Now it's much nicer.
"It was a proper chicane with the kerbs - you'd just try and avoid the big stuff. Now it's one of the normal corners but it's much better I think.
"It's much safer now. Before, you'd have an accident if you hit the kerb too much."