Rosberg: Stewards were right
Mercedes driver says dices with Hamilton and Alonso were "good racing"
Last Updated: 23/04/12 1:43pm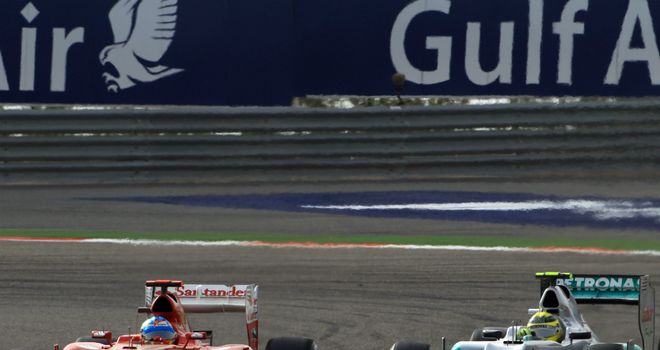 Alonso and Rosberg do battle
Nico Rosberg says he was pleased to see that Bahrain Grand Prix stewards agreed with his interpretation that his defence of positions from Lewis Hamilton and Fernando Alonso were hard but fair, after he escaped sanction on Sunday night.
SKY SPORTS F1 HD
Watch all this season's races
No ad breaks - uninterrupted live race and qualifying coverage
Enjoy F1 on the move with Sky Go
Expert commentators and pundits - including Martin Brundle, David Croft and Ted Kravitz
In-depth programmes and analysis
To find out more about Sky Sports F1, click here
The Mercedes driver's fifth-place finish at Sakhir appeared under threat in the immediate aftermath of the race as stewards had chosen to investigate the two separate incidents which had seen both his rivals have to take to the run-off area.
But after analysing video and telemetry evidence, and speaking to all three drivers involved, the four-man stewards panel cleared Rosberg of any wrongdoing in both incidents - judging that in each situation the Mercedes had begun his move to the right-hand side of the track before his respective rival.
The decision was later mocked by Alonso on Twitter but speaking in a video blog on his Mercedes team's official website , a relieved Rosberg described the incidents as "good racing".
"Of course there were the two incidents with Lewis and Fernando which were both definitely good racing," he said.
"But I even had to go to the stewards for that and thankfully the stewards judged that it was tough but okay, so I didn't get a penalty for that. And so fifth place was okay."
Although his fifth-place finish was a long way short of matching his dominant victory just eight days previously in China, Rosberg says in the end it turned out to be a satisfactory result in Bahrain given the way his first lap panned out and Mercedes' general competitiveness.
"For me, all in all, fifth place is an okay result. The whole first lap really didn't go well. I was in the wrong place at the wrong time also, so didn't get the best out of that and so I was back in ninth," he said.
"From then on great strategy, a little bit faster than the people we were fighting against, so I came all the way back up to fifth, which even if I'd started at the front, I think more or less was probably the best we could have got today just in terms of our speed."
He added: "So that's okay; 35 points now in one week, that's okay, that's good. And only 18 points from the championship lead, so that's cool too."