Rosberg: Mercedes shaping up
German reckons Silver Arrows are in a better position than last year
By Mike Wise in Barcelona. Last Updated: 02/03/12 6:58am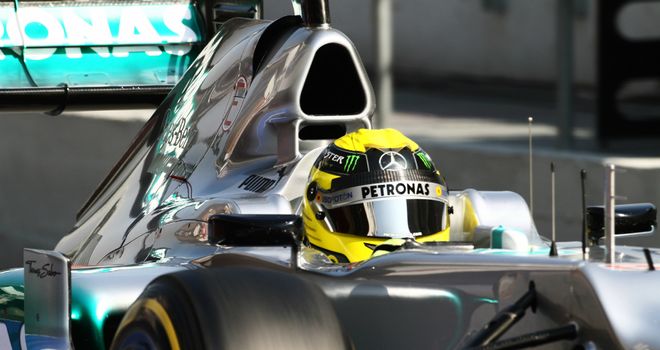 Nico Rosberg: Completed 128 laps of running on Thursday
Formula 1 Betting

Formula 1 Betting

Bet with Sky Bet
Nico Rosberg said Mercedes are shaping up better than last year and hoped the reliability of their new car will help them challenge Formula 1's pacesetters in 2012.
The German completed more laps than anyone - 128 - on the first day of the final pre-season at the Circuit de Catalunya and set the fifth fastest time.
"We had a very good day. The reliability was the most important thing - to do lots of laps and that worked well today so I was able to learn a lot," Rosberg said.
"We did some very good tests, always very consistent conditions out there - the track is amazing for testing at the moment, probably too good because it's a condition you won't find again at races.
"The progress as a team is good. I'm pleased with that because the team is working better than last year, they've built a better car than last year, everything has gone more to plan. There's no problems so we can get some really good testing.
He added: "We could fully concentrate on the performance of the car, whereas last year we were concentrating on reliability."
Continual development
SKY SPORTS F1 HD
Watch all this season's races
No ad breaks - uninterrupted live race and qualifying coverage
Enjoy F1 on the move with Sky Go
Expert commentators and pundits - including Martin Brundle, David Croft and Ted Kravitz
In-depth programmes and analysis
To boost performance further in their quest for a first race win, Rosberg also said Mercedes' work to increase their rate of development should stand them in good stead.
"It's a continual development of our car. There will always be small bits and pieces and that's one of the areas where we want to improve - to be quicker in the development and bring more quicker. I'm hoping that we're going to be able to do that this year," he said.
With tyre wear a problem for Mercedes in 2011, Rosberg said that degradation might still be a problem.
However, he added that his Pirellis were good "feeling-wise" during the long runs he undertook during the afternoon.
"It's always an issue. They're a bit better now because they made a better rear tyre but it's still a big issue and it's still something that we need to keep an eye on in the races."